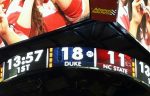 Several fans have sent in questions of late via the site or social media accounts.  Each Monday, we will address some of ones which people seem most concerned about.  You can add the hashtag #AskBDN on twitter each Sunday if you have a question you would like answered.
Why is the Duke defense so bad, especially in conference games?
Well, if anyone has the answer here,the staff is interested.  There is no doubt that the offense is way ahead of the defense and it is concerning that Duke is letting up over 90 ppg in the ACC.
Part of the issue is that the starters are young with the exception of Grayson Allen.  They have only played together for a short while and shoe company basketball at their prior level does not concentrate on defense.
Duke has been trying to play man to man defense to date but they are getting beat off the dribble with picks and not protecting the rim via rotation.  With such a short bench of late, man to man defense can take a physical toll as the game wears on.
One has to think they are capable of implementing better habits for there are smart and capable players on the court.  Still, there will be no immediate fix other than to play more zone defense.
I don't anticipate much zone versus Pitt, the next Duke opponent in that this could be a good game to see if changes via practice help.  As the opposition improves, perhaps they will go to more zone.
Let me make it clear that I'm not trying to take shots at Pitt, but they on paper be the easiest team Duke faces in the league.
As crazy as this sounds, the freshman are also learning that they must fend off every teams best shot for they play the four letters on the uniform and an always lofty ranking as well.
Should we be worried that this team will continue to falter and stumble?
No.  Firstly, they will lose some more games in a very good Atlantic Coast Conference.  Secondly, there are only six teams in America with fewer losses than Duke at this time.
Duke still has a terrific offense that starts inside.  When they hit their three-point shots, they are hard to stop.  Now, Duke does have to show they can get up for teams they are favored over and that starts with Pitt this week.
Should they lose to Pitt or continue to not be prepared for road battles, then the answer will obviously change to an emphatic yes.  But they need a healthy rotation which includes Javin DeLaurier and Marques Bolden for continuity.
This team is developing for it is very young.  There will be mental and physical adjustments that come into play as the season progresses.  Krzyzewski said after the loss to the Wolfpack simply that they would or would not get better.  Well, that is true.  Some Duke teams have adjusted as the season goes on and won championships.  Others have not.
What went wrong in the game versus N.C. State after a good start?
Well, firstly, you are right in that they had a good start.  I even thought they were playing older than their years.  The second that thought came to mind Duke started hoisting up bad shots with a lead.  The problem was that their feet were not set, players were not in position to get rebounds and they quit moving the ball as evidenced by 10 team assists.  The many Duke turnovers were untimely and brutal, especially when your point guard has 8 of them.
Duke never had the look of a winner after allowing N.C. State to come back and gain confidence after a horrid bad stretch in the 1st half where they squandered a great start.  They would go on to not push the ball inside to Marvin Bagley who was an efficient 11-14 from the field.  They had the Wolfpack big men in foul trouble and that was due to Bagley around the rim.  They may have taken those guys out had they fed the post a tad more.
I warned people earlier in the week that the Pack front court would look to make a name for themselves against a young, but talented Duke team.  These guys played like veterans who hope to get to the next level.
The Blue Devils  shot selection doomed them the entire game as well.  Players were taking shots that showed the coaches grimace on the bench.  N.C. State just played older and better once they had confidence.  This was a team that had been on the road most of the season, struggled, yet had a win over Arizona.  Coming back home to their best crowd of the season launched a lot of intangibles which was a clear lift for their upset win.
Duke was not prepared to play a 40 minute game going into this one.  Marques Bolden being out really hampered a short rotation and the Blue Devils played their worst 2nd half of the season.
Why did Coach K not play Alex O'Connell more after saying he should have played him more in the win over Florida State?
Well, you will have to ask him that question.  And he said he should have played him more in the 1st half of that game, FWIW.  Watching the team for many years leads me to believe that he lost trust in him against N.C. State.  O'Connell had a forgettable one minute of play where he looked nervous and was not aggressive on plays.
We all know that the bench shortens under Krzyzewski at times and this is a trust issue.  He is very keen of how many possible points each player is responsible for.  If a player doesn't go after a loose ball, or makes a quick turnover that leads to a score, he may be seen as a liability.
On the other hand, some starters are making some errors as well with concern to turnovers and defensive rotation.  I think he sees these five to seven guys as the ones who have the most potential to get better and the ones who will be on the court in March when games are one and done.
I am not sure if my answer helps with understanding, but I doubt we have seen the last of Alex this season.  However, there are very few options off the bench within past coaching construct or trends and that means the light will have to go off for the starters