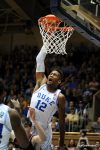 Marques Bolden will miss his second consecutive game when Duke takes on Pitt this Wednesday evening.  And now we can add Javin DeLaurier to the injury list as well.
Duke coach Mike Krzyzewski confirmed both players would be out against the Panthers in the Blue Devils next road ACC game.
Bolden suffered an MCL sprain during a recent practice and could miss the Wake Forest game as well, per Krzyzewski.
DeLaurier has been battled a hamstring injury for much the season. He missed Duke's game against Evansville on Dec. 20 and has not played as many minutes as the staff would like.  The sophomore forward will be day-to-day moving forward with concern to his return.
Duke may look to Antonio Vrankovic to feel in for some minutes and the Blue Devils will once again be forced to play their starters significant minutes.
Duke will tip-off against Pitt at 7:00 on ESPN 2 this Wednesday.  The Blue Devils stand 1-2 in the ACC and 13-2 overall.  Duke is currently ranked 7th in the A.P.  Top 25 Basketball poll. Pitt is seeking their first ACC win of the season and is 8-8 overall.