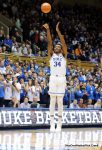 The Duke Blue Devils could not come back from a 10 point halftime deficit, despite a 30 point, 14 rebound effort from Marvin Bagley III.  Virginia iced the game at the free throw stripe down the stretch as Duke played its starters the entire 2nd half.
The end result was a 65-63 loss to the nations #2 rated team on their home court.  With the loss, Duke falls to 18-3 overall and three games behind Virginia  (20-1) due to a 6-3 conference record.
"It's just one conference game in the middle of the season," said Virginia Coach Tony Bennett.  But it was more than that in a sense due to the team rankings.  In fact, these two teams have played just five times with both teams in the top 10.
Bennett said that his team knows who they are and that it doesn't matter who shoots the ball.  But for Duke, they are still a team approaching another learning curve.
Virginia took advantage of a 14-4 advantage on points off turnovers and the Blue Devils committed 16 miscues.  Duke did not get any points from its bench as well and for that matter played those players sparingly.
Duke also left some points at the free throw stripe while the Cavaliers connected for 7 of 9.  The Blue Devils did not hit a three pointer until the 2nd half and ended the game 4-15.
"Winning here, I am thankful.  This is the Gold Standard what Duke has done," said Bennett.
Duke Coach Mike Krzyzewski said his team played better in the 2nd half but failed to make enough plays to win.  He also mentioned that some players would have to play major minutes to win something big.  What he meant by that is better to learn now than later.
Javin DeLaurier is still not 100% and Krzyzewski said Marques Bolden is close but not ready just yet.  Alex O'Connell is also recovering from the flu.
Virginia had four players score in double figures while the Blue Devils had only Bagley and Wendell Carter Jr. who tallied 14 points to go with 15 rebounds.
Despite the dynamic duos effort, Duke suffered with their backcourt where the trio of Grayson Allen, Gary Trent and Trevon Duval combined for 8-26 shooting.
Virginia is a team which protects the ball and makes you pay by not turning the ball over.  The Cavaliers had just 5 on the day while hitting their free throws and playing food defense on the three-point stripe.  They will always come away with a win when this is happening.
Duke must now turn around and get ready for Notre Dame on Monday evening.  There will be just enough time for Duke to rest but it will be after that game when they can really access film on the two games.
With March approaching quickly, the window is starting to close on lessons learned.  But Duke has only lost three games on the season and they are capable of getting better with some tweaks.