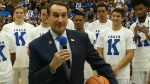 Duke Coach Mike Krzyzewski briefly addressed the media today.  Here are  some tidbits from that Q & A.
-If there is one thing that bothered the Duke coach in not only the loss to St. Johns but in the games of late; that would be turnovers.  Krzyzewski said that many of the turnovers against St. Johns were unforced.  "A really good team doesn't need to beat itself and when you commit that many turnovers we beat ourselves."
-Krzyzewski would like to see a more aggressive Grayson Allen.  he wants him to shoot hunt his shot and to play aggressive. "He has done that for the most part but not all the time. He is trying to help his teammates but you have to be careful not to lose some of you."
-Krzyzewski said it is easy to see what his team has to do better and while he is not minimizing issues as a simple fix -- he feels hard work will get the team to where it needs to be,
-Krzyzewski praised UNC for still being a good rebounding team despite playing a smaller lineup.  "Thursdays game is not an end all.  It is a huge game but there will be another after that.  Their program and out program is built on more than one game."
-When asked of struggles of late, Krzyzewski said, "Nobody wants to be at their peak in February."
For more thoughts on the team, join Blue Devil Nation Premium during our current special rate.