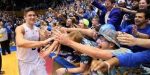 The Associated Press college basketball top 25 poll was released today where Duke moved up seven spots to become the nations 5th ranked team.
As usual, the Duke haters questioned how the Blue Devils could make such a jump in the rankings.  And as always, the facts are right in front of them.
The Blue Devils won consecutive conference games over Virginia Tech and Clemson.  Both of these teams are NCAA Tournament bound and are considered consensus op 30  teams.  Meanwhile, almost every team ahead of Duke stumbled.
Duke won games via their much improved defense which is a sure sign that the team is improving and on the rise as the regular season winds down.
In the win over Virginia Tech, Duke unleashed a new version of their zone defense which caught the Hokies off guard.  And trust me, Virginia Tech is a good offensive team, so that lopsided win was a huge notch in the Blue Devils belt.
Duke then followed that win up with another grinding style win over Clemson at Littlejohn Coliseum.  Considering the Blue Devils were the first team to defeat the Tigers at home this season while holding them to 57 points was impressive.
In the last two wins, Duke had held its formidable competition to just 54.5 ppg.  And that is a huge improvement from what was happening a few weeks ago.
These Blue Devils are also starting to play much better half court offense.  In fact, Krzyzewski and his staff knows to win games in March you will play a grinding style at times.
That grinding style which Duke has been good at of late grooms much-needed mental toughness.  This is especially the case with a team full of freshman who are asked to become older than their years by making wise on court decisions on every play.
And then there is the play of Duke's team captain, Grayson Allen.  In his last few games, Allen has looked like his old self.  After being in a bit of a slump, Allen is now vocally leading his teammates on both ends of the floor.
"In the last two years he has led us in assists each season, so he is accustomed to making passes.  He is much more mature as a player -- he's a smart player," stated Duke Coach Mike Krzyzewski.
He was alluding to the fact that his team has now developed more individually and that opened the door back up to get the ball in Allen's hands.
Krzyzewski continued, "We are putting him now in charge of a more veteran group of freshman.  He is a lot better and it has helped Trevon too.  He can go out on the side and also play on top."
Allen flat-out kept Duke in the game against Clemson in the first half and his defense of late is has been outstanding.  Allen had 4 steals in the game against Clemson as did his teammate Trevon Duval.
Speaking of Duval, he had one of his better games of the season in his last outing  You may have also noticed that he played at the top of the zone in the win at Clemson.  This was a switch off with Allen who manned to top versus Virginia Tech.
The bottom line is that the zone is getting better or at least staying consistent.  Add that to Allens improvement and Duvals acceptance of a different role and it once again points to improvement.
The list of positives continues.  Duke has succeeded of late without the services of the likely ACC Player of the Year, Marvin Bagley III.  His absence has afforded Duke the chance to design other players roles.
Wendell Carter Jr. has learned top play tired during this stretch.  He will also benefit from the return of Bagley in that he can no longer be double teamed.
Duke has also seen its bench step up and give truly meaningful minutes.  Marques Bolden is logging good time and has become a respect shot blocker and a good finisher.
JavinDeLaurier grabbed 10 rebounds in his first collegiate start and has earned the praise of his head coach.  And Jack White and Alex O'Connell have both filled in admirably at times as well.
Duke has also been hitting their free throws of late and making the three-point shot where Gary Trent Jr. is always a threat.  Trent consistently puts up good stats at times plays mature beyond his years.
With the expected return of Marvin Bagley on the horizon, there is a bright future for Duke.  That is as long as he is able to return in time to take care of easing back into the new-found team chemistry.
There is no timetable on Bagley per Krzyzewski, but he is getting better.  "It is not day-to-day but in some respects it is.  He is moving and I will know more today,  He is getting better and we're going to make sure that he is completely good before we get into March," said Krzyzewski during his Monday press conference with the ACC.
Duke will take on Louisville and Syracuse in home games this week and the team has four regular season battles left.  The team has a golden opportunity to take care of business at home.
So, while Duke is certainly worthy of their rise in the rankings, they must take another step in the process.  That points to simple consistency and continued forty minute effort and communication.
If the Blue Devils can take it one game at a time, protect their home floor with wins, then once again, next week, they'll remain a team on the rise,