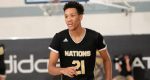 Despite a class which is destined to be the best in the nation, the Duke Blue Devils are not done with recruiting.  Enter the hopes of landing E.J. Montgomery.
The top player on the Blue Devils wish list is E.J. Montgomery, a power forward who plays for Wheeler High School in Marietta (Ga.).
The five-star prospect had committed early to Auburn but reopened his recruitment.
Standing 6-10 and weighing in at 200 pounds, Montgomery could make up for the size Duke will lose in NBA bound stars Marvin Bagley III and Wendell Carter Jr.
Montgomery has a long list of suitors which includes Kentucky, North Carolina and UCLA.  He has been selected to the McDonald's All American game which features the nations elite players.
Montgomery is long and athletic with a goo understanding of the game.  He can play the high post or mix it up inside.  He can take the ball to the rack with authority and continues to develop his outside shot.
He can feel the stretch role at Duke or be a mainstay in the front court.  His ability to score with his back to the basket or facing it would bode well for the rising star.
Here is E.J. Montgomery's profile from ESPN.com.
His family will be in to visit Duke for the home game against Virginia Tech which is scheduled for February 14th.