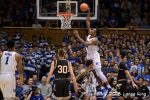 What best describes the mood surrounding Duke Basketball at this point in the season?  I will take a look-see at that question and more by sharing some thoughts on the Blue Devils.
I see you, Grayson Allen
Grayson Allen is in a good place right now.  He has been all smiles of late and for good reason.  His game is coming together full circle and at the right time in the season.  Allen is leading his team and has come out of his admitted somewhat shy shell to command and tell players where to be on the court.  Allen is at his best when the ball goes through him and the team as a whole seems better off as well.  Allen has beamed in consecutive games while talking in the ESPN post game interviews  as the player of the game.  I see you're happy, Grayson Allen.
I see you, defense
Duke has been playing some darn good defense of late.  It has been mainly zone but Mike Krzyzewski may go to man at anytime to shake things up.  The head man said that Duke communicated better in the zone with concern on where to be on the court during his post game press conference. As a bystander, I agree.  The Blue Devils have held three consecutive ACC opponents to under 60 points for the first time since 1980-81.  I see you, Duke defense.
I see you staff
The Duke staff is in serious mode these days and they are pushing the right buttons of late.  Not only are they recruiting like crazy when eyes are not on them, but they have made the right adjustments with a young team.  Whatever tweaks they have made, the team is in a good place mentally and physically at this time.  I see you working, Duke staff.
I see you, Wendell Carter Jr.
I notice you led the team in assists last evening while almost garnering a double-double.  Carter has become a steady player who shows up in every game.  He has learned to play tired at times with Bagley out and that has only made him better.  It is hard not to miss Momma Carter behind the Duke bench cheering her son on.  It is a reminder of how the Duke family works.  I see you crashing Allen's ESPN interview last night, Wendell.  We all know you are a big part of the recent success.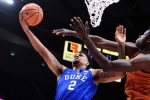 I see you, Gary Trent Jr.
Gary Trent Jr.  is at his best when he allows the game to come to him.  He is also very consistent as a true freshman.  Trent scored in double figures for the 22nd time this season in the win over Louisville.  He finds ways of helping his team and is a hard worker when it comes to improving his game.  I see the work you are putting in, Gary Trent Jr.
I see you, Trevon Duval
Duval had an off shooting night, but he had more assists than turnovers while leading the team in steals with five.    He also grabbed six rebounds from his guard spot and we all know Krzyzewski wanted his guards to hit the boards better.  I see you slithering in the passing lanes for steals and protecting the ball more, Trevon Duval.
I see you, Marvin Bagley III
Marvin Bagley III is a part of conspiracy theories these days.  If you go on the message boards, some pretty active imaginations are at work.  But Bagley is shooting around and is close to coming back sooner rather than later.  His dad is behind the Duke bench cheering as if his son were playing and they both know the comeback will be worth the wait as should you.  I see you about to reenter the Duke lineup, Marvin Bagley.
I see you, Marques Bolden
Bolden is showing flashes of what many know the big man can do.  He had some great moments last night (8 pts, 5 rebs, 1 blk) and some tape will show him that similar play will lead to good things.  He is putting together some very efficient minutes.  I see you improving and becoming a factor, Marques Bolden.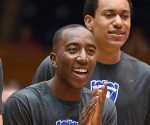 I see you, Duke cast
Javin DeLaurier has averaged 9.0 rebounds per game in his two starts.  His energy can make things happen.  Meanwhile, Jack White has been logging great minutes as well.  Even Alex O'Connell dropped 2 assists in 7 minutes of play.  I see you guys.
I see the better free throw shooting
I think we have all noticed Duke has been efficient from the free throw stripe of late.  The team went a phenomenal  15 of 16 last evening.  I see the work, Blue Devils.
I see you, togetherness
Duke has been playing with great chemistry of late and seems to be building upon that in each time out.  They have played big time defense, looked good in their half court offense, had a solid rotation and are having fun while competing.  And when you have fun playing the game, the weight of the season lifts.  Despite going through a brutal stretch of their schedule, Duke seems fresh with three regular season games remaining.  I see you having fun and competing for a full forty minutes, Duke Basketball.