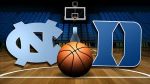 Duke will play the North Carolina  in the semi finals of the Atlantic Coast Conference Tournament a mere six days after their last meeting.  In that game, Duke used a late rally to overcome the Tar Heels and even the season series at 1-1.  For Duke to advance to the championship game for the second straight season they will need to contain certain players.
Perhaps no player is playing better than North Carolina senior Theo Pinson.  What Duke has to watch for is his passing ability where he draws the defense in to kick it out to open shooters.  Pinson has enjoyed success against the Blue Devils and is currently the most consistent player for the Tar Heels.
Joel Berry has been another player who has hurt Duke with his drives to the lane during his career.  Berry has struggled with his shot of late, but confidence can come from a single big basket.  It is important for Duke to not let that happen as he starts many streaks for his team when the aforementioned happens.
Then there is Luke Maye, a player who had a fabulous season.  His mid range game is something Duke needs to be aware of.  The Tar Heels strength is their experience.
The one player who has really hurt Duke in their match ups with North Carolina is Pitt transfer Cameron Johnson.  His numbers go up against the Blue Devils.  He can drain the three from anywhere on the court and was a rebounding machine in his teams win at Chapel Hill.
Kenny Williams is also a consistent three-point shooter who has found openings against Duke.  Williams rounds out a starting five that Roy Williams settled on ten or so games into the season.
With the Tar Heels, you always have to watch the break by getting back quickly.  The Tar Heels are at their best when running on offense.
Duke has the advantage in the paint with Marvin Bagley III and Wendell Carter Jr.  The Blue Devils will also seek to get continued consistent play from Marques Bolden and Javinn DeLaurier as well.
In the win in Durham, it took Duke a long time to find separation.  That only happened when Trevon Duval took over as the main ball handler down the stretch from Grayson Allen.
Duval had 11 assists in the win over the Irish but had a team high turnovers as well.  The Blue Devils will likely have Allen and Duval share the ball.
The one thing Duke cannot afford to do is stand around and wait for Allen and Bagley to do their thing.  While these two players have been hot, Duke struggled with lack of offensive movement from the rest of its talented cast.
There are many people who point to the Tar Heels as having played one more game and that it may lead to fatigue.  But lets remember that did not bother Duke a season ago.  So, counting on tired legs is not a good idea while playing a full forty minutes of basketball is the way to go.
All of the nation will feast on this marquee match up that will tip about twenty-five minutes after the conclusion of the Clemson-Virginia game.
Duke and North Carolina are already firmly in the NCAA Tournament field but both are now playing for a solid seed.  It is not easy to beat a good team twice in six days but that is what Duke must do to advance.
The winner of a Duke-North Carolina game does not always mean success down the road.  A season ago, North Carolina won the national title after losing to eventual ACC Champion Duke.
Regardless of that stat, both teams want to win and a chance at the title on Saturday evening.  Duke comes into the game 26-6. while North Carolina is 24-9.
The pick here is Duke by 6.