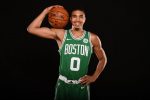 Jayson Tatum-mania is all the rage. Duke fans have been elated watching former Blue Devil Jayson Tatum succeed in the NBA.  The St. Louis native has been named to the All Rookie team and will receive significant votes for Rookie of the Year.
Tatum is leading the Boston Celtics in scoring in the playoffs averaging 18.4 ppg.  The young rookie is now considered to be a future superstar in the league.
"I just enjoy playing in the big moments, having things on the line and a lot of guys stepped up tonight.  I can't believe we are one game from the finals, especially after all that we've been through," said Tatum after the Celtics latest win.
The Celtics are in some ways winning with smoke and mirrors.  They lost another former Blue Devil in Kyrie Irving for the season earlier this year.  And much hyped free agent, Gordon Hayward was out for the year after a single game.  In short, this team struggles to go eight players deep with said injuries.
Instead of folding, Boston found a way to post the second best regular season mark in the east.  Much of the credit should go to the outstanding coaching of Brad Stevens.  But without a standout rookie year from Tatum, the Celtics would have folded after losing two NBA superstars.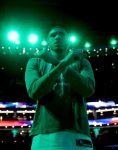 In Boston's game five win over the Cleveland Cavaliers, Stevens was quoted as saying, "I think that we misuse the word development sometimes," Stevens said of Tatum. "I think we're in the business of enhancement. I think Jayson was ready to deal with everything that comes with this because of who he is and his family and all his coaches before, because he's a very emotionally steady, smart player that was going to perform at a high level at his age. I don't know that anybody could guess this as a rookie, but you knew he was going to be really good."
Tatum and the Celtics have the king, LeBron James and his Cleveland Cavaliers on the brink of elimination.  And James, himself, has lauded the performance of Tatum.
"I think his composure (is impressive), he plays above his age. I think the unfortunate events of the injuries that they've had have allowed him to, I believe, get better faster than I believe they expected here. Because it's given him an opportunity to make fail plays or make mistakes and learn from them and still be on the floor. His talent, his composure, where he comes from has allowed him to be successful so he's a very, very, very good player already and he definitely at this pace can become a great player," said James after a recent game.
For those who've followed Tatum from an early age where he played for on the Nike EYBL circuit, his success comes as no surprise.  Tatum was as humble then in interviews as he is today.  There is no ego trying to surface but instead a genuine maturity beyond his years.
Much of Tatums demeanor is a product of his upbringing.  He was quick to praise God for his talents as a youngster.  And he was always under control showing a quiet yet determined focus when dealing with the media.  In short, he understood the process and he has stayed true to his goals.
Most recently, former Celtics legend Paul Pierce is singing the rookies praises.  And then there is Lakers legend Kobe Bryant who critiqued Tatum for ESPN.  Those and the aforementioned are but two of the many who are talking about Jayson Tatum.
It was 2006 when Jayson Tatum saw Kobe Bryant in person.  His Godfather, Larry Hughes and his Dad, Justin took him to see two games and one of those featured the Lakers.  Bryant became a then 8-year-old Jayson's idol.
One cannot help but think that now another 8-year-old somewhere is starting to view Tatum in the same way.  Somewhere in America, a kid is imagining himself going against LeBron James as Tatum in his backyard or on one of the many basketball courts which grace the land.
Interestingly, Tatum played against LeBron James as well on this 2006 visit.  Via Larry Hughes, he was able to go on the court during a practice where he took on the famed James.
"I remember I got to shoot with the guys, and think I played LeBron one-on-one or in a shooting game," Tatum said. "It's pretty crazy how fast time goes by," said Tatum in an in an article with the Boston Globe.
Tatum was one vote shy from a unanimous choice for the NBA All Rookie Team.  That fact has drawn the ire of his coach Brad Stevens and many others for it is head scratching in nature.  Names of the voters will be revealed after the season and we are sure to hear of the guy who will have egg on his face.
As for Tatum and his future exploits we can see him tonight in Game 6 of the NBA Playoffs on ESPN.  Somewhere, his former coach Mike Krzyzewski, former and current Dukies, St. Louis natives and the Blue Devil nation will be watching to see if the rookie can make it to the NBA Finals. One gets the impression that the aforementioned could be a yearly occurrence.  Here is to Jayson Tatum-mania remaining for many years to come.