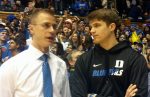 Joey Baker announced today that he is reclassifying and or skipping his senior season to be a part of the 2018 recruiting class.  Baker  6-foot-7, 195 pound wing from Fayetteville (N.C.) who played for Trinity Christian.
Baker will join the loaded class which consists of R.J. Barrett, Zion Williamson, Cam Reddish and Tre Jones.  He was close to Jon Scheyer and the Duke staff and his family came to the conclusion that he would be better served in his future endeavors by joining the Duke team this season.
Baker was a mainstay in Cameron Indoor Stadium this past season and he also helped to recruit other players to Duke.  Baker was a consensus top 25 prospect who will give Duke immediate depth on the wing .
More on the BDN Premium message board.