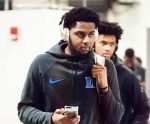 Duke may well benefit from Marques Bolden's decision to remain on campus since the school break.  The rising junior center is expected to play a key role on this seasons team.  Instead of going home, Bolden has been working with coaches to get in the best shape possible while recovering from minor surgery on his nose.  Blue Devil Nation caught up to the Texan big man yesterday for an interview.  Here is what he had to say -
Coach K said earlier today that you remained on campus and would be working a lot with the staff.  Can you elaborate on that?
Yeah, that's the plan.  I had this surgery done after school and wanted to get it back right whole getting my body in the best shape it can be.
What was the procedure?
I had a deviated septum, so it was just a little small procedure.  So now I am working out and taking summer classes and like I said trying to get in shape that I can.
Has it made a difference -- the way you are able to breathe when working out?
Yeah, there's a difference.  I kid of got used to it at first but now that I've had the procedure I can feel a big difference in my breathing.
A lot is expected of you this season.  It looks like you have a golden opportunity to be the man in the middle starting.  Talk about that a little bit.
I am looking forward to it.  It's just something you work for; to be able to do things like that.  So, I am just thankful for the opportunity.  We've got a great group of freshman coming in, along with the returning guys that played, so I am looking forward to the year.
You were not able to take a trip with the team last season when Coach K  had a procedure.  Do you feel the upcoming trip to Canada will be beneficial?
Yeah I feel like it's going to be real beneficial.  Like you said, we were not able to take the trip last year so we don't know all the benefits.  Instead of battling each other until the season starts we can play against competition and that will be good for us.
Coach K said he hadn't named captains yet, but is that something you think about a little bit being an upperclassmen? 
Yeah, I mean I have obviously played on two great teams that had great captains so I have learned from them.  And that is something if he were to give me that type of title, I would embrace it.
On some saying he has yet to live up to the hype he had coming out of HS -
Yeah, I feel like it's a personal thing.  I really don't have much to prove to anybody other than myself and this coaching staff.  So I am just working this summer and looking forward  to this year.
It seems like you are just trusting the process, letting things work out in their own time.  Would that be true?
Yeah, I mean I know the type of work I put in and I am confident in myself and the people around.  I think we're going to have a great year.
The pre season prognosticators will probably say Duke has two players in the post who will play a lot.  You're will likely play a lot of minutes.  Will that put any pressure on you?
Naw.  I feel like that would be a lot to think about.  You just focus on being the best player that we can for this upcoming team.  I really don't feel like we have to worry all the other little things.  We've just got to focus on ourselves.
What is the one area that you feel like you need to improve the most on next season?
We are going to be more versatile.  We've got a different group of guys compared to last season.   We've  got guys who can play different positions.  Really, just being comfortable at each spot on the floor.
When I covered you school, you floated out a lot for some shots.  Do you think that will be a part of your game this season?
Yeah.  That is something I put a lot of effort into and I definitely feel like I can do that.
What has it been like to practice against players like Harry Giles and Marvin Bagley while at Duke?
It's been a huge help.  You come here to get coached by the best and play against the best.