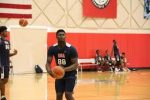 Incoming freshman Zion Williamson and Joey Baker will join a bevy of Duke prospects in  the tryout for the 2018 FIBA Americas U18 event.  On May 28th a five-day camp will begin in Colorado Springs and on the last day a group of finalists will be named to continue training for another five days.
Also included on the initial list of hopefuls are some key Duke prospects.  Among those are Cole Anthony, Bryan Antoine, Will Baker, Matthew Hurt, Josiah James and Joseph Girard.
The Championship game will take place in St. Catharines, Canada from June 10th through the 16th.