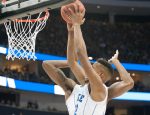 One of the players likely to play a major role on the coming seasons Duke Basketball team will be rising junior Javin DeLaurier.  In his third year at Duke, DeLaurier hopes off-season work will take his game to another level.
We spoke to the rising junior during the recent Coach K Academy in Durham, N.C. which helps to fund the Emily K Center.  DeLaurier shares how he will embrace his role as an upperclassman to teach the Duke way to the incoming freshman class while at the same time working to improve his game.
You're like the old guy on this team now.   How does that feel?
Yeah.  It's weird to think about.  My third year came around pretty quick -- quicker than I expected but at the same time I'm excited to get these young guys here and to teach them how we do things here at Duke.
What has the staff shared with you about teaching the newcomers?
The entire coaching staff, including Coach Will (Stephens, Duke Strength Coach) has stressed the importance to all of us upperclassman to really be leaders and set an example for these young guys coming in.  They're super talented but as freshman it takes some adjustment.
During his press conference, Coach K said he wants to see what you guys look like together; not just the freshman but the upperclassman as well who will all play larger roles.  Can you share a little bit about what they've shared with you about this thus far.
You know it is just going to be different this year than last year.  We obviously lost two talented bigs in Marvin (Bagley) and Wendell (Carter) and I might find myself more in the post.  That is something I have to prepare for.
When you look at the roster it would appear that you are one of two post guys projected to play significant minutes..
Yeah.  No doubt, no doubt.
There will be a lot of pressure to get on the boards and that kind of thing...
Yes sir.  I know there will be some guys bigger and heavier than me in the post.  I am looking to learn how to guard guys, especially guys who are bigger and heavier than me and developing more confidence to score down there.
What will you be working on the rest of the off-season?
I am looking to build my confidence up, my skill level and be more of a scoring threat.