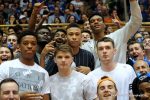 The Duke Men's Basketball staff has been working with the star-studded incoming freshman class and their returning players while preparing for their trip to Canada.
Before that trip takes place and the ten allotted practices begin the staff will be out to several recruiting events starting Thursday, including the Nike Peach Jam.
In our latest update for Blue Devil Nation members, we take a look at who they will look at and how the recruiting class is shaping up as well as updates on next seasons team.
New names could be in play and there may be interest in players some think they've move on from.  Check out the latest by taking advantage of our membership special where we are offering two years for the price of one for interested subscribers.  Go to membership options on the front page for the special.
Our latest update for members is on the message board.  If you are a member having trouble accessing the message board, contact us.