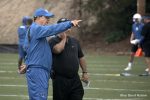 Opening Statement -
DAVID CUTCLIFFE: I think it's been good for us, really a shorter August than maybe we're used to having in years past with 25 practices, but I think because of the opponent, the quality of Army, a team that won 10 games and it's no accident, and our players have been intense, they've worked hard at preparing well, I do believe they're ready to play. I know they're ready to play a game. They're tired of hitting each other. It's going to be difficult with the offense they run. They led the country a year ago in 3rd down conversions and 4th down. Got to get stops where we can, and then offensively we'd better be efficient when we have it.
Q. To speak on the wide receivers, Johnathan, T.J., Chris and company, just what you can say coming through fall camp with the weapons that are out there for Daniel Jones and what you're taking away from the wide receiver group?
DAVID CUTCLIFFE: Well, I'll tell you, they're veteran. Obviously, you just mentioned three seniors, Aaron Young, a junior, is a big strong target who has had his best camp. Johnathan Lloyd has had probably the best camp of all of them. But T.J. coming back is the leading receiver in the ACC in the number of catches. It's just veteran people.
What I like the most, Gerad Parker is a veteran coach, but they really set a tempo on the practice field, all of them. We've got some talented young people in Scott Bracey and got three talented young freshmen, but their work ethic has been outstanding.
I think Daniel is excited about the amount of time they got together during the summer on their own. So it looked -- I mean, they really, you can tell they look very comfortable with Daniel, and Daniel is very comfortable with them.
Q. I know that you and I have spoken about Daniel a lot, but you've worked with so many different quarterbacks, so many different calibers and talents and whatnot. What can you say about working with Daniel Jones? And with all of the work that you've had with quarterbacks around this country that have had a lot of success, where does he stand out and kind of stack up in your opinion with all of the work that you've done?
DAVID CUTCLIFFE: Well, the physical parts of it, he is really physically gifted. He's got a big arm. He's got great brains, he's got a great touch. His accuracy is really, really good. I think he's learning at a rate that most of our guys have learned. It's been fun to have him two years as a starter. It's not an accident. He's had some really big wins. He's played hurt. He's tough. He is a very smart young man. I think his football IQ is really growing. As he's played more, he really understands some of the things you've got to do to be successful consistently.
And then one of the things that I think you always look for in your quarterbacks and as a third-year starter, he certainly has taken charge. He is much more demonstrative, and he knows how to run our offense, but he also knows what to expect from his teammates, and I think we'll benefit from that this fall.
Q. What's your assessment of your run defense heading into that game against the Army rushing attack?
DAVID CUTCLIFFE: Well, that one is so different. A year ago, we did a solid job against them. We held them scoreless the second half. They only scored 14 points on us. I think we're better than we've been up front physically. We've got very veteran linebackers, but it doesn't make it any easier. They've got a new quarterback that probably will throw it a little more. They've got their fullbacks back, which makes it -- that's where all option attacks start, and in my opinion, they do the best job of all the option teams attacking you with their fullback and with their quarterback. So they minimize their mistakes.
So when you get right down to it, what you just said is the most critical question: Can we defend them? We can't count on getting any gifts from them, but can we be physical, defeat blocks and make tackles? We'll know more about that after Friday night, but I think we are more equipped than we've been.
Q. I know you've talked in the off-season about your confidence in both the offensive and defensive lines being better this year for you. How have you seen both of them progress through the fall, now that the season is ready to start?
DAVID CUTCLIFFE: Yeah, I've had good conversations with Ben Albert and Jim Bridge as we've competed with each other. I've gone to a lot of those drills, and we've spent a lot of time against each other, a lot of inside drill work, a lot of broken-down live work, where it's full speed pass rush but one-on-one, full speed run blocking half line. It's been fun because it's been a war.
We are more physically physical. We're stronger, and it very much shows. Our strength staff has done a great job. We made an emphasis -- we went to a four-day lift week, and we did it through our entire cycle, and in trying to become more physical. We play in such a physical league. I'm anxious -- it's hard to tell when you evaluate it against each other, but it certainly looks and feels more physical, and I'm hoping that is true when we get on the field with Army Friday night.
Q. Daniel Jones is already getting a lot of talk about a potential round 1 guy if he comes out in the draft this year. What do you see of his ability to shut that noise out and kind of focus on the task at hand?
DAVID CUTCLIFFE: Well, he's an unusual young man. I promise you, he doesn't hear any noise. He is so tuned in to being a teammate. Daniel has never really been about himself. Every bit of his being is about being a part of the team. And that's really our program. We've got other guys that are underclassmen that that may well happen. If it does, I've been around it a lot before. We'll help them make what is the best decision for them. But we don't have to worry about that for a while. The fastest way to make that not happen is to be distracted, and so I think he has been tremendous this spring.
Another thing I would tell young players all over this country, if you play this game trying to keep from getting hurt, you're going to get hurt. I've seen it too many years. I've done it a long time. We've met about it with all of these guys, or I did, met with them back in May after spring practice, and we feel great about where we are with that.
Q. You're the elder statesman of the conference, and I hope this doesn't happen for a while, but when you finally hang up that whistle for the last time, in one sentence, what would you like your legacy to be as a person and as a coach?
DAVID CUTCLIFFE: Well, I would hope that maybe if there's one sentence, it would just be that he did things the right way. I don't know that you have to kind of get beyond that, but that's what we've tried to do, and that we've cared about people. I think probably through the years, what I would -- the other part of it is trying to raise young coaches because they're going to affect a lot of folks; boy, he had a lot of good people work for him, and that is important to me as a legacy.