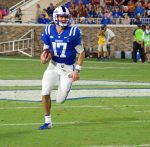 Duke had a golden opportunity to go 1-0 in the ACC and remain undefeated and ranked in the top 25, but a fired up Hokie team spoiled the party.
The Blue Devils could not get things going offensively until late in the game despite the return of Daniel Jones and that made for a frustrating evening.  When the dust cleared, Duke was on the short end of a 31-17 score.
Virginia Tech quarterback Ryan Willis exploited the Duke secondary early and often and ended the game  331 yards passing including 3 touchdowns.
Big plays haunted Duke which included a 67-yard touchdown pass which made the score 17-7 going into the half.
Duke took a 7-3 lead early in the game on a 23-yard touchdown pass from Jones to Noah Gray, but everything started to go wrong from there.
Jones suffered his first interception of the season which led to a score as well.  And Duke was stuffed at midfield when they went for it in an effort to get back into the game.
Meanwhile, the Hokies seemed focussed not turning the ball over and scoring each time they were in the red zone in the first half.
Jones would end the game with 226 yards passing, one for a score.  Duke wound up with 327 yards of offense with 18 first downs to the Hokies 413 yards a 17 first downs.  The difference being big plays which helped to  Hokies to a 3-1 record on the season.
Duke will try to regroup with a bye week coming before they travel to Atlanta to take on Georgia Tech.  A season ago, Duke went on a vicious losing streak after a 4-0 start and the emphasis for the team will be to prove they're better prepared for adversity this go round.