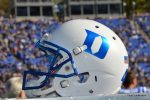 DAVID CUTCLIFFE: Yeah, we needed the open date, let a few people heal, hopefully enough to play in some cases. Absolutely realize we've got a very difficult task -- I think Georgia Tech is playing right now as well as anybody I've seen, period. You see where Coach Johnson has influenced this team from the start of the season until now, they've gotten better in all aspects. They're hitting on all cylinders on offense. Defensively you can tell they're more and more comfortable in their system, so they're doing more things, and their kicking game continues to improve. They've got weapons as specialists.
This is a really good Georgia Tech team. We've got to get back on track. It feels like forever since we've played. Our players, I think, are anxious to get back playing, but certainly this is a huge challenge in Atlanta this weekend.
I'll take your questions.
Q. In your opinion, is it harder to get a team focused for the next game after a big win or a big loss?
DAVID CUTCLIFFE: You know, it's a really good question. Unfortunately I've been around more big wins than I have big losses, but I've learned a little bit more about the losses as you go. I think sometimes the losses are depending upon the time of year. If you suffer a loss late that's pivotal to your season, I think it becomes very difficult to pick a team back up and refocus them. Do it a little earlier in the season, I think the loss sometimes fuels you where you're not dealing with the complacency. Win a big game early, I think you can be complacent.
I have found, though, when you win big games at the end, they're meaningful. They propel you forward. So I think, again, it depends on the time of year. You get a team six, seven, eight games in that's winning and knows they're in a championship hunt, they can't wait to go back and practice. If you lose, I think probably in that same frame, it probably is much tougher.
Q. Georgia Tech, offensively they're playing really well the last couple weeks and they've mentioned how they've simplified things, and I'm curious if you've seen that or anything else in terms of their real steep improvement in play the last two games?
DAVID CUTCLIFFE: I think -- I don't know if you would call it simplified. I think they're executing what any option offense does really well. If you look at the balance, they certainly are having success running the fullback. Quarterbacks are running wild, but I think they're running the option all the way out real well. By simplifying it that means running a little more triple and arc, they're doing a good job of doing that. They've got other ways to get the ball on the perimeter, but when you -- their slotbacks or A backs are averaging 10 yards a carry. So that indicates that you're having a lot of success across the field.
You see very much that they committed themselves to running their offense. Marshall is -- he's pretty slick, now. He's really great at running it, and you've got to honor the pass. That's the other part of it. You can stay simplified, but at any moment they're going to throw the ball and throw it well, and you're trying to limit the number of explosive plays that they can produce. But nobody seems to be doing that right now. It's pretty tough.
Q. You mentioned Marshall. I know that he considered coming to Duke. What do you remember about your recruitment of him?
DAVID CUTCLIFFE: Well, he's just a great person. He's a great athlete. He's a fierce competitor. I like players that you can see on film that look like they want to -- they can't wait to play the next play, regardless of the result of the play, they get up and they go back. And I think that's his personality. That's why anybody would like to have him on their football team. He loves to compete.
Q. How did you envision using him if he came to Duke?
DAVID CUTCLIFFE: Well, he's obviously a great athlete, and he's not the prototypical size drop-back quarterback, but they've probably used a lot of players in a lot of different roles. But he's a guy that -- yeah, he can play quarterback. He's proven that every game. But he could also be a running back. He could be a slot receiver. He could be a DB. So I think when you sign a player like that, you're really not sure what to expect. You get them on your roster, but I promise you, you'll find lots of ways to use them.
Q. In terms of your own offense, what improvement do you need to see coming off the Virginia Tech game?
DAVID CUTCLIFFE: Well, you've got to produce explosive plays this day and time to get your points per game up. We didn't do that against Virginia Tech. It was the first time this year we didn't produce it. We had chances, and we missed them. Close calls are not what we're hunting. We've got to execute better when we throw the ball down the field. We've got to block not only up front better but you've got to block the second and third level better to create explosive plays in the run game. We've got to continue to take care of the football, and one of the things you've got to do to play good offense is keep the change normal. You can't have sacks, and we gave up three of those last week. You can't give up tackles for losses. You don't want to get behind the chains.
So really we've worked very hard over the open date at just our general consistency and just extreme execution of what we're doing. So hopefully that hard work pays off, but regardless of what you do on the practice field, you've got to make it happen on Saturday, and that's going to be a real test.
Q. Especially given the popularity of RPOs in college football today, I'm curious about your thoughts on the ineligible receiver downfield rule.
DAVID CUTCLIFFE: I think first thing everybody has got to represent, there are two types of RPOs. Where it first lived, it can be a legal play. You're throwing a bubble or a screen outside behind the line of scrimmage, and those things, linemen can be downfield. Then officials have to do a great job of seeing where the ball was caught. Often in the bold days you would see a flag go down and then they would have to pick it up.
As far as the throws that go downfield, people are throwing slants and quick outs, and it's very difficult for the officials to officiate it right now. Whether you give it no leeway or two or three yards' leeway -- we've had it called on us once this year, and it should have been called. We had a lineman that went downfield, and the play was not designed for him to release, and he did, and we threw it, and they caught it. So I think the officials are trying to do a great job of it. Whether it's three yards, two yards, whatever you choose to do, you just have to enforce it.
The other thing that gets really difficult is whose call is that. The guys on the side are moving downfield as the play develops. The umpire is trying to survive. I don't know if a referee and a center judge can see it. So it's a pretty complex question. But what you want is you just want fairness. You want something that can be uniformly called. I do think it's difficult on the defense.
But I also think it is a weapon that you can use offensively if you use it properly. So I just -- if we look at the rule, and I think we have to continue to look at it, we just have to make sure it is something that we can actually officiate. We've got some other things going on, I think, that I wouldn't want to be an official trying to figure out what blocking below the waist was right now. If you get in that rule book and read it, you can't call it. It's very difficult. Probably the only aspect of it that you can call, in that case, is that it can't happen five yards beyond the line of scrimmage.
I'm using that as an example because I think you've got to be careful with these rules and make sure that it's something that the officials can execute. I know that's a long answer, but it's a very complex question that you asked right now in football.
---
PAUL JOHNSON: Good morning. We're looking forward to being back home and having a chance to play a really good Duke team. I think that Coach Cut has done a really nice job there. They're really, really good defensively. They run to the ball, play hard, and when they have their quarterback in there, they present a lot of problems offensively, as well.
Q. Coming off the offensive performances and the wins the last couple weeks, obviously the opponents haven't been South Florida or Clemson, but what can you discern from what the improvement has been in terms of your offense versus maybe the caliber of the opponent you're playing?
PAUL JOHNSON: Well, I think Clemson is Clemson. You mentioned South Florida. We had 600 yards on South Florida and 38 points. We just didn't get enough to win the game.
You know, I think we've played better, we're executing at a little higher level, and it'll be a challenge this week. This will be the best defense we've played for sure since Clemson, and they're really good in their own right.
Q. What have you liked about Marshall's play in recent weeks?
PAUL JOHNSON: I think he's limited his mistakes and played within the system, and he's got good ability. He's quick, and he's made good decisions, and when we play with no turnovers and no penalties, we can be pretty effective.
Q. I've heard some of your colleagues say that they sleep better during seasons in which they're pretty confident that they have a quality backup quarterback. Does Tobias give you that comfort?
PAUL JOHNSON: Yeah, he's a good player. He's played well every time we've asked him to go in, and I think he's just going to continue to get better and better the more he plays. I feel good about both those guys, absolutely.
Q. Just to follow up what you said about Duke, when you look at them on film, what impresses you that has made you impressed with them?
PAUL JOHNSON: Well, I think their talent level has gotten better each year. Certainly their two linebackers, really they've got three linebackers that are all good players. The Harris kid and the Humphries kid have been playing for a long time. They've played against us a bunch.
I think that their team speed is much better. They've got guys up front that can get pressure on the quarterback without having to blitz, and it just looks like when you watch them play, they understand their scheme, and they play fast, which is what you want with a defense.
Q. You mentioned the guys from Duke who have played a long time. So, too, has Parker Braun played for you. How has he improved specifically this season and perhaps even bringing leadership to that line given his experience?
PAUL JOHNSON: Well, I think the biggest thing, he's just a year older and stronger. He's always been a pretty good player. He has to play within himself sometimes. He gets a little outside because he likes to compete so much.
But you know, he's got a good skill set, and he's tough. He's fearless, and he likes to play the game. I think the longer he plays, the more he becomes aware of defenses and understanding what they're trying to do and all those kind of things, and he's been a really good player for us ever since he played as a freshman really.
Q. You mentioned getting outside of himself; how does that manifest during a game?
PAUL JOHNSON: Well, what I'm talking about about that is he may go after -- he gets in his mindset he's trying to get somebody and he becomes too physical or too out of control. When he plays within himself and plays in control, he's really good. He just can't allow himself to get out of control. He plays nasty. That's a better way to put it. He gets after you.
Q. Where do you feel like your defense has made improvements over the last couple weeks?
PAUL JOHNSON: I think we're getting better. I think the kids are starting to understand a little bit. We've had some issues on 3rd down, and that's something we're trying to work hard on. I think that that's right now the biggest issue over there, still having too many missed assignments. But I think the more they play, the better they're going to get. So we've got a lot of young guys over there, and I think we're finally starting to get to the point where we're kind of settled on who we want to play with, and I expect that they're going to get better as we finish it out, and certainly they're going to have to.
Q. Talk about Daniel Jones from Duke, talk about his development, how he's played the last couple years. Does he look like he's much improved this year? I know he's coming off an injury.
PAUL JOHNSON: Right. I thought he played well last year. He's a good player. He's got good size. He's a dual-threat guy. He can hurt you running the ball as well as throwing the ball. I think probably the thing that's most impressive with him is he doesn't usually make mistakes. I think he understands what he's doing. He understands defenses, and he operates their system at a high level. I think he's a really good player.
Q. Talk about last week when you guys played Louisville. What did you like about your team? You played on a Friday night. Do you feel like your team is finally making that turn to finally go in a positive direction?
PAUL JOHNSON: Well, I think we've played better the last two weeks, especially offensively. But I thought we got off to a good start. Defensively we got a couple turnovers and were able to capitalize and get ahead in the game, and as well as we were playing on offense, once we got up 21-0, they were going to have a hard time catching up because we weren't missing a turn. It was a good way to start the game, and hopefully we can continue to get better and continue to execute at a high level the way we have the last two weeks. Certainly the defense this week will be a little better.