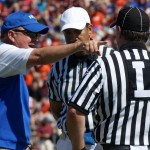 Duke Football takes on Virginia this Saturday in ACC action and here is what both coaches have to say before the match up.
David Cutcliffe
Duke
THE MODERATOR: We are now joined by Duke head coach David Cutcliffe.
Coach, please make an opening statement and then we'll take questions.
DAVID CUTCLIFFE: Playing a really, really, really good Virginia team. Coach Mendenhall and his staff do as good a job of coaching all three phases. They're as balanced a team as you'll play every year now. No secret to why they've won.
Virginia is a talented team. Obviously on offense, the runningback, quarterback, receivers, tight ends, are all weapons. But certainly a quarterback that can beat you in multiple ways.
Defensively they've got a lot of really good just football players, guys that can make plays. Thornhill does a great job just playing well. Talented athlete. So they pose a lot of problems.
In the kicking game, they play extremely hard, extremely well. Our focus has been on Duke. We have to get better to be able to compete with them. We have to practice well to put ourselves in positions to be successful.
With that I'll take any questions.
Q. Another kind of general trending question for you. We've had four years of the College Football Playoff. 11 of the 16 spots have been occupied by four programs. Do you think that overwhelming majority among four programs is the result or the case of an unintended consequence in forming the Playoffs? Do you think it's a trend we should be concerned about? Do you think it should lead to more teams in the Playoffs?
DAVID CUTCLIFFE: I would not ever push for more teams in the Playoffs. This isn't really a tournament sport. If you start trying to turn it into a tournament, it's not going to work.
But the second thing, it certainly has been a trend. It's kind of happened that way throughout the history of college football, that the top teams over certain periods, certain eras kind of remain the top teams year in, year out. It's an indication of how well they're recruited, established program, emphasis of football in that community, so to speak.
I don't know if you can do anything to change it. It's kind of what the free world is all about. You do see some outliers, but it's tough when you look at the talent level at certain programs, you got to really challenge yourselves as a program all around.
I think you'll see some changes. It's kind of done that, where the power shifts. There's some programs right on that edge. That's what makes it special.
I'll tell you where our tournament is, and this is where every team is held accountable, all of us, is that the regular season is our tournament. If you want to be in that dance, that really big dance, you got to play great all year long. That's a big part of our sport. It's why our regular season is one of the more healthy regular seasons in all of sport.
I hope that's what you wanted.
Q. I had a chance to talk to Daniel Jones. He mentioned he hasn't played particularly well against Virginia in his previous outings. Why do you think that is?
DAVID CUTCLIFFE: I think Virginia plays good defense. I don't think there's any other real reason. I've got to do a better job of having him prepared. Any time a player doesn't perform what they think is their best level, I always look at myself. Got to put our players in good positions to be successful. That's my job.
Q. Your time coaching him, how has he developed in terms of teams he plays two or three times? Does he gain a better handle or understanding on what they're trying to do?
DAVID CUTCLIFFE: I think every quarterback does that. You're fortunate when you have a guy that's a two, three, four year starter in your program. I think they all gain insight. He's really, really bright. What he's done is he's grown not just in any one opponent, his approach to preparation, his approach to studying team, his approach to how focused you have to be on practice, to being an owner on the practice field.
I think the quarterback has to be an owner out there because everybody on that offense affects him. Sometimes when you don't play well, it's not all on you. But your responsibility is there. I think Daniel has done a better job of being a great practice player. That will serve him well as he continues to grow.
Q. In looking at the ACC stats this week, it appears that Duke is in the top half of virtually every defensive category, which I guess hasn't been the reputation over the years. What do you feel proudest of your defense?
DAVID CUTCLIFFE: I think it's been such a team effort. Ben Albert, Matt Guerrieri, Kirk Benedict, who is our special teams coordinator also work in the defensive staff, just been an emphasis of trying to make a team effort of getting better.
Recruiting is better. Our commitment from our players, it's really a good focus. It's something we believe we can really build on. I don't think we've seen the best Duke defense yet. We're working very hard to continue to grow that.
Q. Something about Georgia Tech's left guard, Parker Braun. I believe you recruited, saw him the other day. Tell me what you've seen in him in the game, on tape.
DAVID CUTCLIFFE: You want to talk about now or while we recruited him?
Q. Talk about now.
DAVID CUTCLIFFE: Okay, sure.
Parker is an explosive guy, strong. Comes off the football, blocks the first level and the second level well. If I had to pick one thing about him, obviously I've watched him a lot in his career, not just this past week, is that his toughness and his tenacity. He competes hard. He stays after you the entire play, wire to wire. He's one of those guys that plays till the whistle blows.
Q. Talk about Virginia's defense. They played a really good game against Miami. What do you have to do on the offensive side on Saturday afternoon?
DAVID CUTCLIFFE: Bronco Mendenhall is one of the better defensive coaches I've known. We've known each other quite some time. I studied what they did when they were at BYU because I thought they were good the at what they do.
I thought they were extremely well-respected for Miami. It almost seemed as if they were one step ahead of the entire game. They do a great mixture of their defenses, great blend of different types of things, different personnel, use their personnel well.
I think you have to have a very focused offensive team. You have to have a team that can handle their versatility. You got to be proactive. If you become reactive to what Virginia is doing, you're going to be a step behind.
You try to put your plan in, believe it. I think what they do for me is they make you prepare really, really, really hard. They got a lot to prepare for. We've tried to be focused in practice. But they require that you do that. I think they have a bunch of good football players. I mean, they're good athletes, but I'm talking about good football players that know what they're doing. They also have just a tremendous scheme.
Q. What is it like coaching in a rivalry game that's dated back to 1890?
DAVID CUTCLIFFE: Since I'm old and I was in the first one, it's really unique? I think I've been around for all of them, what I feel like sometimes (laughter).
I think it's fun. Any rivalry game, I've been fortunate and blessed to be involved with a bunch of great rivalries. This is unique. It really is. I spent quite a bit of time off and on through the years up at Charlottesville before I was at Duke. It's a great university setting, as is Duke.
I think it's a good rivalry again student bodies, not just teams, sports teams.
=============================================
Bronco Mendenhall
Virginia
BRONCO MENDENHALL: We're anxious to continue ACC play, this time going back on the road after a good performance by our team against Miami, and so we're hopeful to carry the momentum and improvement our program is making and carry is forward into our next game. So I'm glad to take questions.
Q. You guys have handed to running backs 110 times this year, and 102 of those have gone to Jordan Ellis. I know you always talk about his conditioning, but how is he holding up and what kind of an impact do you need him to have in the second half of the season?
BRONCO MENDENHALL: Yeah, he's holding up really well conditioning-wise. We just barely came off the practice field, and he just never seems to get hurt or tired. His conditioning, there's a reason that he's at the highest level in our strength and human performance categories and standards, and we need him to continue just as he is, all the way until the season is over. So that's what we're counting on.
Q. Malcolm Cook, having him back, what does that do, and how has he looked so far in practice?
BRONCO MENDENHALL: Yeah, Malcolm is returning to full health. He's not 100 percent recovered, but just having him available in that last game was critical, as we had an injury to Rob Snyder during the game, and so at an already thin position, it allowed us to at least manage and get through the game, and as he's returning to full health, it'll just keep getting better and better in terms of the impact he can have.
Q. And is Snyder back and available now?
BRONCO MENDENHALL: Yes, mm-hmm.
Q. You mentioned Monday Coach Cutcliffe's reputation for coaching offense and teaching quarterbacks, but it seems that Duke's most marked improvement the last two years has been on the defensive side. As you have evaluated tape, what have you seen that they are doing so much better on that side of the ball?
BRONCO MENDENHALL: Well, I like their scheme, first of all, so the position they're putting their players in I think is very good. They're coached very soundly fundamentally. They played with intensity and effort and aggression. But they're also poised and disciplined. I just think they're getting quality instruction, and their system now is allowing players that have been recruited to Duke to have their best chance for success, so I think the scheme matches their personnel, and they're coached really at a high level.
I'm impressed from what I've seen, and acknowledging and liking great defense and good defense, I started paying attention when we came into the league, and I think they just keep getting better.
Q. Statistically it's the linebackers who jump off the page. Giles-Harris and Humphries specifically. Are those the ones that jump off the tape?
BRONCO MENDENHALL: Not necessarily. So they're strong and very productive, meaning that they're really consistent and they make lots and lots and lots of plays. But they're really just a component of the front seven and the collective 11, which just has players doing their jobs consistently and unified and coordinated at a really high level. But they're really good tacklers and they're active, and so I would say they're the leaders of the group, and certainly they're noticeable, but the collective 11 I think is the strength of the unit.
Q. I've been getting a lot of questions about the sequence at the end of the game, taking the points off the board. I've been telling people it was to avoid a kickoff but I'm not sure. Have you done that before? Just kind of talk about that a little bit.
BRONCO MENDENHALL: No, I haven't done it before. I've never had that exact situation. But pretty simply by taking points off the board, there wasn't going to be any more football, and we guaranteed the win. If we leave the points on the board, there's still time left and a chance to play the game, so by taking points off the board, it guaranteed our victory really with no risk, and so that's what I did and why.
Q. Talk about Daniel Jones. You played against him last year down in Durham. What do you see getting ready for him this year?
BRONCO MENDENHALL: Well, he's a quality quarterback with size and strength and intangibles, physical intangibles that come with strong production. He's being coached and has been developed by one of the best offensive minds and quarterback coaches that there is, and his play reflects it. So I think he's a very good player who's helped his team get to be 5-1, and that's really record, talks a lot about quarterback performance. I don't think you get to 5-1 without strong quarterback play, so I'm impressed.
Q. I know a lot of coaches don't look ahead, but you guys beating Miami last week, you're basically still in the Coastal Division talk to go to Charlotte. Do you try to keep your players not thinking about that and try to get them focused on one game at a time?
BRONCO MENDENHALL: Certainly. It's every team's goal to win their division and really at the halfway point there's very few teams that are eliminated from contention. The best chance to reach any of those goals is to play well the next week, which is where our focus is.
Q. You mentioned getting Rob Snyder obviously back and Malcolm coming back. From an injury standpoint, where are you with some of the other guys that you've lost? Do you have any others that are becoming available --
BRONCO MENDENHALL: Nope, no, we're the same, so no difference from our game against Miami other than, again, Rob and Malcolm's status, which we just talked about.
Q. Are there any takeaways from last season when you got off to a 5-1 start and struggled down the stretch?
BRONCO MENDENHALL: Not necessarily. A few just key manifestations is ACC is long and grueling and difficult. It stresses roster depth and quality, and those two things really are manifest, so our roster is becoming deeper, but it's not significantly deeper. The ACC stretch is coming up, which is a huge test, and so really those things were the two key factors in our season.
Q. A little bit of a touchy question. I understand the need for safety, but you're seeing a lot of defensive players being ejected for targeting, and they can't really change the angle when the running back changes their angle. Do you have any thoughts on that?
BRONCO MENDENHALL: So you broke up there about halfway through the question, so I didn't hear the full question.
Q. Does the NCAA need to change a little bit and look at time and space when we're talking about targeting?
BRONCO MENDENHALL: Oh. Well, it's tough. There are hits that I think are ending up being targeting that I don't think are intentionally designed to be targeted by a defensive player, so there are some of those happening, and then there are certainly others that are clearly targeting, and everyone on the field and in the stadium knows that. I think it's still a work in progress. I still think it has possibilities to be improved. I'm talking about the rule for its intent, which is player safety. So I don't think it's perfect yet.