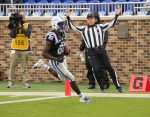 DAVID CUTCLIFFE: We obviously realize how difficult a task it is to go to Miami, and not only to play well, but to win. Extremely athletic team. A team that plays really well at home. We've had good preparation. I think our minds are in the right place. We're trying to overcome getting -- beat ourselves, and a huge challenge and one that we need to challenge ourselves to be able to be successful.
I'll take your questions.
Q. A little off-the-wall question for you. Who was your athletic idol growing up and why?
DAVID CUTCLIFFE: Mickey Mantle because I saw the Yankees more than anyone else. They certainly were on TV, baseball Game of the Week. I could go out and simulate being Mickey Mantle by myself, throwing the ball up and swinging in the air, and I was a switch hitter, so that helped.
Q. Did you wear No. 7?
DAVID CUTCLIFFE: Absolutely. The other one was Joe Namath, quarterback, No. 12. I had many of them. Listen, it changed, you know.
Q. From season to season?
DAVID CUTCLIFFE: Well, yeah, season to season. You know, the basketball was a little different, a little more removed. There was one game a week. Bill Russell -- I worked on my left-handed hook shot because of him.
You're bringing up good memories, I can tell you that.
Q. Miami's defense seems like they are growing every year into an elite defense. What do you have to do to not put play that fourth ball to those guys and put that turnover chain thing back on?
DAVID CUTCLIFFE: They do a lot of things that create turnovers. First of all, they lead the country in tackles for losses, and that's a big part of creating turnovers, creating bad down and distance. You can't be desperate. You have to be smart and patient. You can't play afraid or cautious, but you have to play smart to play a team like that -- we call them havoc plays, and their defense, as we view, it leads their country far and away in havoc plays.
Q. How do you prepare for two quarterbacks or whatever? How do you prepare for that?
DAVID CUTCLIFFE: They really don't change their offense. I think one quarterback may run more than the other, but they have so many weapons that surround the quarterback position that you'd better focus on that. So that's not as problematic as you might think.
Q. Covered your game in Atlanta and you guys looked so good. I thought you had a pretty good shot at winning the division. Would it be fair to say you're kind of surprised to be where you are now, two weeks later?
DAVID CUTCLIFFE: Yeah, I mean, there's no question that this team is not the same team. We have been challenged. You hesitate as a coach to ever say these things, but we've been as many as 12 starters down and it just continues to take its toll. That's something that we are hopefully turning the corner. We still have a lot of people not making the trip to South Florida, but we also know that this team is the deepest team we've had.
So my job is to get our young people playing better, and that's the biggest issue that we have faced are inconsistencies. You saw us in Atlanta, we were able to create some turnovers. In the three games we have lost, we have not created a single turnover. We've lost the turnover margin 4-0 in those three games, and we're playing a team that thrives on it.
You know, it's not a secret. If you're going to win, you've got to do the things that winning teams do. Our young people have got to not be young people right now. We've got a lot of them playing that we didn't think we would be playing with, but we are playing with them. So as I said, my job is to have them ready.
Q. Do you have a guess at who the top team in the league is, or in the division as of this week?
DAVID CUTCLIFFE: Obviously right now Clemson is playing at an extremely high level. They are left on our schedule. But the Coastal Division, it's just very difficult to say.
The team we're playing this week is extremely talented. But Virginia has played really well. Virginia has played very opportunistic and solid.
But I wouldn't call a winner right now. It's a horse race that you can't call. Too close to call.
Q. Can you put your finger on what's made the division so balanced?
DAVID CUTCLIFFE: I think the coaching has just continued. Paul Johnson and I have been in this league the longest, and we know the kind of job that he does. Georgia Tech has been really impressive here of late and just really, year after year.
Then you start looking at what Justin Fuente has done to follow up a legend in Frank Beamer.
And then Bronco Mendenhall is just an outstanding coach and got Virginia playing well.
Mark Richt is at Miami and got Miami playing well.
Pat Narduzzi at Pitt; you want to talk about physical football, and Pitt football teams have been that way for as long as I can remember.
Larry Fedora at North Carolina can score on anybody. They have just hit over the last two years a rash of injuries and circumstances.
I think I've covered the Coastal there. I just have great respect for the coaches, both in the Atlantic and the coastal, and I think our league is terrific right now.
Like I said earlier and somebody else asked a question, it's no secret. You have to do the things -- if you're normal, if you're not just overly talented compared to everyone else, you've got to do the things that win football games, and that's no secret. There are four or five things that a team has to do and embrace together to be a winner, and we haven't done it as well as we needed in the three losses.
It was very disheartening in Pitt that we kept giving up when we'd get two or three scores up. That's my job is to get us over that hump and we're going to find a way to do it.