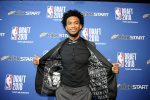 A season ago, Duke fans saw the amazing motor Marvin Bagley III had on the basketball court.  One thing, Bagley will never lack is energy and Sacremento King's fans will love that.
Last evening, Bagley had a double-double of 19 points and 10 rebounds against the Los Angeles Lakers in their exhibition game.  Bagley is also teammates with former Duke player Harry Giles, who added 14 points and 7 rebounds of his own.
Bagley has long had other hobbies including singing and the world is about to find out about more about the multi-talented young man.  Bagley has also signed a lucrative deal with Puma as he looks to have an outstanding rookie season.
For more on Bagley, check out this article from the Undefeated on ESPN by clicking here.