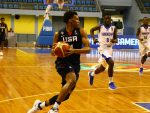 Fresh off his participation in the USA Basketball camp, Wendell Moore Jr. is set to make his collegiate basketball decision at Cox Mill High School at 7:00 this evening.
Moore is a key Duke target and he also has N.C. State, North Carolina and Wake Forest on his list.  He is one of the nations top wing players and the Blue Devils hope to land him and build the 2019 class around him.
You can watch Moores decision as it happens in via ADSN on YouTube below.