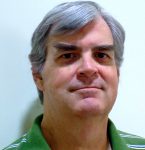 My longtime friend, Al Featherston died Monday, Nov. 5th, 2018 at Duke Hospital after a long illness.  Many of you know that Al has been a sportswriter for more than five decades and has authored books on both history and ACC sports.
Al attended Duke University and contributed to the ACC Sports Journal, Basketball Times, Blue Ribbon Yearbooks, Duke Basketball Report, GoDuke.com and many other outlets over the years.  He spent a great portion of his career writing for the Durham Morning Herald and the Durham Herald Sun as well.
He battled his illness until the end, but never recovered well from elective heart surgery.  He was also diagnosed with ALS or Lou Gehrig's disease.  Being a long time New York Yankees fanatic, Al was able to go out like one of his favorites.
I had a lot of history with Al, which included seeing Duke win a National Championship together.  Having seen a lot of Duke athletics in my time, he enjoyed someone to talk history with,
Towards the end, another good friend of Al's named Ed McIntyre was able to help get our pal into a retirement home.  I would take Al to appointments and run errands while going over on Saturdays to watch college football games.
Make no mistake, Al loved his sports and we watched the Duke away football games together right up until his passing.  Al was staying on a strict diet and got down to 212 pounds, but he liked that I would bring something special for him for football Saturday,
We thought we'd lost Al about two weeks ago,  On a Monday, following the win over Georgia Tech, Al went back into the hospital never to come out,  He would also lose conscience for about five days.
Thankfully, Al came out of that and just in time to inform his sister Libby who was up from Southport on his final wishes.  He was able to get some closure and I can tell you after conversing with him that he was still very sharp minded and at peace with what was to come.
So, as soon as I get to his room, Al spots the box score to the Duke Basketball exhibition game in my hand.  Before he can say hello, he is reaching for it while asking me about Marques Bolden.
Yep, his faculties were intact and he wasted little time in wanting to talk about that game and the Duke loss to Pitt in football which he had just watched.
I spent the better part of three hours with Al the last time I saw him.  I filled him in on what he missed while being out and he sponged it all in while wanting to continue to talk about this years basketball team.
Al was very excited about tomorrows Duke matchup with Kentucky and the Duke-UNC football game coming up this weekend.  He mentioned that he was sad that he would miss this basketball season with this year's talented team, but we had all hoped he could bounce out of his issues and at least make it through this week.
I was saddened to hear the news of his moving on from his sister this morning whom I have been able to get to know through the process.  I contracted a virus and could not make it back to see Al beyond that last conversation.
But in the end, I realized I had a great conversation with him that day and it was a normal exchange which I think he liked.  I will miss my friend greatly and talking Duke Athletics, ACC sports in general and appreciate the many memories with him by my side.
Al wanted his sportswriter friends and acquaintances to know he was thinking about them.  He was in his favorite spot in the world on press row where he enjoyed socializing.  Towards the end, the plan was for him to dictate some messages to me but time would not allow for that.  But, again, he was thinking of many of you.
Whether you are a sportswriter, work at Duke Athletics or in the ACC offices in Greensboro, just know Al was appreciative of the relationships.
Al was the son of Louis Alywn Featherston Sr. and Mary Norfleet Vick Featherston.  He is survived by his sister, Elizabeth "Libby" Featherston if Southport, N.C.; and brothers, Mark Featherston of Caddilac, MI and Richard Featherston of Seymour, Conn.
The family plans a private cremation.  A celebration of Al's life will be announced at a future time. I will let you know of any further details and please pass this information on.
I appreciate your friendship Al, who last told me he was looking forward to seeing what happens next.