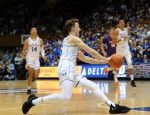 The Duke Blue Devils pushed their season record to 7-1 with a 113-49 win over Stetson.  Duke came into the game as a 43 point favorite and the team did not disappoint.  In fact, Duke cleared their bench at the eleven-minute mark in the second half with a 90-31 lead.
The Blue Devils were paced in scoring by RJ Barrett who scored 26 points including back to back dunks with the second one coming off a steal.  Cam Reddish knocked down four three-point shots to tally 23 points in just twenty-two minutes of play.  Zion Williamson added 17 points in a mere eighteen minutes of play.
After a sluggish start, Javin DeLaurier and seldom used Jordan Goldwire sparked Duke off the bench who added 15 points between them.  Duke also had double-figure scorers in Justin Robinson and Alex O'Connell who had 13 points apiece.
Duke shared the ball well with 29 assists.  Duke had 19 steals in the contest as well and a 43-7 edge in bench player scoring.  The subs had a 10-0 run to end the game.  To give one an idea of how long the bench played, Alex O'Connell led his team in minutes played.
The Blue Devils scored 41 points off Stetson turnovers.   Duke held a 58-24 edge in the paint as well.
Coach K also gave his condolences to George Bush who passed away today.  He met Bush through announcer Jim Nance and had the former president to Cameron for games in the past.  Bush also attended the last Duke national title.
The win was the 143rd consecutive non-conference win in Cameron Indoor Stadium.  Duke will return to Coach K Court on December 5th to take on Hartford.