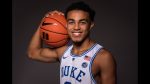 The Duke Blue Devils opened up ACC play with an 87-68 victory over Clemson in Cameron Indoor Stadium.  Duke goes to 1-0 in league and 12-1 overall.
It was obvious early on that Duke had some rust to deal with after a 15-day break.   Duke struggled on offense early on but senior captain Jack White knocked down three, three-pointers to help.  White finished the game with 12 points and 6 rebounds.
The ACC's leading scorer R.J. Barrett added 13 points and 9 rebounds.  Tre Jones had a career-high 9 assists with 0 turnovers to go with his 10 points
Zion Williamson had the dunk of the year after a steal in the 2nd half.  Williamson was dominant, scoring 25 points to go with 10 rebounds and 2 blocked shots.
Duke had 13 steals in the game with just 13 turnovers, 6 by Cam Reddish.
The Blue Devils face their first road ACC contest this Tuesday when they travel to Winston Salem to take on Wake Forest.
Sidebar - Mike Krzyzewski is 48-18 in ACC openers.
Krzyzewski is 48-18 against Clemson.
Good Bolden tonight.  He was assertive inside.
Zion Williamson said tonight's reaction to his 360 dunk may have been the loudest of any flush in the past.