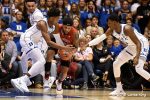 There have been times in the past where St. John's has played Duke tough and even defeated them a year ago.  When today's game in Cameron the two teams met again, but after a close and physical start, the Blue Devils settled in for an impressive 91-61 victory.
Duke has not lost a non conference in Cameron since 1980 and that just so happened to be against the Johnnies, so protecting the streak was important.  The Blue Devils seemed riled after a flagrant foul call and turned on the jets.
Before that happened, Cam Reddish knocked down three-pointers as Duke found themselves in a tussle.  He would end the game with 16 points
It was Zion Williamson that would wake up and take things personally.  He had the usual array of dunks and became unstoppable on his way to a game-high 29 points
The ACC's leading scorer in R.J. Barrett was held to 16 points but he made up for that with 4 assists and 14 rebounds.  Barrett told Blue Devil Nation that his teammates allowed the ball to come his way,
It was perhaps, Tre Jones who was the most impressive of the freshman with his lockdown defense on Shamorie Ponds.  Jones led his team in assists as well with 7 and seemed more comfortable than at any other time since his return from injury.
Duke also benefitted from the consistent play of Marques Bolden who added 10 points as the fifth Blue Devil to score in double-figures.  In fact, all the starters had said double figures
This was a good day for Duke in that they reached deep once Coach Mike Krzyzewski's coat hit the floor and they cruised to a solid win over what will likely be an NCAA Tournament team in St. John's
With the win, Duke moves to 19-2 on the season with their next contest coming against Boston College on February 5th in Cameron