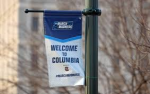 Duke strategy with Williamson is all Ace's
Duke may have been able to play Zion Williamson during the regular season or before the ACC Tournament but elected to sit the National Player of the Year to be.  The sacrifice was clearly worth it.  A fresh fully healed Williamson seems poised to follow-up on his ACC Most Outstanding Player with even better play in his home state of South Carolina.  So while Duke finished third in the ACC regular season, they cut down the nets when it counted for more. In doing so earned the number one seed and the number one ranking in the final polls.
Can youth handle being the favorite?
This year's Duke team does not have a senior team captain, Quin Cook running things nor a guy who has stepped up big time like the former Brian Zoubek and his former roommate Jon Scheyer.  The aforementioned veteran players played vital roles in the 2010 and 2015 National Championships.  This seasons team which is the fifth youngest group in the nation will depend more on some really talented youngsters.  Despite the talent, how will they handle things when the games get close?  Well, Mike Krzyzewski and his staff will fill some of the voids, but this group must take the games one at a time and tune out the hype as best they can.  Fifteen of thirty ESPN experts have picked Duke to win it all.  That fact epitomizes the media pressure.
Sooner rather than later for Bolden?
The news came out yesterday that Marques Bolden had returned to practice via Javin DeLaurier.  It only makes sense that Duke puts him back into the rotation the second he is ready.  The reason, of course, is to develop team chemistry and to quickly get him back into game shape over the next week.  Duke will not need the junior center in their first outing in Columbia but seeing him by the Sunday game would be encouraging.
Focussing on what is in front of you
The staff will make sure that Duke takes it one game at a time in the tournament.  The cold, harsh reality of one loss and done has entered the picture and that means you must focus on the job at hand.  Duke cannot control whom they play, when, etc.  The Friday-Sunday match up should work out well in that one your players have an extra day of rest.  The team might see a higher seed go down the day before which emphasizes the importance of focus.
Enjoy the show
Fans will one day look back on this Duke team as a special one no matter what they do in the tournament.  The reason being the collection of young talent.  Zion Williamson and RJ Barrett are destined for greatness in the NBA.  You just do not see two players of this caliber on the same team and likely never will again.  At season's end, both players will have averaged over 20 ppg and no freshman duo has ever done such a thing.
Columbia logistics
Duke will be playing at Columbia Life Arena in Columbia, S.C.  They will have an open practice for the media and public on Thursday starting at 3:25.  Their first game on Friday will tip-off promptly at 7:10 and will be televised by CBS.  Are you going to the games and looking for something to do on an off day?  Try Riverbanks Zoo or Columbia Canal on the Riverpark or visit the South Carolina State Museum.
Coach K and #1 Ranking
Duke finishes the regular and conference tournament season ranked #1 in the nation.  Duke Coach Mike Krzyzewski had led Duke to that ranking 123 weeks which is the most of any coach in the history of the sport.  Krzyzewski has an amazing 94-29 record in the NCAA Tournament.
Quotables
Javin DeLaurier's on his two NCAA Tournament experiences and what he can pass on to the younger guys:
"My freshman year we lost in the first weekend and last year we lost in the Elite Eight so really just telling everyone you have to take it one game at a time. It's got to be for the full 40 minutes and you can't look ahead to the next opponent, because if you do that, you can slip up and lose. It's March Madness for a reason and teams you never thought would lose go down all the time and we don't want to be one of them."
Tre Jones remembering the atmosphere during the 2015 NCAA Tournament when his older brother Tyus played:
"It's definitely different. It's different than a regular game, the atmosphere is different, the energy is different, guys are playing harder and everything is on the line and just being able to see that at a young age – I don't really know how to say it but I was only a freshman in high school at the time and I put out a goal for myself that I wanted to be in that moment one day and not that I'm here and I'm in that moment is going to be
fun to partake in it."
Blue Devil Nation Premium
If you think the Duke staff is not recruiting while the tournament is going on, think again.  But once it ends, recruiting picks up and BDN Premium will be talking about key prospects like Matthew Hurt.  Help support Blue Devil Nation by joining for a straight forward, no fluff take on what goes on behind the scenes.  You can join for 60.00 for one year during our special and those funds help us to better cover the program you love.  And you can then read premium articles and have access to the message board where you can ask questions and get honest answers.
This is your last day to fill out a bracket
By all means, join the Blue Devil Nation bracket challenge at ESPN and be eligible for their prizes, not to mention bragging rights.  The password is - bluedevils6
http://fantasy.espn.com/tournament-challenge-bracket/2019/en/group?groupID=2303744