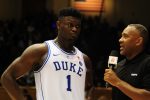 Duke Basketball Coach Mike Krzyzewski said he had his first workout yesterday without contact.  "He will have no contact again today.  I would say he is doubtful for tomorrow but we will make a decision then We are on a good trend here and I am excited about it.  We are getting there, we are getting there," said Krzyzewski.
Duke will head to UNC tomorrow for a 6:05 tip-off and the staff and Williamson will make a decision on whether he plays or not after the shootaround or before tip-off.  Williamson has missed the last four games and the vast majority of the first UNC matchup for Duke which is 3-2 during that stretch.
More to come shortly...