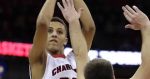 Hot off securing a commitment with 2019 SG Cassius Stanley the Duke Men's Basketball staff went in-home with big-time prospect Jalen Johnson.
Johnson has long been on the Blue Devils early wish list for the 2020-21 recruiting season.
The Wisconsin native stands 6-8 plays for Nicolet High School in Glendale.  He has a long list of offers and suitors but Duke has made him a priority for some time now.
For more on the Duke recruiting beat, join Blue Devil Nation Premium.
Huge thanks to the @DukeMBB staff for coming to visit my family and I tonight 🤞🏽 #TheBrotherhood💙 pic.twitter.com/64kgU9DzIj

— Jalen Johnson (@Jalen_J23) April 23, 2019