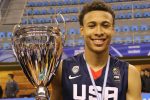 As the final buzzer closed on the 2019 basketball season in Minneapolis last evening, Virginia was left standing as the national champion.
The Duke Blue Devils defeated the Cavaliers twice in the regular season but fell short of their goal with a one-point loss to Michigan State.
It didn't take long for Las Vegas to make the Cavaliers the choice to repeat, but the Blue Devils are right there with them, listed at a slightly less favorite.
The bottom line is that despite the disappointing loss in the tournament and departure of monster talent to the NBA, Duke Basketball never stops.
On the same day as the final, Tre Jones officially announced his return to Duke.  And that is a big deal in that he will not only improve as a player but provide instant leadership as a likely captain to be.
The return of Jones also bodes well for Duke landing coveted prospect Matthew Hurt.  There is an instant Minnesota connection between Hurt and Jones and undoubtedly contact between the two about playing together.
It didn't take long for speculation, to begin with, another key Duke prospect in RJ Hampton.  The rising senior is down to four schools and may well reclassify and come out of high school a year early.
While many thought the return of Jones would hurt the efforts with Hampton, think again.  Here is a quote from Hampton in an ESPN article released today.
"With Duke, you can't go wrong, you've got the best coach ever and just seeing what he did with the freshmen this year makes it a real hard option to pass up."
You can view the complete article in the link below.
The bottom line is that the Duke staff has developed a relationship with Hampton and Hurt over time and that both players are highly interested in Duke on multiple levels.
Players want to come to Duke.  They want to play in the limelight and talented players recognize, the path that goes through Durham leads to exposure, improvement and the NBA.
It remains to be seen who will join the brotherhood at Duke.  But rest assured, the Blue Devils are not finished recruiting and they have their sights set on another run.
For more detailed analysis and information on Duke Basketball recruiting and developing situations, visit the Blue Devil Nation Premium message board for site members.  We are still running one year for a discounted rate.
The R.J. Hampton Blog: Down to four, reclassifying possibility and more