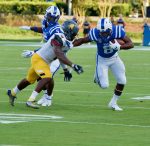 The Duke Blue Devils evened up their season record to 1-1 with a lopsided win over North Carolina A & T and they hope to build on their momentum this week versus Middle Tennessee State.
Bobo practicing
Jake Bobo has returned to the practice field per Duke Coach David Cutcliffe.  While he will not play this weekend, Bobo has seemingly made Duke look into adjustments that would allow him to be on the field at the same time as freshmen breakout talent Jalon Calhoun.  Cutcliffe has high praise for Calhoun who had a stellar game against the Aggies.
Injuries Piling Up
A season ago Duke was plagued by injuries and that trend is continuing this year.  Cutcliffe said that his team had 13 scholarship players out after the win over the Aggies.  He ruled Gunnar Holmberg out for the year today, giving the team two scholarship quarterbacks to work with.  DL Ben Frye has returned to practice and is rounding back into playing shape.
Penalties, film and discipline
Cutcliffe said some of the penalties called against his team may not have been as obvious on film review.  On the other hand, he said there are discipline penalties that they will try to correct.
Duke will stay in Nashville
The Blue Devils will stay in Nashville for their game with Middle Tennessee State.  That makes the trip all the more attractive to the fan base who will be traveling with the team.  Cutcliffe said he had some good relationships with Middle Tennessee coaches and that his wife would entertain the family during the visit.
Cut warns fan base that Middle Tennessee is a Solid Program
The Blue Raiders can play and they have an established football program.  Cutcliffe spoke of his opponent with high praise.  They lost to Michigan by 19 on the road in their opener and bounced by with a 45-26 win over Tennessee State this past week.  The program is known for their offense, but more on that in our preview out this Thursday.
Duke has a bye week coming
The Blue Devils have a bye week after this weekends contest and before they travel to Virginia Tech for their ACC opener.
Facebook Live
The game will be telecast on Facebook Live, but we have yet to see if there is an application to stream this to TV or if any station will carry the game.  The rights are owned by Stadium but the game will not be on their streaming service.  I hoe to have more information when I release the game preview.  Speaking of previews, we are 2-0 vs the spread on the season and 2-0 overall and had the exact point spread at 32 this past week.
The game is huge for the Blue Raiders
The Red Raiders will have a "blackout," for the game where fans are asked to wear black.  The current line is Duke by 6 in the contest.