The Duke Blue Devils have been playing high-level basketball during their seven-game winning streak. Meanwhile, perhaps N.C. State was caught looking ahead as they let a game with Boston College slip away in their last outing.
What we are guaranteed to see is another strong Wolfpack effort against Duke in Raleigh. N.C. State needs a marquee win for their tournament resume and this will be the first of two games in twelve days between the cross-town rivals.
"We understand coming down the stretch we're going to play some good teams. To be able to advance (to the Tournament), we're going to have to win some of those games. We're sitting at 7-7 (16-9 overall), but with some great opportunities right in front of us," said N.C. State coach Kevin Keatts on Monday.
Make no mistake, the Wolfies will have their ears pinned back before the dreaded 9:00 tipoff time on Wednesday and history suggests they can no doubt pull off an upset win. For those of us who have been around, we know in this matchup that the rim seems to get bigger for the Pack when they face Duke which is 8-6 in PNC Arena.
Duke won their last outing handily against the Wolfpack a season ago, but that was after consecutive losses in the series. Another notable intangible in this game is that N.C. State is playing at home for the first time in 18 days and that will make for a raucous crowd.
The Wolfpack are a difficult matchup with their multiple guard lineup. They are led by Markell Johnson who was in major foul trouble against Boston College and looks to bounce back. Their guards come at you in droves where Johnson is aided by veterans C.J. Bryce, Devon Daniels and Braxton Beverly make for a lineup where you have to locate shooters on defense.
In the paint, the Pack holds their own with Jericole Hellems, Manny Bates and D.J. Funderburk. But this is an area where if they can get one of these two in foul trouble it could open the paint up for Duke.
The Blue Devils should have the services of Cassius Stanley back and that is good news. This will also be a good test for the Duke perimeter defense which must come to play. Duke should expect battles for every loose ball in this one as they'll need to elevate their effort to continue their quest to remain in first place in the standings.
A key for Duke in this game will be to start the game with focus and do not get behind allowing the Wolfpack early confidence. They must be prepared to play a full forty minutes as well if not more.
If the Blue Devils are aware that the Wolfpack has four guys who can get hot in a hurry it will help. And I am sure the staff has their attention on what kind of challenge this game will be.
Duke will lean heavily on Tre Jones decision making in this game. The team also needs to show up across the board for there is match up concerns for some.
So, make no mistake this game will be a war and those expecting Duke to walk through another opponent be warned for plenty of upsets past have occurred when playing at PNC Arena.
Sidebar -
Tre Jones has scored more points than any other player in the ACC since January the 8th. The Pack will likely focus on him heavily in this match up.
Vernon Carey is averaging 28.6 per every forty minutes played.
Duke has been ranked in the A.P. Top 10 for forty consecutive polls.
N.C. State has four players averaging double-figures scoring.
This game marks the 249th meeting between the cross-town foes.
Two of Duke's three losses came back to back losses when Wendell Moore Jr. was out of the lineup.
Duke is 20-10 when playing on February 19 and has won seven straight overall on this date.
Follow Blue Devil Nation https://twitter.com/BlueDevilNation on twitter for the most concise coverage available.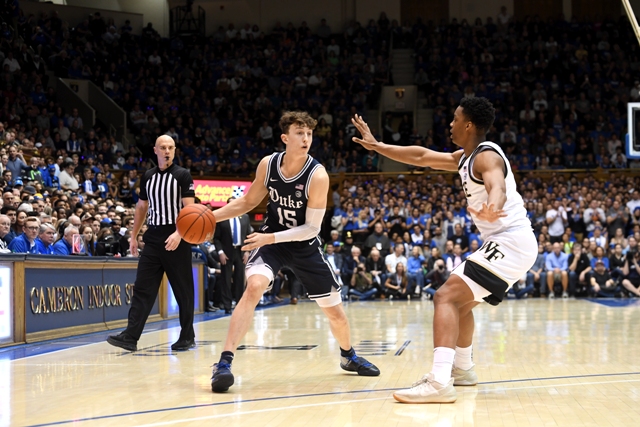 A key for Duke will not be the offensive play of players like Alex O'Connell (above), but how they defend at N.C. State.