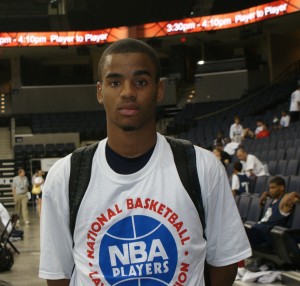 Hi Josh! This is Mark Watson with Sports Nation Network and I was wondering if I could chat with you about the recruiting process and where you stand?
Yes sir! No problem.
[private]
Let's start with your list! Is it the same or have other teams been added?
It's Georgetown, Virginia, Virginia Tech, Duke, Memphis and Clemson.
Clemson? They've kind of come in a little late … I guess Oliver Purnell made a pretty good impression?
Yes sir. He went to a couple of my games in Vegas. They've always had somebody at the games of late which is impressive.
I'm going to go down your list so you can give me some comments on each one …
We'll start with the Virginia schools. Virginia. What are your thoughts on the Wahoos?
Virginia was one of those schools that recruited me early. I'm very close to Coach Leito and Coach Courtney. I've been down there for three or four game so far. I'm comfortable there.
Now, Virginia Tech. Correct me I'm wrong. Isn't your Mom an alum?
Yes. They were one of those schools who came in after UVA. When they came in they made a huge impression. We went down there for a football game. You know the campus is beautiful. The fans are crazy and Coach Greenberg is a unique coach who I talk to all the time. He's a great guy … his staff is great and I had a good time down there.
Okay! We'll stay in the ACC. Tell me about Duke.
Aw Man, um. Duke, was um. Duke is just Duke. They came in when I went down there and I fell in love. They've got a beautiful campus and some top notch guys. I know some guys … I know Andre Dawkins who is going there. I talk to him all the time. Duke is … when I went down to Duke I definitely felt at home. I've got family who are close to Duke. My grandparents live a couple of hours away in Martinsville, Virginia.
Martinsville is pretty close to all of the ACC schools … or Virginia, Virginia Teach and Duke. You seem to like Duke. What do you think about Coach K and what he did in the Olympics recently?
I actually talked to him yesterday. I get out of school at 2:20 and he called at 2:21. Coach K is probably one of the best there has ever been. He's very professional. He takes everything very seriously but not to where he is yelling and stuff all the time. He's a great guy when he laughs and jokes with everybody. What he did with the Olympic team … that was phenomenal with Jason Kidd and LeBron. What he did making them play together was amazing.
What about Georgetown?
Georgetown was the first to recruit me. I'm very close to Coach Thompson and Coach Burke. You know they are 45 minutes away from my house, very close to home, but um, I've been there several, several times with my AAU team or just making visits up there. I like it.
How about Memphis?
Memphis was one of those schools who didn't show up until recently. I've got an offer but I really don't know too much about them. We were going to try to make a trip out there but I'm not sure if that is going to happen. There a new school.
Do you have any unofficial visits planned to these schools?
Um, right now I'm looking at the September 13th to head down to Duke. I talked to Coach K about it and my family, we are going to work things out. I don't have anything else right now, but I'm going to get there. Did I mention Ohio State?
No, you didn't.
They're definitely one of my top schools. Sorry about that.
That's okay. Tell me about the Buckeyes?
I went up there when they played Michigan State in football and it was crazy up there. They love Ohio State. I got a chance to sit down with Coach Matta and Coach Miller. I really do like Ohio State and I'm very close to Jared Sullinger. You know, we talk almost every other day. They're definitely in my top.< What is the timeline for your decision?
I definitely want to have it done at the beginning of basketball season or no later than the end because I don't want to go into my senior year thinking about where I want to go. I definitely want to get it out of the way this year and just be happy with my decision and just relax and play basketball.
You said you talked with Coach K. Have you talked to any other coaches of late?
Yes. I talked to Coach Greenberg and Coach Matta.
Will you stay with your same AAU team or will you cross that before summer starts?
Yes sir! I will stay with DC Assault. I've grown so close to them … I call them all my brothers and we all talk. During high school season we separate. Some as far as Maine … during AAU season we are definitely close because we win so many tournaments.
Have you thought about what you might take in school?
I really haven't thought about it yet.
Let me make I got this … you have no other officials set up?
Not at this time but we're still looking at September 13th down at Duke.
You mentioned friends … do they try to sway you to go to there school?
Yes sir! I'm friends with Nolan Smith who actually goes to Duke. We talk. Every time I seem him he tries to get me to come to Duke. A lot of my teammates are being recruited by the same schools. I do think about that because these are guys who I know how they play.
Is it important for your parents that you play somewhere they can pretty much get to in a short time?
Oh! Yes sir. Definitely, my parents are my biggest fans. I don't want to go somewhere like UCLA all the way on the west coast where they could never see me play. I definitely want my parents to be able to come to the games. I so use to looking on the sidelines and seeing them?
Does Mom ever give you a nudge and say so you have to go to Virginia Tech?
She does real good. My mom is very open. The coaches… she tells them what they've got to do to get me. But in the end, it's my decision. She will sometimes push if a school is too far. She is very open.
I've heard your Dad grow up a UNC fan? What would he do if you went to Duke or Virginia?
Oh man, we've had that talk before (laughing). I told him he was just going to have to change. We grew up watching UNC basketball, but I don't think he'll be too involved in that rivalry if I go to Duke.
What are the most important factors that will go into your collegiate decision? Is there like one, two, four things?
Yes sir, definitely academics. I don't play around with my grades. I take them very seriously. I look for family because I'm a big family kid. I love my parents, I love my little sister. And I just want to see who the colleges are trying to bring in. You know, I'm not trying to be that top notch guy that has to do everything. I want to out on the floor with four other good players. If I have their back, I want them to have my back. I would take a national championship over a player of the year award any day.
Suppose somebody had never seen you play. Describe your game in your own words ...
I like to get out an run on the fast break. Those who evaluate me say I'm a very good kid who runs the floor well. I like to rebound. I can shoot the twelve to eighteen footer …I can do most anything.
Well, I certainly got what I needed and enjoyed talking with you. Good luck with school and your coming basketball season.
Thank you very much.[/private]