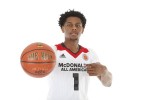 Good things come to those who wait.  Patience is a virtue.  Both of these sayings apply today with concern to Duke fans who had to wait a long time for Marques Boldens' decision.
After cancelling his announcements on a few occasions, Marques Bolden  to the microphone today and announced he would wear the four letters spelling out Duke on his jersey next season.  The announcement took place at DeSoto High School in Texas before his classmates, media and on lookers.
His announcement clearly gives Duke he top recruiting class in the nation.  Bolden joins a cast of Jayson Tatum, Harry Giles, Frank Jackson, Javin DeLaurier and Jack White next season at Duke.
"We're thrilled to add Marques to an outstanding incoming class," Krzyzewski said. "In addition to his elite length and athleticism, he is a highly-skilled big man who can really score the ball. He runs the floor well, rebounds on both ends and blocks shots. Marques has tremendous potential and a bright future, and we're excited to coach him at Duke."
The Blue Devils also return Amile Jefferson from an early season injury, Matt Jones, Grayson Allen and Luke Kennard as key components added to the stellar class.
Bolden is a true post player with plenty of talent.  He can play with his back to the basket or stretch the floor by going outside.  He finishes well around he rim and is getting better and better as he grows into his body.
A team can never have too many talented post players and Bolden will be a part of a solid rotation down low for Duke, likely to be the pre season number one team in all the land next year.
Standing at 6-11 with solid weight, Bolden put up impressive numbers of 24.3 points per game and averaged 10.2 rebounds to go with 2.6 clip of blocks per contest for DeSoto.  It is worth noting as well that he will join another alumnus from his school in Matt Jones for one season at Duke.
Bolden was named a McDonald's All American and played in the Jordan Brand All Star game as well as the Nike Hoop Summit.  His best accomplishment to date came this past season where he led DeSoto to a coveted state title.
The Texas native visited Duke on September the 18th of this past year.  He had been offered by Duke Coach Mike Krzyzewski since June the 4th of last year.
In the end, Bolden chose to play in Cameron where Duke Blue will be the color of his college career.  He is a big time, solid prospect that will contribute right away.