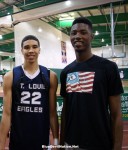 The Duke Blue Devils 2015-16 basketball campaign has yet to start.  Despite that fact, it's hard not to look beyond this season if only for today.  The reason being that once again the Blue Devils find themselves with another banner recruiting class.  The consensus number one class in the nation will arrive on the Duke campus in July of 2016.  Between now and then, there will be plenty of speculation for as many around the program exclaim,  "Duke Basketball Never Stops."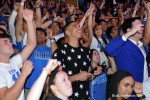 Jayson Tatum 6-8, 205, Chaminade Prep, St. Louis, Missouri - Jayson Tatum announced his collegiate intentions on July 12, 2015 where he was the first player to commit to Duke  in the Class of 2016.  The St. Louis native chose Duke over Kentucky, North Carolina and St. Louis.  Tatum is as good a small forward prospect as there has been in recent years.  He can pretty much do it all from said position and he always plays with savvy and control.  It's rare to see a super star prospect allow the game to come to him, yet Tatum can do this or be an aggressive player.  Quite simply, Tatum is a can't miss prospect who will most certainly play in the NBA.  It is worth noting that Tatum has extensive USA Basketball program experience and that he is friends and a former teammate of Harry Giles III.  The chemistry between these two stand out players should be evident early on at Duke, as was last seasons class where Tyus Jones, Jahlil Okafor and Justise Winlsow were in a similar situation.  Perhaps the most impressive thing about Tatum has nothing to do with his basketball skills.  Like many Duke entries, Tatum has immense character and is faith-based in his thoughts and decisions.  While talking with Tatum during this past seasons Nike EYBL Finals it was clear to me that Tatum knew where he wanted to go to school where he seemed tired of the recruiting process.  The next day with the Duke staff in place, Tatum chose the Blue Devils on ESPNU during the championship game.  The signing of one of the nations elite players set the table for what was to come.  Tatum is silky smooth on the court and in some respects has some throw back skills that differentiates his game from others.  That allowed the young man to separate from the pack in the rankings as he progressed.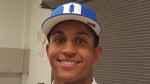 Frank Jackson 6-3, 195 - Lone Peak HS, Alpine Utah - Duke has a history of recruiting solid backcourt players under Mike Kryzewski and Frank Jackson fits that mode.  Jackson gave Duke his verbal commitment on September 1, 2015 where he chose the Blue Devils over Arizona, UCLA and Utah,  Many thought early on that Jackson would remain on the west coast but the chance to play for one of the countries red-hot programs helped the versatile star come East.  Jackson has a game face.  What I mean by that is when the ball is tipped you see his usual wide smile go away while noticing a controlled intensity to his game.  Jackson is a scorer plain and simple, but he's also more than that.  Jackson handles the ball well and is capable of running the point or the shooting guard position.  Of course, Mike Krzyzewski will quickly tell you he has only players at Duke and no labels with concern to traditional posiitions.  That will work to Jackson's benefit while in Durham as will his ability to get up in his opponents face on defense.  Jackson most recently attended the USA Junior Mini Camp where he showed why he is one of the nations highest ranked prospects.  The best way to describe Jackson is that he is a smooth operator on the court where he can weave through traffic or drain the outside shot.
Javin DeLaurier 6-9, 210 Saint Annes-Bellfield HS, Shipman, Va - The third prospect to commit to Duke was Javin DeLauriuer on September the 27, 2015.  DeLaurier chose Duke over the likes of Arizona, Louisville, North Carolina and Texas to mention just a few of his many offers the young man had garnered.  DeLaurier is listed as a power forward and he recently visited Duke where he loved the atmosphere on and off the court.  There is nothing more exciting than to get a player who knows where he wants to play his college basketball and one whom selects the Blue Devils with certainty.  DeLaurier is a player who continued to get better on the Adidas circuit where he blossomed in the Spring of this past year.  A solid post presence would best described the balanced player who can score and rebound.  One of the key factors in landing DeLaurier in Durham was his relationship with Duke Assistant Coach Nate James which has earned the staff praise from the Virginia native.  Duke fans will like what they see in DeLaurier as he is a high energy player who never and I mean never takes plays off.  It is also worth noting that like other prospects in the fold, DeLaurier immediately became a recruiter of other talent soon to arrive, namely Harry Giles.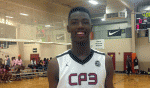 Harry Giles 6-9, 230 Oak Hill Academy, From Winston Salem - Giles committed to Duke on November 6, 2015 to the delight of the vast Blue Devil Nation.   With the addition of the nation's top prospect, the Duke class became the best in America.  Giles is another sure-fire future NBA player, yet he remains grounded.  Giles can be a beast on the court where he continues to grow into an impressive frame.  I suppose we should start with his recent and unfortunate injury to his ACL which will be a set back for sure.  But this is not the first time the future star has been injured and he is more than aware of the work ahead to achieve his dreams.  Giles ultimately chose Duke over Kansas, Kentucky and North Carolina.  He always liked Duke due to relationships with the staff that were in place since his sophomore season.  The consistency in which Duke recruited him won out in the end as did his close relationship with Jayson Tatum.  As impressive as Giles is when not on the court, his game is just flat-out awesome.  He can control a game and intimidate his opponents with an unrivaled skill set.  Duke will bring Giles along slowly but there is perhaps no better situation for him with concern to his rehabilitation.  It will be interesting to see how Duke uses Giles upon his return where he will indeed be a center piece in their future plans.
The potential cohesiveness - What Duke Coach Mike Krzyzewski is getting on signing day is a major influx of talent.  Duke can literally pencil in three of the young men on the front court if need be while allowing Frank Jackson to orchestrate the team.  Of course, Duke has plenty of talent already in place and with that said the future requires some serious UV blocking sun glasses.  All in all, the four prospects are a cohesive fit.
Worth noting - Duke is still recruiting Marques Bolden, a true post presence.  The staff made the Texas native a priority during the Nike EYBL Finals.  Only time will tell how things go with Bolden who is one of the top players left on the board who has yet to commit.