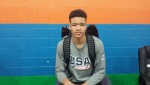 Kevin Knox continued to impress this past weekend during the Nike EYBL event in Hampton, Virginia.  Knox is a can't miss prospect from Florida who is being recruited by the nations heavyweights,  I actually ran into a few scouts who said they were not that impressed with him, some even calling him skinny.  But I am telling you now that the youngster has the perfect body type to put on muscle to his frame and that it will happen.  People often want to see a finished product at the high school level, but that usually means a kid has topped out. Knox knocked down nine consecutive three pointers before missing on in warm ups.  He has been working on his outside shot making him a player with size who can stretch the court.  What makes Knox even more dangerous is that he can mix it up inside as well. I caught up to the budding star for the following interview at the third session of the EYBL in Hampton, Virginia this past weekend.
You are arguably one of the most popular players in the EYBL with microphones always around you, how are you adjusting to that?
I am just learning how to do it all with media, my Dad helps to teach me different things to say and I am prepared to answer the questions I'm asked.
Your Dad was a football player -- how does that help you?
He knows what it takes to get to the next level.  He got there, so he is teaching me all the things to do, how to work out and a work ethic. He had a great work ethic, so that helps.
I am sure a prospect like you is hearing from coaches all the time. Who are some of the coaches you have been hearing from of late?
Coach K thanked me yesterday after my game and before I got up here and Coach Cal texted me and I talked with Coach Wright from Villanova.
What does it mean to you when those guys contact you.  Is it important that they stay in touch?
Yeah.   Yeah, that's one thing I am  looking at in how they stay in touch with me throughout my sessions and throughout my games and if they are keeping up with me and seeing how I am doing.
Duke and Kentucky, could you break those two schools down?
Kentucky came in late but I am really interested in them and I liked what Coach Cal said when he came in home.  I was really impressed with what he had to say.  Coach K, they've been up to see me two times which is great and they have good coaches and everything.  I am looking forward to getting to know the schools better later on.
Is it the plan for you to be a one and done in college?
I mean I am going to a school to be a one and done, so if I go in and play well, I am hoping to leave but nothing is guaranteed when you are in college so I am focussing on going to the next level to better my career and be a one and done.
Will a school have to show you their history with one and dones to get you?
No, that has nothing to do with it. Some of the things which go into committing to a school will be family, how I fit into their team and if they are coming out to watch me play and keeping up with me.
What kind of role are you looking for on a team?
I am trying to win games .  I am trying to win national championships. so I will do whatever the team or coach wants me to do.  Most coaches want me to come in and play on the wing, so that is the stuff I am working on with my game right now.
So will you be dropping some schools or new ones from coming in. Have you established your list?
Oh no.  I am open to any one.  So if they text me right now, I will text them back.  I just picked up an offer from California, so I mean so it might seem like it is pretty late but I am still open.
What about USA Basketball?  Obviously, you are real involved with that. Are their any players on the USA squad or on the circuit you talk with about playing together?
We talk about it some in the motel rooms and when we are hanging out and stuff like that, so I mean I have heard a lot of people say my name where people say they want to play with me, but it really doesn't matter who I play with at the next level.  I am just trying to win games,
What is your number one goal this summer?
I am trying to win Peach Jam.  So, I am trying to make it to Peach Jam first and win it all.
You will obviously be at the USA camp instead of the NBA Top 100 Camp, right?
Oh, yes sir.  I think we'll be going up there soon and I am looking forward to going and trying to make the team, so I mean, that is m goal.
Has Duke told you how you would fit into their system?
Yes, they've told me and I have watched Brandon Ingram a lot and how he gets rebounds and is able to run the point and being able to push the ball.  So  just having that freedom is what Coach K and Coach Capel have talked about to me a lot.
What about Kentucky?
Just how to play 1 though 5, rebound the ball and run the floor.  If I got a little dude on me to take him.. Coach Cal  has shown me those things.