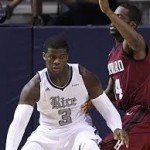 After watching his team unexpectedly lose to Mercer in the NCAA Tournament, Duke Coach Mike Krzyzewski wasted little time in hitting the recruiting trail with a fervor. Not only did Duke struggle in the paint defensively in the NCAA's, they did so to some degree all season long.
Obviously, Duke addressed those issues and they did so quickly as their staff hit the trail running. Not even a coaching change, where they lost a long time Krzyzewski assistant in Steve Wojciechowski could halt their focus.
As had been mentioned, Duke would not only look at the current rising high school basketball players, but they'd look for a transfer provided he was a fit for the school and with that said, enter Sean Obi.
Not many Duke fans knew who Obi was and unless you followed Rice in Conference USA, you may not have realized that the 6-9 behemoth was named the leagues freshman of the year which is obviously, quite an honor.
Obi was everything Duke wanted. He was adept in the class room, a load in the paint and he showed potential and the ability to battle on the boards in both high school and at Rice.
During this past season, Obi, a native of Nigeria, averaged 11.4 points and led Conference USA in rebounding at 9.3 per game, so there is no doubt he can play.
Obi visited the campus over this past weekend and he obviously enjoyed himself which was evident on his social media accounts. Obi wasted little time showing his pleasure with his journey after the visit and later tweeted out that he would be attending Duke.
With the addition of Obi, Duke gets a proven post player who can come in and complete in practice against prized freshman Jahlil Okafor. Going up against one another in practice will benefit both of these young men, so we have dual winners in many ways, or perhaps, I should say three winners in that Duke immediately benefits from his addition as well.
Obi will also be able to team with Marshall Plumlee moving forward and many expect the third of the Plumlee clan to break out in his final two seasons.  Obi, will of course, have to sit out the coming season, but will have three years of eligibility left.
Like many of the Duke prospects, Obi impressed off the court as well and that made him both a rare, and highly desirable transfer for Duke. And when Krzyzewski goes this route, there has been proven success, like Roshown McCloud and recently Rodney Hood,
While Obi had many suitors and other visits planned, he fell for Duke and did so quickly. That helps the program in many ways for they are wrapping up this seasons incoming class quickly with USA Basketball duties beckoning for Krzyzewski in mid July.
In fact, he also will compliment one of the last two main targets in the Class of 2015, that being Chase Jeter, a player considered to really like the Blue Devils. Jeter is expected to make a decision soon, but Blue Devil Nation learned it could go a little longer into the summer or near July before he makes a pick.
With that said, here is a great video from when Obi was in high school which tells the tale of his past better than any article can. So take a look at it and know that this new marriage seems to be quite the fit for both Obi and Duke University.  Talk about this article in on of our social media outlets or as a member of  Blue Devil Nation. Get to know Sean Obi