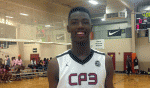 It was a rainy, overcast day in Hampton, Virginia in the year of 2012.  Cars were parked everywhere as practically every collegiate coach in America and their assistants were streaming into the Boo Williams  Activity Center.  Inside, the first major event of the recruiting season was about to start.
The facility houses no less than eight basketball courts where the nations best players all descend in an effort to impress coaches.  On the farthest court hidden by curtains there was an under sixteen team taking the court from High Point, North Carolina known as CP-3, named after Chris Paul, the current star guard for the Los Angeles Clippers.
Warming up was a tall, long and lean young man wearing a knee brace that towered over most of the players on the court.  A youngster at the time, Harry Giles III stood out even then and for good reason.  Giles was ranked highly in the various prospect ratings, yet the gym was empty of spectators except for one.
The only coach in the gym was Duke head coach Mike Krzyzewski.  He sat by himself in a chair on the far end of the court with nary an assistant or any other coach around.  In the back drop, one could hear raucous cheering from the other courts that were packed with spectators for other games. The curtains that separated the courts almost made it seem as this game was in some kind of alternate universe which gave the feeling of a personal level experience.
I took a seat waiting for the crowds to filter over for the early morning game, but it never happened.  Only Mike Krzyzewski watched on for the entire game as Harry Giles was coming back from a torn MCL and ACL injury.  As I look back on the experience, it is clear to me that this was the infancy of a great relationship forming between the Duke coach and the talented, can't miss prospect.
Fast forward to Giles rising junior season and  found myself in North Augusta for the Nike Peach Jam which was then starting to alter its name toward Nike EYBL.  I was seated near Mike Krzyzewski as he watched the contest.  Surrounding him was a who's who of college basketball coaches which included every coach you can name from the top programs in the land.
The gym was packed out as usual where the ushers were only letting certain people in due to the fire code.  You could see a tall young man coming in wading through the standing room only crowd.  It was Harry Giles and the highly rated prospect commands attention when he is around for he is that talented a player.
Within seconds after Giles found a spot to stand, he pointed towards all the coaches across the way where there was not one empty seat.  He pointed out Mike Krzyzewski, uttering the words, "There's coach," to his friend.  Of all the stellar coaches in the gym which includes all on the list of what became his final four teams on decision day, he immediately recognized and acknowledged Coach K.
It was clear to me by then that quite the relationship had been formed between Harry Giles and Mike Krzyzewski.  No matter the event, Krzyzewski was always front and center for Giles games save a few circumstances a year later when Nike scheduled conflicting games with Giles and CP3's games with the St. Louis Eagles and Jayson Tatums games.   In short when other programs sometimes had their lead assistants there to watch the high school super star, Krzyzewski was all in and present early on.
I am not privy to all the details of the relationship formed between Harry Giles and Mike Krzyzewski but I can tell you that it is a special one.  And this is the main reason Giles selected Duke as his college destination today.
It all made sense in the end.  Giles will likely be one and done and nobody is working that better than Krzyzewski who sent three freshman this past season to the NBA.  And this of course was after a national championship.  Giles is also close to Jayson Tatum and the duo working together will be a sight to see for Blue Devils fans.
Let's flash back to the Nike EYBL Peach Jam this past season to see what type of young man Duke is getting in Harry Giles.  This is the second of the Nike Finals events I am speaking to with concern to Giles.
The young Winston Salem product was now the main event.  The gyms filled up to capacity with folks five deep up top hanging over rafters to catch a view.  The ushers sat up a string of seats court side for the Giles family I will now refer to as Team Giles.  With his family near by and adoring fans in droves, it was clear Harry Giles was in his element in the spot light.
Not one game in which Giles played in was there a seat to be found.  It had all come full circle for Giles who seemed to realize the moment and the hard work it took to get there.  A thunder dunk here a pull up jumper there, the crowd roared their approval as folks begged ushers and security  guards at the doors to let them squeeze in.
One would expect such adoration might bloat a young mans head.  Trust me, I have seen more than my share of prima donnas covering the AAU circuit and Duke beat over the years.  That wasn't the case with Harry Giles III.
Everybody wanted a piece of Harry.  And there he stood after the game posing with fans for photos and signing multiple autographs.  Giles just wouldn't say no to a soul on that sweltering evening in North Augusta, South Carolina. As I stood there hoping to get a few quotes and after several interruptions it became clear to me that this was his time.  With that said, I backed off giving him his space and just watched as the fans kept coming.
I was walking out of the gym when I realized that the adoration had died down after about twenty five minutes later and there was Harry Giles ready to talk.  That's the kind of guy Harry Giles is folks.   Instead of being ushered off via security, he greeted each fan with equal enthusiasm and still sought me out once the glee-fest subsided.
Giles is a special talent.  He can pretty much do all.  His body continues to mature as he grows into his frame.  But the most impressive thing to me is his ability to stay level and grounded.  He has done so throughout the hyped recruiting process.
It became official today.  Harry Giles announced his intentions of playing his basketball for Duke University just moments ago.  He is fresh off his last official visit which was granted to Duke.  During the visit he seemed at home as the Cameron Crazies called him over to stand with them.  It  was again his day and his alone just like that night in North Augusta.  He was the only recruit in the house on this evening where the sole focus was on him as his parents watched on.
It was just days after his visit when the news broke that he had torn his MCL on his opposite knee in the Oak Hill academy opener.  I felt for Harry and Team Giles as did the nation.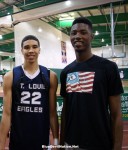 Giles has long road of recovery ahead but he now has  a coach in Mike Krzyzewski who will be there every step of the way with his rehabilitation.  After all, he has been there all along.  He has a friend in Jayson Tatum and teammates as well to call his new extended family.  And he also has the entire Blue Devil Nation rooting for him still ecstatic from his decision to play his college ball at Duke.
"The next school year I will be attending  Duke University," said Harry Giles just seconds ago."  Giles continued, "Every time I sit down and talk to Coach K is just a special feeling, every time we talk it's always the same feeling."
The rest of this story has yet to be written.