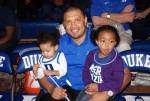 There is no doubt that Coach Mike Krzyzewski brings fire to recruiting, but it also takes an assist from a cool customer.  Enter Duke Associate Head Coach Jeff Capel.  The two coaches bring fire and ice to on the recruiting trail.
While Coach Krzyzewski oozes with hot intensity with his love for the game and coaching  passion, Capel adds a cool approach which translated into solid relationships with key prospects.
"Jeff built a great relationship with Harry and that was key," Oak Hill assistant coach Cory Alexander said after today's Harry Giles to Duke announcement on ESPN.
Capel is no stranger to recruiting battles and he played a key role in landing many of the current players not to mention those departed more recently top the NBA.  In fact he beat out his college coach for the services of Blake Griffin who now stars with the Los Angeles Clippers.
Duke has now gained the service of the last two seasons consensus top rated players in the county.  They had the top recruiting class a season ago and are there again this season.
The Blue Devils have secured the services of Harry Giles and one of his closest friends in Jayson Tatum.  And the two played together with USA Basketball where current Duke guard Derryck Thornton distributing the ball to them on many occasions.
The nation saw what continuity even amongst young players could do last season where the Blue Devils claimed their fifth National Championship banner under Krzyzewski.
Also coming is a steady scoring prospect who is also a hard-nosed defender named  Frank Jackson.  He will be joined by Javin DeLaurier a top rated power forward giving Duke quite a class to work with in the future.  And the staff is not finished.
Duke is still recruiting a big time center prospect out of Texas in Marques Bolden.  The Blue Devils chief competition may come from Kansas and Kentucky but a who's who of top rated schools are pursuing the post player with tremendous potential.  It is also worth mentioning that during the recent Nike EYBL Finals, that they made Bolden a recruiting priority.
The Blue Devils have two other solid assistant coaches as well on the recruiting trail.  One is a former player in Nate James known for his no nonsense toughness and desire.  And then there is Jon Scheyer who is mature beyond his years now after joining the staff after and eye injury derailed his playing career.
In Scheyer, the players can relate to a guy that was just on the court a few years ago.  Meanwhile, James can share many of his numerous experiences which include bringing the team together after a mass defection of talent to the league during his final season at Duke.  Let me also mention that both of these coaches hold National Championship rings.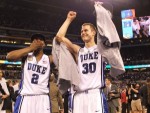 Young men know that one of the best places to grow as a man and learn the game is under Coach Mike Krzzyewski and his talented staff in Durham.  They can point to all kinds of success while offering a top notch education to their four year players.  Grand NBA type of facilities, educational support and a family atmosphere for life awaits those who will buy into what the program is doing.
It would be hard to argue with the current success on the recruiting trail that anybody other than Duke has the best staff in the country. This luxury along with changing with the times has allowed Krzyzewski and his staff to be in the most enviable position in all of college basketball at this present time.
Any time you have staff continuity and character in your coaches, it translates well on the recruiting trail.  What fans and the on-looking many are currently seeing is the Zenith of the program.  In short, things couldn't go much better.
The good news for Duke fans and bad news for the rest of the nation is that there is no immediate end in sight.  Duke has already establish a base wish list for the season after Giles and company come to Duke.
I have never been one to talk about who might replace Mike Krzyzewski.  At this rate we will see the coach at Duke for years to come provided those around him remain supportive and healthy.  When a man does what he has great passion for, things more or less take care of themselves.
The next few years will be a fun time for the fan base and this is a testament to the Herculean effort that the Duke staff is putting in on the recruiting circuit.