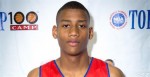 As you probably know by now, Duke is putting together a stellar recruiting class in 2016 and Javin DeLaurier (6-9, 210) is a part of it.  DeLaurier plays about three and a half hours north of Durham for St. Annes-Belfield , a private school located in Charlottesville, Virginia. DeLaurier is a versatile player known for a great motor and he tells us how that reputation came about in our latest Blue Devil Nation interview. DeLaurier is obviously a French last name which comes from his Father who is French-Canadian born but who moved to New York later in his life. Javin DeLaurier was born in California but moved to Virginia when he was about three years old.  Since that time, he's had a large dose of ACC Basketball where he has grown up in the leagues shadow. He most recently visited Duke and he speaks of sitting with the Cameron Crazies.  He also talks of his recruitment, recruiting others, Duke Family and so much more in the BDN interview.  With that said, I hope you enjoy getting to know Javin  DeLaurier a little bit better.
You picked Duke this past December over the likes of Arizona, Notre Dame, Texas and UNC.  A lot of big schools came after you.  Why was Duke your choice?
Duke?  It just felt right.  It was the best fit for me both academically and in terms of basketball.  It's a team I grew up rooting for in ACC country and once I made my visit, I just knew that was the place I wanted to play my college basketball.
I know you talk to the Duke coaching staff a lot.  Have they said how they'll use you once you get on campus in Durham?
As coach (Krzyzewski) has said they will just use me as a basketball player  He said I could guard different positions defensively and that would cause match up problems with my size and athleticism.
I didn't get to see you play but one weekend during this past AAU season, so I asked others about you.  One of the key words that comes up when talking with people whose opinions I trust is "motor."  They all said you have a good motor.  What do you think they mean by that?  How did you develop that motor and what gives you the drive?
It's an interesting story in that it's definitely not something I've always had.  Going into my sophomore year playing with a Nike AAU team, a parent of one of my teammates came up to me after the game and said, "You know, sometimes you make some really nice plays but then you take time off."  Well, that really stuck with me because I was really offended by his comment.  Ever since then I have made a habit out of never wanting to leave the court with anything I could have left out there.
Some folks have called you a late bloomer in that you soared up the rankings last year ...
I mean, rankings don't mean that much to me.  I don't put too much stock in them, because like you said, some people call me a late bloomer.  I had the same confidence in myself when I was not ranked as I do now. (Javin is ranked in everyone's top 50 now)  No matter what any opponent is ranked, you have to come to play and I have to do the same thing.  You have to bring everything, that's what basketball is about.
How your team doing this season and how are you playing individually?
It's going well.  We started off the season rough, losing four out of five games, but since then we are on a 13-1 run and we are playing well at the right time.  We have three more regular season games left and then the post season. I have definitely improved since the beginning of the year.  I've had to play more of a different role this year being more of a leader and distributor.  With my high school team, I am sort of position-less.  Depending on the situation and who we are playing I will run anywhere from the 1 to the 5.
Who has influenced you most as a person and a player?
As a person and a player?  That would be my mom.  She played collegiate basketball at Rutgers.  She's always been tough on me, tough love.  She is both my biggest fan and my harshest critic and the person who has had the biggest influence in my life.
Javin, you are part of a stellar class.  What is it like to be a part of said class and have you started to develop relationships with your future teammates?
You know, it's great.  It's really nice.  It's crazy in that I'm a top 50 player in the Duke class and yet I am by far the lowest ranked of them.  It's just crazy, we have a lot of talent in this class and I  can't wait to see what we are able to do on the court next season.  In terms of building relationships, I have played with Frank Jackson a lot this summer on the circuit and he was on my team at several camps, so I consider him a pretty good friend.  As for Jason Tatum and Harry Giles?  They both seem like really cool guys and I can't wait to play with them. The expectations are going to be high, but I think we can live up to the expectations.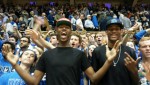 Can you elaborate a little but more on your relationship with Frank Jackson?  He'll be on campus this weekend visiting Duke.
Frank is  just a great guy.  I met him for the first time, in Atlanta, I think and during the NBA Top 100 Camp and things really jumped while playing with him.  He's a great, great basketball player and really athletic, smart and one of the nicest guys you will ever meet off the court.
A lot of former players when they talk about Duke say it's family for life.  You most recently visited Duke  and the Cameron Crazies chanted for you to sit with them.  Do you already feel like you're a part of the Duke Family?
Absolutely.  The coaching staff has always told me that it's a brotherhood at Duke and when  I visitedDurham, I couldn't have been more welcomed.  It's the experience of a life time to be a part of Duke.  I talked to Harry  little bit.  We're both really excited to be there and it was a great atmosphere.
A lot of times when young men as yourself sign with Duke, they start to help recruit other people in their class or future ones.  Has that been the case with you, Javin?
Well, I have been in Marques Bolden's ear pretty much ever since I committed.  As soon as I reached my decision, I texted him and said, "Come on big boy, let's go."
I know it's early on, but what has your relationship been like with Mike Krzyzewski?  And also, there is usually a lead assistant that recruits you the hardest.  Can you speak to that as well?
The assistant coach who handled my recruitment was Coach (Nate) James.  He was actually recruited me under the radar since about a year ago at this time when he came up to one of my games.  As for Coach (Krzyzewski) as you get to know him, you realize there is so much more to him than when you are just watching him on TV.  The first time he called my house he was just really personable and a cool guy.  I have a lot of faith in Coach.  Again, just walking into Cameron on my visit, I just felt a wave of history, tradition and emotion wash all over me.  Then I looked up in the rafters and saw the retired jerseys and all those banners and I knew it was the place I wanted to call home.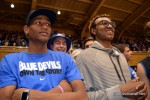 Do you have a message for Duke fans?  What would you like to say to them in closing?
Duke fans, get ready.  Just get ready, because next year is going to be special.
Well, you sound like a special young man too.  Thanks for your time.
Thank you.