K-ments - During some recent practices, Coach K shared some thoughts about his team.  He stated that Marty Pocius was one of the teams better three point shooters and that they would try to get him the ball in good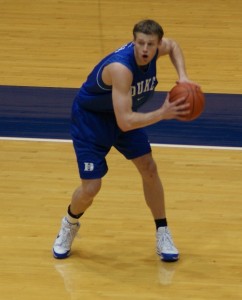 position when he entered the game.  Marty has been playing surprisingly well, especially on the offensive end of the court.  He's still not the best defensive player, but he should provide some good depth in the back court.  The biggest plus is that Pocius has learned the system and knows where to be on the court.  [private] Now, if he can only drop Olek some hints.
He said that he hoped Elliot Williams could fill some of the roles that DeMarcus Nelson did this past season.  He likes Williams versatility and his ability to play good on ball defense on the perimeter.  He also mentioned that Williams was a good spot up shooter.  Williams played very well against Virginia Union and we'll see how he does this evening against Lenoir Rhyne.  However, in my views, he has a ways to go to get use to the size and speed of the college game.  When I talk of speed, in Williams case he needs to slow down a bit and let the game come to him.  This will come in time as will his strength, but expect K to bring him along at well, K's pace.
Coach also said that Duke would get out and run.  With their depth, he plans on pushing the ball and he seems as if he will go to the bench early and often.  He once again mentioned how important it was to keep Kyle Singler fresh and how having a deeper front line wold help.
He also said his team was healthy overall and that he hoped that would carry through the season.  "We have 14 healthy guys ready to go," said Krzyzewski.
"Do it, hear it, see it!"  K barked that out as he stopped practice on several occasions.  He meant for his team to talk a play through, see it later on film or at a half speed walk through and to then "do it."
K worked his team very hard with ACC Officials last week.  He then carried that over into more work, knowing and saying his team was tired.  He had a no contact practice after that, wanting to see how his team responded the next day when they went through two full practices in one day.   He was pleased with the results.
The Big Three- "Gerald, Kyle and Jon are the guys we will build around.  They are our best players.  That doesn't mean a Nolan Smith or Greg Paulus couldn't lead the team in scoring.  It simply means that these are the guys we feel comfortable building around, much like what we did in the Olympic.  We feel if the rest of the team can fit in around them, then we'll have a chance to be really good.  Don't get me wrong, we have some good players, but these three are our best." - Coach K
Jon Scheyer has played wonderfully in practice and worked his butt off all summer.  When prospects came to visit, they all mentioned Scheyer.  When teams are picked by individuals, he goes first or to the next guy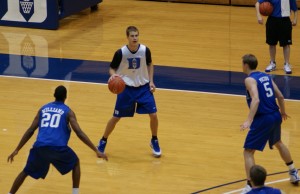 with the second and third picks.  He has shown more leadership and his defense on the ball has vastly improved.
Kyle Singler is the smartest player on the court when he's out there and that is often.  Expect a fresh Singler to really blossom as the season progresses.  He has worked with Miles Plumlee to make him a better player and the two get along on and off the court.
Gerald Henderson is becoming a man among boys.  He is physically better than he's ever been and he looks like a future NBA player with his ability to go inside and out.  He is capable of making the jump to All American.
No secret anymore- Miles Plumlee has proved that he has a very well rounded game.  He plays smart, runs the floor well, has good hands and nice ball handling to go with a mid range offense game.  He also finishes nicley and has good hops.  His Dad told me he was under appreciated and you know what?  That won't last much longer.  I do expect he will struggle at times with veteran big men, but this kid has earned the starting nod as a freshman and that's a heck of an accomplishment.
The latest on John Wall- Wall will get together sometime soon with Coach K and the Duke staff.  At that time both will figure out how they will proceed.  Wall canceled his weekend visit with Memphis and I expect we will know whether Duke has offered no later than Monday.
Sorry for the delays in reporting of late due to computer attack.  It happens.  I lost two informative articles, but some of the info is a bit old now.  I will still go back over some practice notes and dig up the pertinent information in the coming week.  It looks like the Josh Smith interview will come next week, due to and overload in covering Duke vs NCSU in football, tonight's game, preparing player profiles and Monday and Tuesday's opener.  Thanks for your patience during this time.[/private]