While John Wall will visit Memphis over the weekend, the word is that he is anxious [private] to visit Duke next week.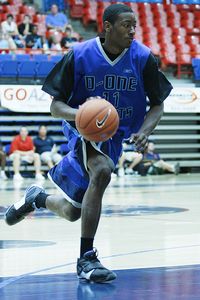 Tuesday is the target date at this time, maybe Monday.  In a brief exchange with John, he says his recruitment will almost assuredly go to the April 15th and beyond signing period.
While some rumors insist he wants to stay near home, a source close to the situation told me what they considered to be his final four.  That being Duke, NCSU, Memphis and Baylor.  The presence of Baylor says that he is still considering the overtures that Dwon Clifton will take care of him.  This is in no way something I want anyone to hint at at Devils Illustrated or anywhere else.
Anyhow, as of today, Wall is very open to Duke.  If this battle stays clean, then the Blue Devils have a great shot to land him.  Duke certainly has some good selling points and K's NBA connections are nothing to turn your nose up at.  Wall could more than better himself with a year under K and he would be on TV in that "all" of the Blue Devil games make it there.
A lot of people keep asking me to answer rumors from elsewhere.  If I haven't said anything, then I haven't heard anything different from what I tell you here.  No, UNC is not the leader for Barnes and to my knowledge, Knight will not verbal to UF in November.  That's all I have to say about that.  I could be wrong, but I'm generally pretty close. [/private]