[private]Durham, N.C. Duke found it's shooting touch in the second half and rode a solid defensive effort to defeat Iowa 71-47 in the ACC/Big Ten Challenge.   The Blue Devils were led in scoring by Chante Black who tallied 18 points to go with 7 rebounds, 3 assists and 3 steals.
Black was honored before the game for becoming the 24th player in Duke history to score 1000 points or better in her career.  She has now tallied double figures in each of her first six contests and has now done so 56 times.
Joy Cheek was the only other Devil in double figures with 13 points.  Abby Waner had a tough shooting night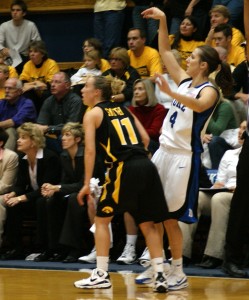 but did manage 7 assists and 5 steals to go with her 8 points.  Duke was playing without the injured players Chelsea Hopkins and Jasmine Thomas.
Hopkins had surgery on her left knee and is expected back in four weeks or less.  Thomas has a sprained left MCL and is out for around three weeks.
Duke once again had a solid defensive effort holding the Hawkeyes to 29.4% shooting for the evening.  They also caused 24 turnovers while committing just 8.
"It was a really good game for us.  A great defensive game, a lot of people doing different things, an interesting game," said Coach McCallie.  She continued, I love the fact where we had 26 turnovers which we caused."
Duke blanket the visitors with a variety of presses which took them out of the game by the ten minute mark.
"I think their defense was a factor, especially when you get down double digits.  I think thats when you have to have the energy level and depth to come back.  It's obvious that they have good depth," stated Iowa Coach Lisa Blunder.
Duke opened 0-13 from the floor and didn't score until the 15:23 mark in the first half.
"I just think they played through it.  That was incredible intensity.  The part you have to add is that Iowa could not get their shot off.  I thought our team took care of it, especially in the second half when things were more up to speed," stated McCallie.
Duke outscored the Hawkeyes by a whopping 48-14 margin in the paint but despite that stat, they were oddly  rebounded 44-39.
The Dukies play another Big Ten team in Michigan at 2:00 on Sunday afternooin Cameron with courtside seats available.[/private]