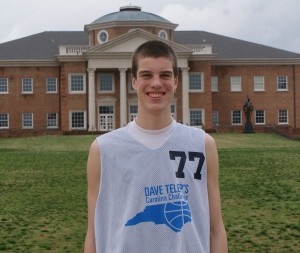 During last season's Carolina Classic, Marshall Plumlee had a couple of breakout games where he showed his potential.  Plumlee, of course, is the younger brother of Miles and Mason, both of whom are Duke Blue Devils.  This coming season Marshall has a chance to start for Christ School.  He plans on continuing to refine his game and build his strength during his  last two years of high school.  The talented Greenies lost all but four lettermen, but Coach David Gaines is already reloading and plans to make a run at their fourth consecutive North Carolina Private School State Championship.
While at this past weekend's Carolina Challenge, Marshall showed off some new moves against the state's best players.  Plumlee showed a spin move in the lane which was quick and hard to stop for opposing players.  When he goes to that move he takes up a lot of the lane with his length and 6'-10" frame.
The key for Marshall will be to forge  his own identity in the coming season.  This will be the first time Plumlee will be playing without his brothers at Christ School.  Marshall sat down with BDN Premium for an exclusive one-on-one interview.  He talked about making his own destiny, his brother's game in tonight's McDonald's All American game, and much more in a lengthy interview.  We hope you enjoy his insights about having two brothers at Duke and what he expects to accomplish in the coming years.
Where did that spin move come from?
Oh from the top of the key? (smiling) I've been working on my ball handling and still have a long ways to go, but I'm going to keep working on it.  I'm trying to add to my game whatever I can.
What goes into that work?  What is your routine?
Basically, little bits and pieces of what I get at these kinds of camps.  I listen to what coaches tell me.  I go swimming in the morning so I can really run the floor well and have good conditioning.  I always try every practice, even though I have a post mindset, to do all my ball handling with two basketballs.  I need to do more, but it's a work in progress.
Have you been working out with your brother Mason?
[private] We've always worked out together a little bit, but this past year Mason and I have really spent some time together.  Whether it is playing one-on-one, or the days when I don't feel like going to the gym, he gets me up and motivated.
I bet you have to get him up at times too ...
(paused to think) Uh, no not really.  He's a workhorse so I'm trying to learn from him.
He has the McDonald's game.  Is he already down there?
Yes, he left this morning (Saturday).  I wish I could be there, but I'll be watching him on TV.  It should be a lot of fun.
Yeah, it should be a lot of fun.  Being in Miami this year, well, it's a long ways.  Have you ever been on the beaches in Miami?
(shaking his head and smiling as if to know he was being set up) No sir.
Well, that might be a good thing. What has Coach Gaines told you to work on in the off season?  You obviously have a situation this year where you will be building on your game.  You have two years left and Christ School suffered some key losses.
Well this year, and I have agreed with him, my role has been the little stuff like running the floor, playing defense, stopping people.  These next two years he really wants me to work on being stronger and an offensive threat.  So I'm trying to work on a lot of my shots - my jump shot especially.  Just try to add all the weapons I can to my offensive game.
What is the team prospectus for next season?
Well, there's a little bit of doubt whether we will be as good as we were this past season, but next year I hope we will be able to naysay the naysayers. I know of two new kids coming in that are very talented.  A PG from Knoxville, Tennessee named Brandon Lopez.  I'm excited to have a PG to work with.  He seems like a good leader.
So, all of a sudden you are thrust into a leadership role ...
Yeah, all of a sudden! (smiling)  Buts it's going to be easy because we have had a lot of good leaders to learn from in the past.  Of course, Mason is a big brother, but we also had people like Lakeem Jackson.  He helped me out.
You are looking forward to your chance to shine, right?
Yeah, I am looking forward to it, but regardless I am just worried about winning or a team contest.
Do you think Coach will go with twin towers next season?
(Laughed at the question) Twin Towers?  One thing that's been nice in the past is with Miles and Mason at the school is that they've been able to go in together and we were even bigger off the bench.  We won't have as many "tall towers" as you said, and Troutman and I will probably be playing together, which I like.  We don't have as much, well, I don't want to say post depth, but height off the bench, so we will have to be in good condition.
Who will you room with next year?
I don't know yet.  I like to switch it up each year.  One year I roomed with P.H. Broyhill of Broyhill furniture fame.
Okay.  So he could hook you up with the Lazy Boy couch and such ... a long one ...

(laughing) Last year I roomed with the the headmaster's son, a great kid, Jeff Kruger.  Next year, I will room with a kid from Greensboro.  So, not necessarily basketball players, but they're just a little ways down the hall.  So, I will spend plenty of time with them.
How are your Mom and Dad doing these days?  Are they going to the McDonald's game?
Yes.  They're excited for Mason and I'm excited for Mason.  Miles?  I'm excited for him.  I hope things go well for him next year at Duke after this year's rough ending.
It sounds as if you wished he'd  played a little more this season ...

Yeah, there is always some frustration, but he continues to work on his game.  I think if he keeps working .. it's a frustrating process, because we as a family know what he is capable of.  He's a superstar.  We think the world of him and I hope he gets the chance to show the world what we already know he can do next season.
Well, I think he might next season for I have head that the coaches are expecting a big improvement and for him to take on a bigger role.  With Duke being a taller team next season, with just three players in the back court at this point, they will draw up schemes for their personnel.
They will definitely put him to work, so I'm excited for him.  There has been a little frustration, but he's been positive and kept his head up.  From a team aspect, he works hard in practice helping other guys to get better and he takes advantage when he is able to get in the game.
Well, he got a cheerleader girlfriend out of the deal ... (smiling as they had come to see him play in his last game).
(laughing)  Yeah ... I don't know, I don't know if you necessarily need that in your first year ...
Miles took a big load upon himself when he first came to Duke with his major ...
Yeah, he's always dreamed of being an engineer.  It's tough when you are up until 2:00 in the morning doing homework and the next day you have a game. He's definitely keeping his academics up despite switch out.  Academics are big for him.
Tell me about your self as a person ... I guess you don't have a lot of time with school and all.
School work is pretty tough at Christ School.  I learned that the hard way during the basketball season and my parents gave me a little bit of a slap on the wrist. (smiling)  In my free time?  It's beautiful here in North Carolina and I've been taking advantage.  I've been kayaking even though I have a hard time fitting in the kayak. (continuing to smile).  I go caving.  I went with Mason and that's been a lot of fun doing things outside and taking advantage of that.
Not so much like Indiana?
Indiana is just flat.
Now your Mom!  I hear she is a little bit tougher than what she shows on the exterior ...
(smiling) I never watched her play college basketball but I hear she was the nicest person off the court, but quite the opposite when it is game time.
I hear she could give the hard foul when necessary ...
I wouldn't know about that.  She was a low post player and it got rough some times.
It's safe to say she was happy when the Purdue women (she played center for Purdue)  whooped up on Carolina in the NCAA's ...
(smiling) I bet she was.
Okay, I am going to let you out of the hot seat before I get you in trouble.  Thanks for your time and good luck with your development.
Thank  you, sir. [/private]