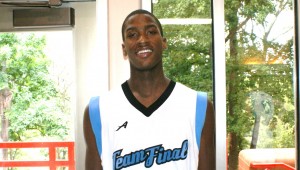 Everywhere you looked, college basketball coaches lined the walls as the Nike Peach Jam got underway on Sunday.  The first game of the day featured a Harrison Barnes led Howard Pulley team going up against Each One, Teach One, which boasts the best back court in AAU ball.  That's because Duke prospect Brandon Knight teams with Austin Rivers and the one-two punch proved too much for the undermanned Howard Pulley team.
Harrison Barnes led the way for Pulley by going for 18 points, 4 rebounds and 1 assist.  Brandon Knight led all scorers with 20 points and added 4 rebounds, 4 assists and 3 steals in a stellar performance.  His sidekick Austin Rivers scored 18 points [private] in one stretch to go with 3 boards and 2 steals.  The back court duo sat out the last two minutes in an 88-58 win.
Despite a sore foot, Andre Dawkins scored 13 points and grabbed 6 rebounds to help Boo Williams defeat the Arkansas Wings, 57-49.  It was easy to see that the injury did not allow him his usual explosive leaps.  Dawkins would score just 3 points in the nightcap.
In the upset of the tournament, the Georgia Stars handled mighty Team Final 74-68 as UCLA bound Jeremy Lamb scored 22 points.  The "Big Show," Michael Gilchrist had 17 points, 9 rebounds, 2 blocks and a single assist and steal while teammate Dion Waiters added 17 himself.  Waiters can shoot a team into a game and take them out as witnessed by 6 turnovers.  It was later reported that Gilchrist suffered an injury.  In an attempt to gain an interview, his mom stepped in and took over, saying he would not talk about schools.
I then took in the first half of the 16-U St. Louis Hawks game to see 2011 stud Bradley Beal.  No disappointment here as Beal, despite not scoring in bunches, showed that he understands the game of basketball and that he is a smooth operator.  Coach Krzyzewski and Chris Collins were front and center at all of the aforementioned contests.
Team Final bounced back with Gilchrist tallying 17 points, 6 boards and 2 steals to wallop the Arkansas Wings 74-46.  This is the game in which Gilchrist suffered an injury.
Injuries!  That was the keyword for the day.  The bug then caught Harrison Barnes and Brandon Knight.  Barnes scored 28 points, 8 rebounds and 1 block, but Howard Pulley fell by 69-64 to Deshaun Thomas (27 pts, 9 reb) and Marquis Teague (14 pts, 3 reb, 4 assists, 3 blocks, 2 steals) led Spiece Indiana Heat.  Late in the game, Barnes went down hard and injured three fingers on his non-shooting hand.  He returned and had trouble catching the ball; the word is he is finished for the rest of the AAU season.
The staff then took in part of the Seattle Rotary game in the nightcap, before Collins watched the aforementioned Andre Dawkins game and Krzyzewski took another look at Knight, Rivers, and company.  Rotary dropped a two-point game to All Ohio Red and Jared Sullinger.  In the battle of bigs, Sullinger 17-8 over Smith.
The best game of the evening was between Elite One and the Jackson Tigers.  Jackson built a 16-point lead early, but Elite One came back behind Brandon Knight and Austin Rivers.  Actually, Knight went out with 9:33 left in the game as he writhed in pain on the floor after injuring his foot.  He was carried off the court and the foot was iced down.  Knight had 17 points before the injury and his team had built a six point lead.
Austin Rivers then took over, hitting a three and a driving deuce on back-to-back plays as his father, David, watched.  He would go on to score 23 points and Elite One held one for the win.  Coach Krzyzewski took in the entire game and towards the end Collins came in from the Boo Williams game.
Wojo also made a late appearance.  He was allowed on the road when Chris Spatola left the Peach State Classic where he watched Quincy Miller.  BTW, Miller had a 40/20 game in the event.
I have many more notes and will go over all of the aforementioned in more detail on the message board.  One more note, Roscoe Smith did not show up for the event.  It was a tough day with injuries for Blue Devil prospects. [/private]