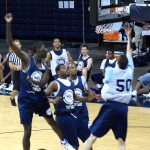 High School basketball seasons across the nation are starting to come to a close and teams are looking toward upcoming conference and state play-offs.  Ryan Kelly scored 33 points and secured 17 rebounds in his last regular season game at Ravenscroft.  The Ravens defeated Cary Academy 88-65 to finish the season at 24-6 and 6-0 in conference play.
Christ School defeated Greensboro Day 50-33 and locked up a #1 seed in their upcoming tournament.  Mason Plumlee had a bit of an embarrassing moment on a dunk attempt in the game.  The Greenies are now 29-2 and 11-0.
Gonzaga knocked off Bishop McNamara 61-55 on Friday night to retain 1st Place in the Washington Catholic Athletic Conference.  Tyler Thornton scored 13 points as the Eagles improved to 22-3  and 13-2.
Andre Dawkins scored 20 points as Atlantic Shores routed Alliance 98-35 on Friday night.  Dawkins made two 3-pointers in the game.  On Thursday, Dawkins made five 3-pointers and scored 27 points as Atlantic Shores rolled over Broadwater 99-43.
Harrison Barnes squeezed in a trip to Cameron Indoor Stadium between two Ames Little Cyclones victories.  On Thursday, Barnes scored 25 points and made seven 3-pointers as Ames defeated Fort Dodge 92-43.  On Tuesday, Barnes scored 15 points as the Little Cyclones rolled to a 80-43 victory over Indianola.  Nine of Barnes points came via the deep ball.
Be sure and stay tuned to Blue Devil Nation to keep track of Duke commitments and recruiting targets throughout the upcoming conference and state play-offs.  BDN will continue to bring you recaps with links to articles from newspapers across the country.