[private]The Duke Blue Devils boosted their record to 13-1 with a 79-67 win over Davidson in Cameron Indoor Stadium.  Duke was led by the dynamic duo of Jon Scheyer and Kyle Singler who scored 22 points apiece.
Duke held Stephen Curry in check during the first half, but the nation's leading scorer erupted for 25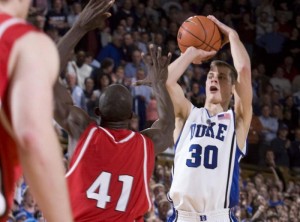 points in the second half.  Curry's scoring effort allowed Davidson to cut a 25 point lead to 8, before Duke gained control to close out the victory.
"I think their help defense allows them to do that because if they create a mismatch where I'm guarded by a big guy, I usually try to take him off the dribble. If I see a guy right behind him on the second line of defense it's tough to create something. That's why they're really good if they can switch and take away the initial shot and then when you drive they're right there to help and make you make a tough decision," said Curry in regards to the way the Devils defended him.
Early on, the Dukies defense picked up where it left off against Virginia Tech.  Davidson finally scored Curry's average as a team at the 15:20 mark in the second half making it 51-29.  They finally found their offensive game scoring 38 points to close out the game.
"We beat an outstanding team tonight. I think when two really good teams play one another, you have blows. At the end of the first half, those last eight minutes, we played really well and gave us the lead, and the first six minutes of the second half we played great. Then it looked like we got tired. We took some quick shots that missed, and I thought Lovedale made some big blocks when we did get a good shot," said Krzyzewski.
The Blue Devils played very well as a team for the most of the game before losing some momentum after maintaining large leads.  There is no question that the strong play of Jon Scheyer helped Duke thwart the Wildcats comeback.
"It was just plays needed to be made and opportunities were there, and I just had my shots, had some drives.  We took some pretty good shots in the second half I thought.  Most of them fell, some of them didn't, but we when we move the ball like that, whether it's me, Kyle, G or whoever, we can have some good opportunities to make some plays like that," said Scheyer.
The victory was the Blue Devils 67th straight in Cameron versus a non conference opponent.  Duke will now travel to Talahassee to take on Florida State in a nationaly televised game which tips off at 2:00 this Saturday.
Sidebar -The Blue Devils have started the season 13-1 for the 17th time in school history. The Blue Devils have begun the year 13-1 for the third straight season and sixth time this decade. Coach K has led Duke to a 13-1 start a total of 11 times.
-Duke has now won its first nine home games in a season a total of 25 times, including 17 times under Coach K.
-Duke now leads the all-time series with Davidson, 87-17. The Blue Devils have won the last 22 meetings in the series dating back to a 75-73 loss in Cameron Indoor Stadium on Dec. 29, 1981.[/private]