The Blue Devil Nation sat down with John Wall for an exclusive one on one interview and talked about many things, including the recruiting process.  We have condensed two separate interviews on successive nights into one and feel you will enjoy hearing the latest on the top prospect.  Wall won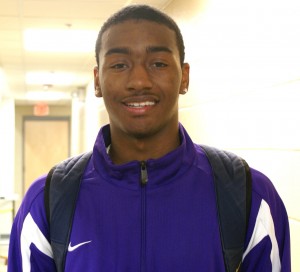 the Glaxo Tournament Most Outstanding Player Award and his team takes on rival Ravenscroft this Wednesday night.  Wall almost led his Word of God team to a victory over Christ School, but came up just short.  Blue Devil Nation Premium is a subscription service which offers you accurate and detailed information on all things Duke.  WIth all of our latest offerings and scheduled events, it's a great time to join. [private]
You had seven blocks in the second game of the tournament.  What do you attribute that defensive effort to?
We just concentrate on our defense and what the coaches teach you.  I like to leak out on defense a lot, but tonight I had to stay down there and help my other teammates.
We've talked several times at various events.  Everybody is coming at John Wall and wants to know whats up.  There are just three and a half months left before you will make a decision.  Are you starting to think about that?  I mean, do you say wow, I've got to get down to business?
Yeah, I am going to get down to it.  It's kind of a tough decision because it's the last decision you make as a kid.  It's kind of tough and I'm trying to make the best decision for me and my family.
Do you still feel like a kid?  I mean you have been through a lot during the process.
Yeah, I still feel like a kid and get to hang out with my friends.  When I get between these four lines or I'm in my classroom at school I have to take it serious to become a man.
What has Word of God done for John Wall?
It's helped me a lot.  It helps me off the court, with academics and made me a better person.  It's made me see things in life I wouldn't have learned staying in a private school.  The smaller environment has helped me.
You've had several people watching you - the Duke and N.C. State staffs ... what does that mean to you?
I used to it now, but it feels good.  When one of the top college coaches in the country comes in you have to try to be calm and run your team and try not to do stuff that takes you out of your game.
Are you really serious about all of the schools on your list?
Yes sir.
Have you been on an unofficial to N.C. State yet?
Yeah, I took a visit there.
What about Duke?
I haven't took one yet.  I'm supposed to be setting that up.  Maybe this weekend.
You've said that you have talked to Coach K several times, what is he saying?
He just tells me he wants me to come see the school and not to do anything until I get a chance to get over there and check out Duke.
I talked to your coach last night and Clifton as well recently.  It seem like the visit to Duke has been really hard to set up.  Is there any reason for that or is there some sort of thing that concerns someone?
My coaches just wanted me to focus on this tournament right now.  With my Mom being in the hospital I've just been telling the coaches I'd talk to them after she gets well.  Everything went well in her surgery so I feel some pressure off of me now.  So now I will start setting my visits after this tournament.
I've heard that you had a good time in Memphis on a visit??
I did.  I really liked the coaches and players and had a good time on the visit.  They told me I could be like Derrick Rose.  I liked the facility and felt comfortable.
Will the pending decision be John Walls to make?  I gather that there is three important components at work here, that being your high school coach Levi Beckwith, your AAU coach Clifton and your Mom.  Is that pretty much accurate?
Yeah.  This is my decision but my Mom said that said I had been home so long that it was my decision.
Wouldn't that be a hard decision to make?  Going away?
Yeah, it's going to be pretty tough.  That's why I'm trying to see which school would be the best fit for me.  If one fits me best elsewhere I will have to move out of state and go to college,  if one fits me best here then I will stay close to home.
What are you looking for in a coach?
A coach that plays the style of ball I play.  A coach who going to push you and not just say you are going to have a starting spot when you get there.  You have to have a good relationship.  I want to see if like I get a turnover or something how long he'll take a player out or if he'll let him play through some mistakes.  I can only take in what people tell me but you can't believe what everybody says because they don't want you to go to a school.
Do you think coaches are straight up for the most part?
It's hard to tell because they are getting payed a certain amount of money and they're trying to get the best players so they can win.  If they are not winning they are not going to keep their job long.  It's kind of tough, so you have to go out and find coaches you feel you can trust and feel most comfortable with.
What are your goals for the rest of the season besides winning as a team?
I'm just want to be the best player I can be.  Prepare myself for college and help my teammates.
What three words or phrases best describes John Wall at this point and time?
Fun, fast and a celebrity I guess.
Are there any games you've marked on the schedule as being special?
I think Ravenscroft will be special.
And you get to play them twice, right?
Yes sir.
I appreciate your time and wish you the best of luck and hope your Mom gets well soon.
Thank you. [/private]