[private]Christ School advanced to the Glaxo Smith Kline Invitational Shavlik Randolph Foundation Championship by defeating Kinston 76-59.  They will face Word of God tonight just after 9:00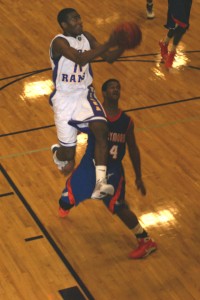 in what should be an exciting match up.  Ravenscroft will also take place in the championship game of the Summit Hospitality bracket against Centennial.
"Our half time adjustments were great and our defense confused them a little bit.  It's hard to keep these guys up for five games in a row.  Jackson and Plumlee ... I can't say enough about what they do for this team and we just have to get up for tomorrow night," said the Greenies Coach Gaines.
Christ School shot 61.7% from the field over a pesky Kinston team.  The Greenies were led by South Carolina commitment Lakeem Jackson who tallied 18 points and 4 rebounds.  He spent much of the night guarding UNC commitment Reggie Bullock who scored 17 points and grabbed 6 rebounds.
"For two years Lakeem has guarded the other guy's stars.  We told him you have to guard Reggie Bullock. He (Jackson) takes such pride in his defense.  Reggie made some great shots in the first half, but by in large Lakeem did a great job on him," said Gaines.
Duke bound Mason Plumlee was a force in the paint where he scored 15 points to go with 13 rebounds.  Plumlee known for his uncanny passing skills for a big man dished out 7 assists.
"If this kid is not an All American, you've got to be kidding me.  It's not going to be because he scores 25 points a night.  Tonight we had him for 8 assists.  He just produces in the big games for us.  I would like to see him post up a little more and part of my barking at him was to get him to do that.  But again, the kids a superstar," said Gaines when asked of Plumlee.
Plumlee was 7 of 10 from the field, two of those misses were three point shots.  Plumlee is a shoo-in for the all tournament team and his field goal percentage has to be among the best at the event.
When asked of his passing ability for a big man, Plumlee told the Blue Devil Nation, "When you have good shooters like we do, you want to get them the ball.  I've been watching the game since I was younger and a lot of my favorite players were great passers.
The Greenies pulled away late in the game after throwing a variety of defenses at Kinston.  They must now prepare for Word of God, an athletic team which will press and push the ball.
Word of God of course, is led by the nation's top uncommitted prospect in John Wall.  While their game wasn't pretty on the eyes due to numerous turnovers, they held St. Raymond to 30% shooting in a decisive 63-43 win.
"I think the biggest thing for us tonight was our defense.  We gave up 10 points in the first quarter and 6 in the second.  We had a little bit of a let down in the third, but came back strong in the fourth," said Word of God Coach Levi Beckwith.
Wall showed off his ability to get from end to end faster than any player in the high school ranks.  He scored 14 points on 40% shooting from the field.  He was 6 of 7 from the free throw stripe and dished out 4 assists.
"I'm just trying to be the leader I'm supposed to be and prepare for college," Wall told the Blue Devil Nation in a post game interview.
Another impressive stat line for Wall was his 9 rebounds which is a testament to his active feet.  But his top stat was his 5 blocks, where two were on the same possession where he also started the break for an easy basket.
"We've watched them (Christ School) play the last two nights and Coach will give us our game plan.  If we follow his game plan we win, if we do something outside his game plan we struggle to win.  We will go home and rest tonight and we'll go over the game plan.  It's going to be a tough game but we might come out with the win," stated Wall on his next opponent.
Coach Beckwith added, "We are going to need to make sure we did the same thing we did down low tonight which is number one make sure we're down there.  Obviously we want to use our speed, but they have speed as well.  We are going to do what we do just like they do.  Their coach is probably sitting back when we are going to trap them half court - we are doing the same thing."
Ryan Kelly will lead Ravenscroft against Centennial in the first game this evening.  Centennial is led by N.C. State commitment Lorenzo Brown.  Another Pack commitment of interest is C.J. Leslie who plays for Word of God.
Once again, Broughton High School was filled to capacity and people were turned away in droves outside the venue.  Duke Assistant Coach Nate James took in the action for the Blue Devils.
Blue Devil Nation Premium our subscription service has an exclusive one on one interview with John Wall and much more from last evening alone.  Why not check out the hardest working premium site around and judge for yourself where you get the best basketball coverage to add to your fan experience.  If you are a member of another site, once you check us out, you'll likely see the difference.[/private]