Congrats on your decision to become a Blue Devil!  What did Coach K have to say to you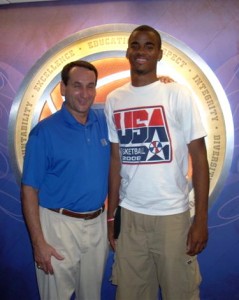 on your recent visit?
The main thing was that Coach K said was that Duke was the place for me.  I kind of felt that way before.  When i went down on my first visit it felt like home.  Coach said he would take care of me down there and that's really what made it happen.
Did you have a feeling you were going to sign with Duke all along?
At first I really didn't, but after talking to Tyler and Andre and seeing how everything was playing out, I realized that was the place I would probably end up.  I kind of kept it to myself, but for the past two weeks I have known where I was going to go. [private]
Did it bother you that word was circulating on the Internet that you were destined to Duke a month or so ago?
It didn't bother me.  I had never had a leader out there ... it's over now, so it doesn't matter what was said.
What did you do on the Duke visit?
We arrived a round 9:30 on Saturday morning.  My parents, sister and myself went to eat with Coach K and his staff.  They talked to us for about an hour.  Then we caught up with everybody else.  Tyler arrived around 11:00 and we had a little bit of a tailgate.  We then went down and played five or six pick up games with the guys on the team.  Then Andre, Tyler, Mason and myself went out to the football game for the second half.  After that we went back over to the practice facility and shot around a little bit.  We then met with Coach K individually.  I went in first - that's when I committed then Tyler talked to him and he committed.
When you came out did you tell the guys you had committed?
I was actually last to come out.  Coach Wojo and my parents got there first and they were all smiling, so I think everybody kind of figured out what happened.  Andre kind of knew it all along and he was happy about it and Tyler was too.
What was the reaction of fellow students and faculty at your school this past week?
You know, it was crazy.  It was spread all over the school and around town real fast.  Everywhere I go there is somebody saying congratulations.  My school has been my biggest supporters.  They were like on top of me when I got back to school on Monday. 
Did you hear from a lot of relatives?
I did.  I'm  close with my family so a lot of my aunts and uncles.  My grand parents call to congratulate me, my cousins - everybody.
Andre told me that you guys actually called Harrison Barnes.  Andre is obviously trying to recruit a lot.  Are you going to take on a similar role?
I am.  In fact, I talked to him a couple of days ago,  Harrison is a tremendous player and a great kid.  Basically he's not in any rush and I wasn't trying to put Duke on him too hard.  But he let it be known that Duke is in his top schools, but he's not in any rush and taking it day by day, so we'll see what happens.
What did Andre and yourself actually talk to him about when you were in EWills room?
We were just messing with him.  We told him he needed to quit playing around with these other schools because he's coming to Duke.  He was laughing about that and it was kind of a joke.  We were really just telling him that he if joined me, Tyler and Andre and we get Brandon Knight that we could be one heck of a lineup.  We weren't trying to put things on him too hard, but just let him know what could be.
Duke has offered Josh Smith as well, any talk of him?
I met Josh a couple of years ago in some of the teen conferences I went to.  Josh is a tremendous player, but he is on the west coast.  We're still going to try and pull him over here to the east coast.
I think you played against Harrison Barnes in the NBA Developmental Camp ...
I did!  Our teams played each other.  We were actually together at the Nike Jamboree the week before that.  So we had two consecutive weeks together.  He's a great athlete and playing against him was fun.
Tell me how much knowing Andre and Tyler helped with your decision to become a Blue Devil ..
It played a big role.  I played with Andre my freshman year with Boo Williams.  We know everything that each other can do.  He's a player who knows where I am going to be.  Playing with Tyler now, you know he's my point guard on my AAU team DC Assault.  We have a great relationship and playing with him will be fun.
What did Tyler say when he came out after his decision?
He didn't really say anything.  He walked out and was finishing his talk with Coach K and he was just smiling ... just smiling real hard and we knew he had done it.  I mean, he couldn't wait to get down here.
What was the atmosphere on the ride home like?
Excitement!  Everybody was excited ... me, my mom and dad, my sister ... everybody's phone was ringing off the hook.  People were calling and congratulating us.  It was just good, I felt like a huge weight had been lifted off my shoulders.  I felt like I could relax now and when I went back to school, I felt like a different kid.  I felt like I could finally relax and be myself now and not have to worry about anything.
You know guys are going to come at you now.  They'll envision those four letters on your chest ...
It'll make me a better player.  I know I can't have nights where I slack off now.  I am in the weight room everyday.  I am shooting everyday.  I have had people coming at me since my freshman year.  I'm not new to it, but I definitely know thay will be comong at me harder.  I told my teammates I was going to do whatever I have to for them to take us to where we want to go which is the state championship.  So, I know I have to be on the top of my game every night.
Did Coach K tell you what to work on?
He actually told me to work on getting stronger.  He just said to work on every part of my game and that I could be a tremendous rebounder.  He just said to keep working that I can always improve my game and become a versatile player.
What was Coach K like during the visit?
You know, I was telling all my friends that to look on him on TV, he looks like the meanest guy in the world.  But if you get around him or sit around him at the table, he's probably the funniest guy in the room.  He's got a great sense of humor ... he's a great guy, he lightens the mood.  Coach K ... he's a tremendous guy and I can't wait to get down there.
If you had a message for Duke fans, what would that be?
Fasten your seat belts and get ready, because when we get down there, you'll have a ball.  I really can't wait to get down there.  I don't want to really rush my last two years of high school, but I can't wait to get down there.