[private]The four participating coaches in the 2K Coaches for Cancer Classic had their teleconference at noon today.  Here are the majority of Coach K's comments -
On Team USA Basketball program -
A goal of ours is to bring USA Basketball throughout the age groups, like the seniors - the elite players.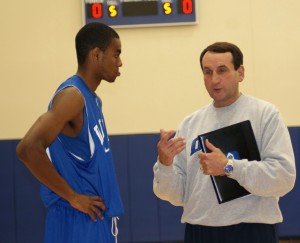 This should filter down sand have the same level for the kids who are developing and those who will be an integral part.
On Coach Lowrey and Southern Illinois -
He is a really good player and we had an outstanding game.  Chris Collins played really well in that game and bobby Hurley.  We had a very good team.  We had Grant and Cherokee ... and they were really good.  Coach Lowrey is like an old school coach.  You know fundamentals.  His kids play really well together and each year they not only grow individually, they grow together.  The kid Mullins is really good - he's such a good leader for them.  He epitomizes the type of player that their program has had over the last ten or so years.  They've had some outstanding coaches and outstanding teams.  We have ultimate respect for them.  It's going to be a great game for us.
On Greg Paulus -
We were off yesterday for the mandatory day off, but he was in for treatment.  He's doing better.  You could tell he wasn't close to being 100% on Sunday.  If he doesn't get injured more in today's practice or tomorrow, we'll see how he can keep coming.  We need him.  Greg is an integral part of who we are as a basketball team.  In fact, we feel that he will be much better on Thursday.
Do you separate the Olympic and Duke experience?
You can't separate those things.  The experience you have as a coach, just accumulative ... the experience I've had coaching the Olympic team the last four years has helped me, immensely.  It's furthered me as a coach and the program here at Duke.  It's like getting a PHD in your sport.  It's helped me and I would never separate it because the lessons you learn just X'S and O's wise - the lessons you learn from other coaches and people you complete with.  They're all relevant as you go forward and now with my Duke job.
On Gerald Henderson -
"G" is can be that explosive player for us - the guy that can get his own shot.  I think up to now, he's putting a little too much pressure on himself.  He's putting too much pressure on every play trying to be that for us and I think once he gets into a good rhythm. He has a chance to be a better player, one of the best in the country.  He hasn't played like he wants to or like we wanted him to.  Hopefully, Madison Square Garden will bring out the best in him.
Link to Duke vs Southern Illinois Game Facts and Figures[/private]