[private]"When I talk to our team, I tell them these are our standards."  Those are the words that came out of Coach K's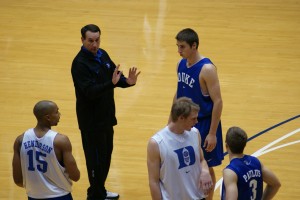 mouth during a recent practice.  He then referred to a very good team meeting where he asked the players to participate intalking of a practice tape from the previous day and adding their take.   "We record all of our practices," stated Coach.  And they do, there are six state of the art cameras along the walls in the new practice facility.
The "Duke Standards," mean communication, togetherness and all out effort among the many.  Coach demands that his players look coaches and each other in the eye when talking.  "I asked them to contribute in the meeting and no fooling around."  This discipline afforded Duke another opportunity to grow as a team and when Coach K instructs or suggests, you can hear a pin drop and echo through Cameron.
The HOF coach will talk to the media about last seasons tournament ending game versus West Virginia, but it's clear that he's ready to put that game to bed and move on as is his team.  During the off season his staff discussed the reasons for that loss and adjustments have been made in order for Duke to make a deeper run in March and quite likely April.
"It's obvious that we have a deep team.  Anybody wh has had the opportunity to watch this team in the pre season knows that," stated Krzyzewski.  He then went on to hintt of a plan which willkeep his team fresher down the stretch.  Just one of those reasons is the pleasant play of incoming freshman Miles Plumlee, who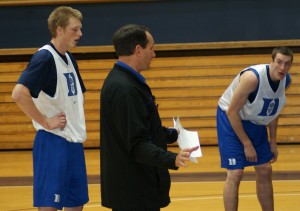 has enabled Kyle Singler to play a more natural position where he's able to showcase his immense skills set.  But it doesn't stop there.
Players like Marty Pocius have picked up the system better and as of right now Nolan Smith has been running with the first team ahead of senior co captain Greg Paulus.  Anytime, you can bring a hard nosed competitor like Paulus off the bench, well, it's the sign of a team with depth.
It remains to be seen if Krzyzewski will play more than the seven or eight players he usually does, but he certainly hinted he would and that having their legs late in the season is a priority.  After several views of the 08-09 Blue Devils, I feel certain that they will go nine deep, even ten when necessary.
You can also look for some of the Gold Medal Team USA experience to rub off on their style of play.  "Fans will see an exciting style of play this season," said Krzyzewski.  He went on to say it would be similar to the Olympic team, especially concerning spacing in the motion offense and break.
All in all the table is being set for an outstanding season and fans are getting excited about what they are hearing.  Duke plays it's last tune up game versus Lenoir Rhine this evening, before tipping off the season for real on Monday night against Presbyterian only to come back against the winner of the Georgia Southern-Houston game the following evening.
Stay tuned to Blue Devil Nation for coverage of all things Duke Basketball and individual breakdowns.[/private]