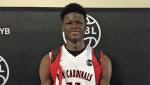 I have got to admit that it was disappointing to see that Mohamed Bamba was in a cast for this weekends Hampton EYBL session.  The talented Duke prospect will miss the entire session, but the good news is that the injury is minor in nature. Bamba hurt his left ankle this past week which is considered a sprain and he will have his injury looked at this coming Monday.
Bamba said he had most recently spoke to Duke Coach Mike Kryzyzewski, Villlanova head man Jay Wright and John Calipari of Kentucky.  One of the things Bamba stays up on is who the teams chasing him are recruiting.  ''I want to go to a team where it is not just me, I want to play with other talented players,'' said Bamba after his PSA team had finished playing.
One thing you quickly learn when speaking to the double-double machine to be is that he is very analytical.  He thinks about his answers and like many these days, doesn't give away too much with a quick response.  The budding big man is also very much a player who like to play in a team concept.
I asked Bamba who he liked playing with and he immediately spoke to his current teammates while stating he gets along with pretty much everybody on the circuit.  ''I have been playing with Hasahn French since we were in the seventh or eight grade and I love playing with him.  Knox continued, One other guy who I really like playing with and it's the first time is Deng Gak.  He is pretty much just like me defensively, which is great''  For the record, Duke has offered both Bamba and more recently Gak.
Bamba also spoke to the coaches that were recruiting him, stating that Jay Wright of Villanova had been taking a different approach. As for Calipari. his message was about player development and the 2017 players Kentucky was targeting.
Bamba also spoke of Duke, saying, ''When I spoke to Coach K, he just pretty much talked about life.  I am big on recruiting classes, so he talked about that as well.''
He went on to mention that there was a lot of talk about point guards and who is going to stay on teams.  He also spoke about the new rule.  ''I am looking into every aspect, I am not going to jump into something.  I surround myself with people who want the same thing and part of the process is research,'' said Bamba,
Bamba also mentioned that some coaches talked about him playing with another current teammate in Quade Green with some coaches. He stated twice that all of his conversations with the coaches recruiting him the hardest were good,
I asked Bamba what were the three most important things to him with concern to recruiting.  He responded, ''There are a lot of things which are important but as I have mentioned before, a strong alumni base.  That goes beyond basketball.  Another thing which has been recurring or that is popping up more for me of late is who will be coming to school with me.  The third thing, is probably the balance of academics.  That and how good the team is,''
When pressed on more with concern to the alumni base, Bamba mentioned Harvard and Duke first and then added Kentucky.  Bamba hinted that the first two schools mentioned were strong in academics and basketball and then mentioned that Calipari was strong at networking with his former players as well.  As for Krzyzewski he just said, ''Coach K is just Coach K and has made a name for himself,''
He also stated that he hadn't learned anything new from his conversations with coaches past who they were looking at in his most recent conversations coming into the latest EYBL session.
In closing, Bamba continues to be calculating with his answers and there seems to be a set of leaders developing with him.  While he failed to give a concise list of schools, it was clear that Duke and Kentucky are major players for his services.
More to come on Bamba and discussed on our message board.