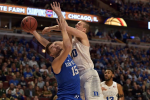 Duke Captains Lead by Example
Marshall Plumlee played the best basketball of his career in the opening minutes of the game, That helped Duke keep the game close going into the half.  Plumlee ended the game with a double-double of 12 points and 10 boards.  Amile Jefferson was more consistent over the course of the game with numbers of 16 points and 15 rebounds.  Matt Jones finished the game with 16 points and was the best three point threat for Duke where he hit three of them.
Not Ready for Prime Time
There were immense growing pains for the Duke freshman class in last evenings loss to Kentucky.  Luke Kennard struggled to get into the flow of the game with his minutes.  Derryck Thornton showed some positive flashes and some carless plays which is why he has likely not started to date.  But the real surprise was Brandon Ingram picked pre season All ACC.  He seemed uncertain of his role and likely needs to mix it up down low a bit more despite his size to get into a proper game flow.  The aforementioned three players and Chase Jeter scored 13 total points together.  The Blue Devils youth was quite evident in every aspect of the game.
Fast Break Points from Kentucky
Duke was simply not ready to get back on defense and the Wildcats took major advantage of that fact.  Kentucky had an 17 to 4 advantage aided by 16 Duke turnovers.  This will likely be a concern for the staff this week as they prep for games in New York.  Allen, Ingram and Thornton combined for 12 of the turnovers with 4 apiece.  That stat is telling.
3 for 23
Three players Duke will depend on scoring went a combined 3 of 23 from the floor which is in a word - terrible.  After staring in his first two games, Grayson Allen struggled mightily.  Brandon Ingram and Luke Kennard added to the Blue Devils inability to get offense from players who weren't upper classmen.
It's Early
Duke learned about itself as a team last evening.  They have plenty to work on and that's the way it should be in November.  The Blue Devils will be a much different team by March and with youth depended upon, more struggles will come.  On the other hand, there are enough pieces in place for Duke to be a good team this season.  Keep in mind that this was the first road game for the freshman and by the time they look at some film, they will come away knowing what is needed moving forward.
The Bottom Line
Duke got outplayed by Kentucky last evening and at times they didn't seem ready for the challenge.  The speed of the game was likely shocking to some of the players which was evidenced by allowing easy buckets.  Duke has plenty of time to right the ship but they will need to take lessons to heart fast.  The Blue Devils will face hungry teams in New York this week who are playing the four letters on their chest.   It will be a different kind of challenge.  Also, you don't want a team to peak this time of year when they're young, but you do want them to remember come March should teams meet again.  If a team wants revenge bad enough for a loss, they will do what it takes to gain that match up again.