There has been no shortage of hype surrounding the incoming freshman class that Mike Krzyzewski assembled. We all know that Jahlil Okafor is the top rated player in his class and there is little doubt that Tyus Jones will play a significant role from day one.  And Justise Winslow?  He is quickly earning the reputation as an all around talent and a player who can contribute in multiple ways.
But what about Grayson Allen?  I will go ahead and fill you in on something early on.  Allen can play and he will be a surprise to many in that he is the least celebrated player in the stellar class.
It's not hard to fly under the radar when other players in your class received constant hype on the AAU circuit. Allen started out playing for the Douglass Brothers AAU team which resides on the border of Florida and Georgia.  That team played their games at smaller events and not on the main shoe company circuits that high major coaches regularly attend.
Allen hails from Jacksonville, Florida where he played for Providence High School.  He was slow to climb the rankings of the many recruiting services where exposure plays a key role but that would not be the case as time passed.
Allen's AAU Douglass Brothers team attended the Peach State Classic in Aiken, South Carolina. This is an off shoot event which took place at the same time of the Nike Peach Jam.  The Peach Jam was one of the more celebrated events which drew the nation's top collegiate coaches in droves in North Augusta, South Carolina.  It has since changed it's name to Nike EYBL Peach Jam.
While covering the aforementioned event. I got a tip from someone that a kid named Grayson Allen mentioned Duke often and that he's been playing well in Aiken.  It was the first time I'd heard his name but it wouldn't be the last.
The next day, I somewhat reluctantly decided to stay put in that Duke gets more than their share of prospects reaching out to them and most simply do not meet the lofty talent standards or have the ability to play at a high major level.
Much of the Duke staff at that time had duties with USA Basketball, so despite what some have said recently about supposed recruiting advantages, Coach Mike Krzyzewski could not take in the last days of the recruiting season that year, which are often times critical to success.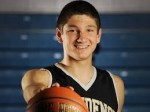 As it turned it turned out, nobody from the Duke staff made it over to see Allen, but his play was stellar and word travelled quickly of his keen interest in the Blue Devils program. Being short-handed on the recruiting trail stalled the process of what would soon be a budding relationship.
Allen's coach at Providence, Jim Martin, put in a call to Duke, stating his players interest and that he felt he was worth their time to check him out.
Shorty after that, Duke Assistant Coach Nate James caught a red-eye from Florida to Richmond, Virginia for a smaller tournament held at Virginia Commonwealth University.  It was the first live view that a Duke coach had of Grayson Allen and James came away impressed.
"He was phenomenal at that time," said James, who got word back to Mike Krzyzewski that this kid could play and was worth a look.   It would take a bit longer for Krzyzewski to get look in that he was coaching up USA Basketball.
For those who aren't familiar with the Duke recruiting process, offers only come after Krzyzewski gets a first hand view of a prospect.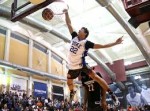 At the time of the Allen recruitment, the NCAA rules were different. James had started the recruiting process with Allen on the social media forum, Facebook. James saw Allen as a solid athlete and he passed information on to current Marquette Coach Steve Wojciechowski or Wojo as he was most often known at Duke. Wojciechowski was quick to pass on a second recommendation to Krzyzewski that Allen  had some serious talent.
Allen had been a Duke fan since the seventh grade. He dreamed of playing for Duke and would emulate the players he coveted while hooping it up on Florida courts.
Allen had early interest from some Florida schools but Duke scooped him up as word started to get out on his talent. When the Blue Devils started recruiting young Allen, he was not even rated in some of the more popular services top 100. When the dust cleared he was a consensus top 30 player.
A season after his Peach State performance, Allen joined the Southern Stampede on the Nike circuit for the Peach Jam for more exposure. It wasn't a match made in heaven for they brought him off the bench and it was clear other prospects were not getting him the ball.
"I don't really see it," said one well-known recruiting guru as he watched the Stampede hang on to a win where Allen tallied just six points in limited action. What he failed to see was that they were not using Allen properly.
There was another man in attendance that day who had a different take. "He's the best player on the court," said a person who should know, with a straight and direct face towards me. I am not privy to share who the quote was from, but let's just say that they knew exactly what Duke was getting and long before his ascent in the rankings.
Allen started to play well in various AAU events in his final season and began to earn a reputation for flamboyant dunks. During the NBA Top 100 Camp, he would gather with a group of the nations best prospects, all taking their turns with show time dunks.
I sat in the stands and watched his demeanor while others caught said dunks on film that day. What I saw was the confident, can-do attitude he exudes, while remaining humble. Think about that, for it is a rare combination. As confident as Allen is on the court, he remains a team player and is a hard worker.
Allen has a good all around game. He moves his feet well and they're big feet for sure. I could not help but joke with him about his at the time size 16 shoes during an interview at the NBA Top 100 event. At the time, his doctor said he could grow to 6-5, and he is already 6-4 per sources.
Allen claims to have learned the game of basketball on his own. While many Blue Devils past can point to fathers who played the game well and such, that wasn't the case for Allen. "All I can say is that it was God-given because my parents weren't big athletes," said Allen.
Once a prospect gives a verbal commitment to Duke, Mike Krzyzewski and his staff begin to work with them. "They want me to work and try to be a lock down defender and guard multiple positions including the one, two and possibly the three because I will really have to do that at the next level while keeping an aggressive mind-set," Allen told me during the NBA Top 100 Camp.
"He's a guy who we think can be a defensive stopper," said Duke Assistant Coach Nate James. He elaborated further on Allen, "He's probably the least talked about of the freshman right now, but once everyone sees how athletic and dynamic his game is, he will be a crowd favorite."
Allen electrified the crowd at last seasons McDonald's All American Game Dunk Contest and he rocked a Duke jersey while doing so.  By the end of the prestigious event, Allen was no longer young man many haven't heard of.  He was the guy who jumped over his future teammate Jahlil Okafor for a dunk.
Every prospect has their own unique story but for Allen, his is about to really begin. Let's face it, breaking into the Duke rotation with ten players who can all play on a talented roster will be not be easy.
Still, with a player who can take the ball down the lane, stroke a good jump shot and be active on defense, he will almost certainly earn some immediate burn.
"Grayson doesn't back down from anything or anyone, " said James.
Allen made it to his dream school and you can see him for the first time by attending Countdown to Craziness.