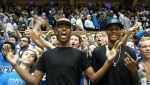 During yesterday's Duke Basketball media day, Coach Mike Krzyzewski made it clear that there are no major concerns with Harry Giles surgery.
Giles, who has now had multiple procedures to repair damage in both knees is expected to return in as early as six weeks.
When questioned as to whether this could be a recurring or chronic problem, Krzyzewski responded by saying,  ''I don't think so.  This has nothing to do with the ACL.  Structurally his knees are really good.  It was a clean up.  If there was structure, we wouldn't be saying it's six weeks.  And six weeks is conservative, you know.''
Blue Devil Nation had originally reported that he could be out until early December.  While that is still a possibility in that the staff will not rush the process, the reality is that no specific timetable is etched in stone.
''He'll want to come back before then because he already feels better,  Structurally, he was examined on Saturday, I was there and he's good.  It was the smart thing to do right now,'' Kryzyzewski continued.
Injuries are nothing new at Duke or at any level of basketball.  But Duke offers players who commit to their school some of the best medical care in the nation.
Krzyzewski once dealt with a foot injury to current Cleveland Cavaliers guard star Kyrie Irving.  While the process was different, he showed that he will not put a players NBA future in jeopardy by rushing them back.
That philosophy likely helped Duke land Harry Giles Jr. in the first place.  Being at Duke has also allowed Giles to fast track pretty much the same injury with better care.
While some of the glass half full types in media and the fan base perceive the setback as critical, Giles is certainly in good spirits. Here is what the promising freshman tweeted just after his procedure -
Embrace the Negavity, I'm going to show all you 💂🏾

— Harry Giles III (@HGizzle1) October 3, 2016
I would think this is Harry Giles way of saying, just wait, I will be back sooner rather than later.
Giles roommate during USA Basketball in Jayson Tatum chimed in on the temporary setback, ''It's nothing we're worried about.  He's going to be back and he'll be ready to go.''
Tatum, like other Duke players including Giles himself and the Blue Devils coaching staff are showing no worry.  In fairness when a player of Gile stature has problems, it is a lightening rod for media attention.
With that said, forget the sensationalized posts you may have read on a message board or an article designed for hits.  The bottom line is Giles will be in uniform and playing for Duke this season.
The only real question that remains is when Duke will decide to play Giles.  With a team that has ample depth, they can afford to take their time.  If read between the lines of Krzyzewski's comments, you can see that he holds his star freshman's long-term future as a high priority.