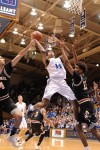 The Duke Blue Devils will take on the N.C. State Wolfpack tomorrow for the third time this season in their opening game of the ACC Tournament.  Duke is just 2-3 in their last five games and most recently announced that no help would be coming in the way of Amile Jefferson who'll seek a medical redshirt. Duke is also coming off an emotional loss to North Carolina in a game that despite being out rebounded in a monster number stayed in the game until the very end.
By losing their last outing, Duke found itself without their usual double bye.  That means to win the tournament it would take four wins in as many days.  With their depth issues, that is pretty much an impossible task.  Even if they get past the Wolfpack, they would face a Notre Dame program that has played them better than anybody of late.  And a win there would put a weary legged bunch likely facing a much deeper North Carolina squad again.
But it's likely that Mike Krzyzewski is not too worried about anything other than beating N,C. State for a third time which is a difficult task.  The Pack had little trouble defeating Wake Forest and they are especially dangerous in that a win gives them a winning record and keeps post season hopes alive -- even if that tournament is the NIT.  In short, Duke will get their best shot.
It all starts with Anthony Barber for the Wolfies, but they've more than that of late due to X-Factor Maverick Rowan.  It will be yet another match up between the ACC' top two scorers or in short Barber-Allen 3.  Each of the aforementioned  players won ACC honors this past week and both will likely bring their A game.  In fact, Grayson Allen has been tabbed a 2nd Team All American by some services.
In their last outing, Grayson Allen may have actually tried to do too much.  While he led his team in scoring and assists, no easy feat, he may have tried to put the team on his shoulders.  When you're Duke this season and have pretty much a six man rotation, no player can have an off night and especially, say, two.  The Blue Devils will have to click on all cylinders in that it's the nature of the beast with this years team.  Simply put, Duke is not going to blow anybody out but when they click, they're pretty darn good and capable of doing some good things.
It's no secret that people are wondering how Duke will respond after their last outing.  Some analysts go as far as to say it is best to lose early in Washington, then rest and prep for the NCAA Tournament.  I'm not sure if I buy into that for you never know what might happen in a tournament.  Besides, Duke could benefit with their eventual seeding with a win or two.
So where does that leave us with concern to tomorrows match up? It will be a hard-fought game with two determined teams from where i am seated.  Duke will seek the usual winning formula, that being get to the free throw stripe, knock down threes and put your self in position to win at games end.
The Wolfpack will try and establish their inside game and as always Marshall Plumlee has to stay out of foul trouble.  If by some chance Duke gets a good working margin, it would not hurt to go seven deep in the bench to save some legs for the next game.  However, there is no guarantee that will happen and as I said, I see the Pack being hungry in this one.  It's in a sense a Super Bowl for them the rest of the way this season for they are in one and done territory
It will bode well for Duke to get off to a good start in this game but the Wolfpack are aware of this too.  Duke blew them out a season ago before losing the Notre Dame and then going on to win the title. Duke has two more shots in tournaments and they will need to focus in on what they can  do well to offset the issue of depth and a suspect inside game.
We'll project Duke to win a close one, say 76-71 and advance to play Notre Dame on Thursday.