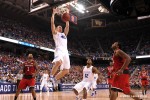 Yes, Duke was pumped up for their opening win over N.C. State in the ACC Tournament.  The Blue Devils led by as many as 30 points on their way to a dominant 77-53 win over the Wolfpack.
A Crazy Dominant First Half
The Blue Devils jumped out to a 13-3 lead and never looked back.  Duke committed an astonishingly low one turnover in the half and just five the whole contest.  Duke ended up leading after the first half by a 49-22 score where Coach Mike Krzyzewski praised the effort in the post game press conference.  Duke also connected on 10 of 11 free throws to pretty much gain a TKO over the Wolfpack.  Dis you know that the Duke bench of Matt Jones, Marshall Plumlee and Grayson Allen outscored N.C. State at the end of the first half 27 to 22?
The Starters and Backcourt Came Alive In The Second Half
Justise Winslow ended he game with 11 points. Tyus Jones added 8 while dishing 8 assists and Jahlil Okafor added 10.  All 8 points came in the second half for the efficient Jones. But Quinn Cook again showed his leadership ending the contest with 15 points.
Early Play By Allen Sparked Duke
Grayson Allen scored twice on drives in the first half.  After one drive and score, Duke held a 22-11 lead and N.C. State Coach Mark Gottfried called a timeout.  Allen later scored on another slash to the bucket giving Duke a 26-11 lead and Gottfried burned another timeout.  Yes, Grayson was effective, see his video below and then keep reading our recap.

Big Jah's Pops Enjoyed Himself
Chuck never sat down across the way, much the dismay  of a band of Clemson fans sitting behind him.  Jahlil's Dad led cheers for most of he game until he got tired from the Blue Devils dominance and took a break.  Duke also rocked their new white uniforms in this game.
Here is a Happy Matt Jones
Jones scored 11 points and continues to help spark Duke off the bench -
 Notes
- Duke moves to 29-3 and has won 12 straight games.
- Marshall Plumlee scored a career high 12 points on some emphatic dunks.
- The last time a team led by 27 or more points at the half of the ACC Tournament was in 1999.  That record is held by Duke too.
- Duke shot 92.3% from the free throw stripe against NCSU.
- Six Duke players finished in double figures tonight.
- Duke is 39-17 all time in ACC Tournaments held in Greensboro, N.C.