[private]Duke recruit Lex Butler suffered a season ending injury before he played in a single game.   The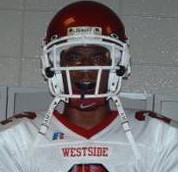 two way star is the brother of Duke freshman Lee Butler and is rated a three star prospect.
"I went to take off on a play and then I pushed off and it popped.  I just felt like something hit me in the heel."  Those are the dreaded words that doctors hear when you have ruptured your Achilles tendon.
"I just sat there for a second because I didn't know what was going on.  I tried to get up and shake it off a little bit and it was like a tingling feeling.  I tried to walk and I couldn't and then I tried to work on what I could wiggling my toes.  My trainer did the calf muscle test and I didn't have any contraction and they knew something was wrong."
Trust me when I say I can relate to young Lex for this author is nine months past the same devastating injury and I am finally getting back to normal.  I know how this injury affected me mentally, so I certainly feel for Butler, who was expected to be the star for Westside HS in Anderson, South Carolina this season.
Young Lex was a bit smarter than me and immediately had surgery.  I encouraged the future Blue Devil to keep his head up for if a middle age guy could bounce back, he certainly would.  I shared tips like putting a chair in the shower and wrapping the cast with a trash bag.  This is just one of the many adjustments one has to make.
Butler is already back to working his upper body with the assistance of his high school trainer and strength coaches.  He is also keeping his sense of humor quipping, "Heck, I thought somebody threw a bowling ball and hit me,"
Lex seemed to appreciate talking to somebody who had the same injury and I told him the magic words, "Don't rush it."  I have heard those words from former Duke Basketball player Roshown McLeod and many others and this injury is a race but one has to look at it as a marathon and not a sprint.
There is no doubt that Butler will be back.  His youth is a benefit in the recovery process for he just turned 17 a week after he went down.  "My doctor says I should be 100% in nine months, so that will be around June," said Butler.
"My Daddy told me like it was, that I wouldn't play high school football this season and that he recommended surgery right away.  I was tough because the whole time I was thinking six to eight weeks."
Butler was worried that Duke might yank his scholarship.  "I knew I had to call Duke and let them know, but my Daddy was kind of shaky about it.  I was telling my Mom if things don't work out I have got plan B and that made her worry a little bit.  She called them for me and told me to call Coach Jones.  I called him and he was like don't worry about it that things happen and just to get healed up."
The young man was even more relieved when Coach Cutcliffe got on the phone.  "He said don't worry about it and that they would take care of me.  He said when I got up there he would make sure I got the right rehab.  I felt a lot better after that and it gave me something to look forward to."
One has to like how Coach Cutcliffe stayed faithful and how the staff let him know that he is a part of the Duke family and that they take care of their own.
"Lee told me he loves it up there.  He said he had put on weight and was up to 180 and I just said, yeah right to him.  He said they were taking care of him feeding him steak and everything."
The two brothers stay in touch and Lee gives his younger brother some tips on what to expect.  "He says practices are real tough."  He was able to go to the home opener against James Madison.  "When I went into the locker room I saw how big the defensive playbook was for one game and Lee said it's all business when you get here."
I'm sure the entire Blue Devil Nation joins me in wishing Lex a speedy recovery and we look forward to one day seeing him competing for a spot in the defensive backfield.[/private]