[private]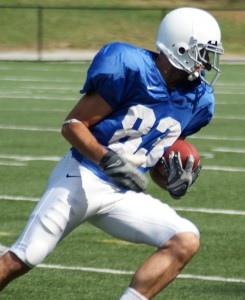 You had some key catches on Saturday ...
Eron went down and Coach stressed to us he needed somebody to step up.  I was able to get open, got the ball in my hands and I made the play. 
After a tough loss, how do you rebound?  What is your overall feeling going into the Navy game?
Going into the Navy game, it's really just getting back to the basics.  We felt like we dominated the last game, but we just couldn't finish.  Our defense did a great job of keeping there offense off the field and letting us stay on the field.  We just have to get back to the basics and work hard this week.
Is it easy to move on after a tough loss or do you think about twenty or so plays where if two had been different you would have won the game?
It still lingers, but we've got another game - an important game coming up this week with Navy.  They got us last year in a close win, we're still think about that ... I mean it's just going out hard in practice this week and if we finish those practices off right we'll feel good about our chances against Navy.
Is it safe to say that you guys are itching to get back out on the field?
Oh definitely!  I think I can speak for the whole team saying we are ready, but we have to dedicate ourselves this week.  Saturday will come, but we have to take care of Wednesday, Thursday and Friday first.[/private]