[private]The Blue Devil Nation was once again on hand after this mornings practice and we chatted briefly with Coach Cutcliffe. This was the last time the media could talk to him during opening game week. All of the question were asked by Brian Strickland of the Herald Sun and myself.
It's just over fifty hours before kickoff on Saturday. What are your feelings at this time?
I feel like we're prepared. Today's practice looked that way. I thought defensively, offensively and the kicking game had people where they were supposed to be and knew what to do and were pretty crisp and focused. This is your dress rehearsal every week on Thursday and you find out a lot about your team. It's the first time they've seen the way we do things, so I was pleased with it for the most part.
Do you get nervous before the games?
Not really. I get butterflies like anybody does on occasion from the excitement. I wouldn't call it nervousness. There's too many things to do to be nervous with last minute things going on. I enjoy game day and try to enjoy that experience and I want the players to enjoy it. We're pretty intense as you guys know that are around here during the week. On game day, I am going to be intense, but if they're not ready after this, it's not their fault, it's mine.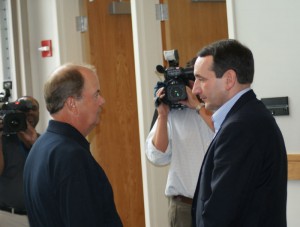 Coach, you've been doing a lot of promotion in the off season. Do you think that's been a success?
Absolutely! I think we'll see that Saturday night. I think we'll see more than a full house. I don't say that to keep people from coming, but to encourage them to come for I think it's going to be mpore fun than they've had in Wallace Wade Stadium in a long time.
Coach K had some nice things to say about the program during his press conference yesterday. Can you give me a brief comment about that?
Certainly! I appreciate his support from the start, the very beginning. Here's a guy bringing home the Gold and he sets his press conference on Wednesday. I know he's still tired and just to make the comment that he want's the press conference out of the way and everything to be focused on the football team is just unbelievable. It doesn't surprise because of who he is. I sat and kind of measured him up during the press conference ... here's a guy who is a graduate of West Point who played for the winningest coach of all time. He's won over 800 games himself, three national titles and now Olympic Gold. I'm just kind of looking at him saying, "whats next?"
Can you talk about OL Kyle Hill and what he's done?
He's done a really nice job to come out and start in his first game as an offensive lineman. He takes a lot of pride and he is athletic. I think it gives us one of the most athletic sides of the line with him and Cameron Goldberg. I like athletes, you guys know that. Neither one of them have an ounce on them. I look forward to seeing Kyle compete. I'm sure he'll make some mistakes, but if you are going to make them, do it is full speed which is one of my motto's.
You will be back on the field as a head coach this weekend which is something you wanted to get back to ...
I'm not going to be arrogant, but I will tell you that I feel very natural doing that. It's what I prefer. When I have coached as an offensive coordinator, I'm the head coach of that offensive team and I'm focused. From a competing (as an OC) standpoint, we had a plan from the get go. I mean no disrespect to the coaches I've coached for, but (being in charge) is my nature and I'm very, very comfortable around this staff. I look forward to really going out and competing with them.
We've had quite a bit of rain of late. How might that paly into field conditions?
The field will drain. It's a sand based field and I think it'll be fine. I'm not sure what's coming up, but we might have a couple of thunder busters between now and the game. We all surfed in here yesterday. It was the largest amount of water I've ever dealt with in a practice situation. I really don't care what the fields like. If we play well and take care of the football and do the things we've got to do I will like watching our team compete.
An aside, the field was being painted as I left and the North Carolina sunshine started to burst between the clouds. The field looked to be in good shape. It's been a crazy week of coverage where this site has been burning the candle at both ends. Next week should allow us to get back to more writing, instead of the interview formats we've adopted for times sake. Lastly, wear blue and turnout foe the game on Saturday evening. I've been tipped off about some new experiences that should please Duke fans. You will want to get into the stadium early to catch the full effect.[/private]