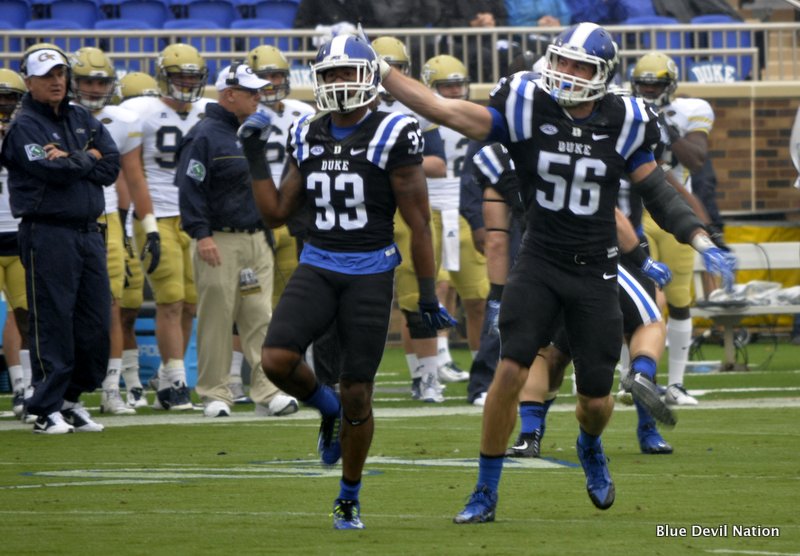 Duke vs. Boston College
3:30 PM ET
Saturday, October 3
Brooks Field at Wallace Wade Stadium
Durham, NC
TV: RSN/ESPN3
Radio: Blue Devil IMG Sports Network
Duke in 2015: 3-1
Boston College in 2015: 3-1
DUKE INJURIES
PROBABLE - Jake Kite (S)
OUT – Cody Robinson (OG), Dan Beilinson (TE), Quay Mann (RB)
OUT FOR SEASON – Kelby Brown (LB), Bryon Fields (CB), Zach Morris (DT), Taariq Shabazz (DE)
BOSTON COLLEGE INJURIES (complete list unavailable)
QUESTIONABLE - Myles Willis (RB)
OUT - Darius Wade (QB), Jon Hilliman (RB)
Duke and Boston College last faced each other on September 17, 2011 in a game Duke won 20-19 in Boston. Both teams are coming off home wins in their last game out, Duke defeating Georgia Tech 34-20 and Boston College defeating Northern Illinois 17-14.
Weather is the dominant pregame topic as a steady rain is already falling in Durham ahead of Hurricane Joaquin which is moving up from the Bahamas and threatening to dump more rain across the East Coast. Game conditions will certainly be wet, at least as wet as last week's Georgia Tech game, but forecast are calling for a slight break in the weather on Saturday so the deluge many feared might be avoided.
HOW DUKE CAN WIN
Take care of the football! Boston College has the number one ranked defense in the nation so Duke will need to be solid on offense all afternoon. Taking into account the wet conditions, look for Duke to utilize two running back sets more often than normal in an attempt to amp up their running attack resulting in increased opportunities for both Shaquille Powell and Shaun Wilson. Jela Duncan looked very good in limited action last week against Georgia Tech and should see increased touches in this game. Duncan is a power runner with impressive speed who could be effective against the tough Boston College defense. Duke will not abandon their passing attack; however, this is a game where pass attempts should be significantly below the season norm.
An offensive game plan which leans on the running game leans on the offensive line by default. Duke's front five will have to win their fair share of battles at the line of scrimmage and the tight ends will need to provide a lot of assistance for Duke to successfully run the ball.
Stop the run! Boston College ran the ball 63 times against Northern Illinois so Duke must be prepared to stop the run and force the Eagles in must pass 3rd down situations. Defensive line play has been a strength this season so another strong game from starting tackles Carlos Wray and A.J. Wolf will go a long way toward winning the line of scrimmage and stopping the Boston College run game. With leading rusher Jon Hilliman out with a broken foot, 5'8" 195 lb tailback Tyler Rouse will see the majority of carries for the Eagles.
With quarterback Troy Flutie making only his second start, the Blue Devils defense needs to force him to pass the ball. Flutie was 5 for 11 with an interception in his first start last week. Once Flutie is forced to pass the ball, Duke look for defensive coordinator Jim Knowles to dial up the pressure via blitz packages in an attempt to force Flutie to make mistakes.
Boston College will play two quarterbacks with Jeff Smith being the second. Smith is more a read-option runner than a passer so Duke will need to recognize any shift at the quarterback position in order to be prepared to counter Smith's ability to run the football.
HOW DUKE CAN LOSE
Turnovers! Turnovers are a concern as the Blue Devils had three against Georgia Tech last week and three against Northwestern the previous week. If Duke continues to turnover the ball, it is going to result in the Blue Devils losing a game they should have won, before the season is over. With the wet game conditions this weekend, turnovers could heavily influence the final outcome.
WHY DUKE WILL WIN
Special teams! Duke will utilize Will Monday's big leg and Ryan Smith's elusive running to dominate the punt game giving Duke a decisive field position advantage.
Both teams have very strong defenses but Duke's offense is much better than Boston College's; therefore, the Blue Devils will achieve more offensive success than the Eagles. Add in the special teams advantage and Duke will improve to 4-1 (2-0 ACC) on the season.
BOTTOM LINE
What happens when an unstoppable force meets an immovable object? The age old question might be answered on Saturday afternoon when Duke's 447.8 yards per game offense squares off against Boston College's 118 yards per game defense. Something has to give.
I'll set the over/under on Duke's Total Offense at 283 yards and take the over.
Duke 24, Boston College 10