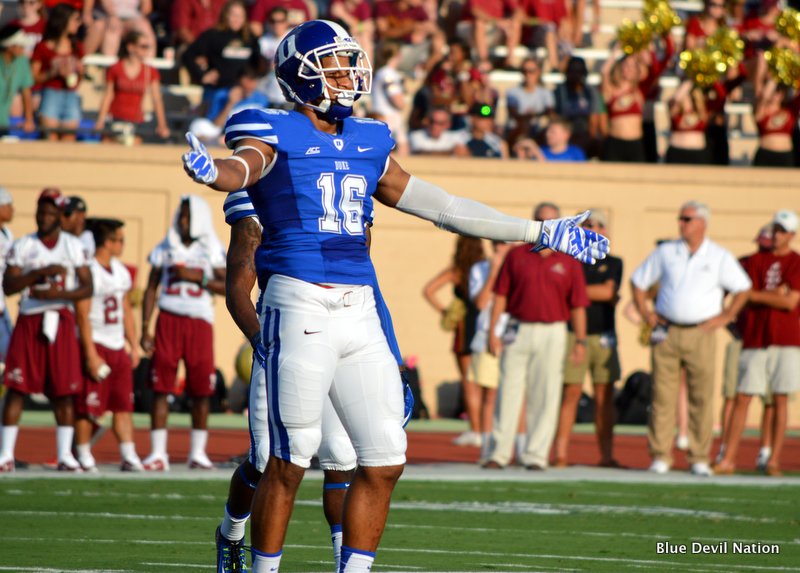 Duke at Georgia Tech Preview
12:30 PM ET
Saturday, October 11
Atlanta, GA
TV: ACCN
Radio: Blue Devil IMG Sports Network, Sirius Ch 92 and XM Ch 194
Duke in 2014: 4-1
Georgia Tech in 2014: 5-0
DUKE INJURIES
QUESTIONABLE – Shaquille Powell (RB)
OUT – Dezmond Johnson (DE), Jamal Wallace (DT), Dan Beilinson (TE), Johnathan Lloyd (CB), Trip McNeill (OL)
OUT FOR SEASON – Kelby Brown (LB), Braxton Deaver (TE), Taariq Shabazz (DE)
GEORGIA TECH INJURIES
QUESTIONABLE – Bryan Chamberlain (OT)
Duke and Georgia Tech last faced each other on September 14, 2013 in a game Georgia Tech won 38-14 at Wallace Wade Stadium. In their last game out, two weeks ago, Duke lost to Miami 22-10, while Georgia Tech defeated Miami 28-17 last Saturday evening.
HOW DUKE CAN WIN
In order to win on Saturday the Blue Devils will have to do four things: make each offensive possession count; get off the field on defense; create turnovers; and generate some magic on special teams.
Duke must make each and every offensive possession count. The Blue Devils cannot turn the ball over nor can they afford to go "three and out." Avoiding empty possessions is paramount to victory!
To get off the field on defense, Duke first and foremost must stop the dive play. If Georgia Tech consistently gains three and half or four yards per play with fullback Zach Laskey on the dive, it will be a long afternoon for the Blue Devils defense. Duke must be prepared to stop Georgia Tech on both third and fourth down because Yellow Jackets Head Coach Paul Johnson will not be shy about keeping his offense on the field for a fourth and two at midfield.
Georgia Tech played flawless football last week against Miami, especially in the 2nd half. Duke cannot afford to allow the Yellow Jackets to establish offensive rhythm and grind out multiple, time consuming, points producing possessions, so the defense will need to take chances to create turnovers. The Blue Devils will need to get a couple of key stops and force the Yellow Jackets to settle for field goals instead of touchdowns.
Special teams play can set the tone and change the momentum of a game. Duke will need to block a punt or field goal attempt; execute a big return to setup a short field for the offense to cash in on with points, or pin the Yellow Jackets deep in their own territory with great kicks. Special teams have been solid for Duke in 2014 but against Georgia Tech they will need to step up and be spectacular!
HOW DUKE CAN LOSE
Duke's perceived weakness is defense against the run, which plays right into the hands of Georgia Tech's strength, the running game. As mentioned above, Georgia Tech's running game starts with the dive play. The quarterback keeper and pitch to the outside come next. Georgia Tech will look to pound it up the middle and stretch the defense on the edges using a lethal combination of power and speed. Once the running game is clicking, the Yellow Jackets will look for opportunities to throw the ball down the field.
Justin Thomas is a talented option quarterback so if Duke does not prevent the Georgia Tech offense from executing at high efficiency, by disrupting possessions by creating turnovers, the Blue Devils will lose.
Simultaneously, the Blue Devils offense must be efficient, score points and, perhaps most important, keep the Yellow Jackets offense on the sidelines. If Duke's offense stalls resulting in short possessions, or turns the ball over, the Blue Devils will lose.
WHY DUKE WILL WIN
Karma! Because a victory over the Yellow Jackets after a decade of futility is overdue! Coming off a bye week, the Blue Devils will be healthy, rested and prepared for Georgia Tech's triple option offense. Jeremy Cash will be a disruptive force on defense. Most importantly, unlike in the Miami game, Anthony Boone and the Blue Devils offense will keep the pressure on Georgia Tech by moving the ball and scoring points! Jamison Crowder will step up and shine in Atlanta. This is a huge game for Duke and their efforts to repeat as Coastal Division Champions so the team will bounce back from the Miami loss and play like the champions they are!
BOTTOM LINE
A key turnover, an explosive special teams play and the strength of Ross Martin's leg will lead Duke to their first victory over Georgia Tech in the Coach David Cutcliffe era.
Duke 30, Georgia Tech 27