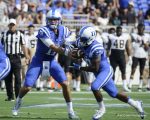 The Duke Blue Devils hope to even out their record for the season against a much improved Army team on Saturday.  To do so, there is one major aspect of the game they must improve upon
The Blue Devils protected the football in their win over Notre Dame, but is all three of their losses, that was not the case.  In fact, Duke was a turnover waiting to happen in those games.  Any coach will tell you that turnovers are one of the most critical aspects of the game and Duke has to protect the ball better moving forward.
A year ago, the Blue Devils played perhaps their best game against Army in West Point.  This season the Cadets have a 3-1 record with pretty much all of their key personnel back.  The Army offense is rolling up 450.5 yards per game.
The Duke offense is right there with the Cadets at 445 yards per contest, but the Cadets are averaging ten more points per contest. That points not only to the aforementioned turnovers, but the Blue Devils struggle to find the end zone.
Army has had two weeks to prepare for Duke in that they had an off week.  It is not hard to figure out that a victory over the Blue Devils which have had their number of late would vault them into almost sure bowl contention.  In short, they'll be motivated as a team.
It wasn't that long ago when Army came into Wallace Wade Stadium and shocked the Blue Devils.  Fair or not, the Cadets are more often than nor viewed as a winnable game on the schedule.  That's no knock on their improved program, but a fact of how solid and competitive the ACC schedule is today.
In the game where Duke never was really in it, former quarterback Sean Renfree threw and early interception near his on goal line. Army scored and never looked back.
The reason I mention that contest is that momentum will play a key role in this game.  Duke has squandered several fist half opportunities in similar fashion in losses.  In this game, Duke needs to capitalize on opportunities.
You may have noticed that I have not mentioned one current Duke players name in this preview. That's because this team needs to come together as a group.  The talent is there for this team to show a turnaround as the season progresses.  And at this point, the Blue Devils need to band together and simply get a victory to get back on the right track.
The future for Duke Football is on solid footing.  But this season could take a serious hit with a loss to Army, which some consider the last game Duke will be favored to win this season due to a tough schedule.
Nothing gets easier for the Blue Devils who take on Louisville on the road next Friday.  Even they have an extra week to prepare which seems unfair.  There is no time like the present to garner the forces and gain a much-needed win for the program.
It's really simple, Duke needs to start winning the games they are favored in again.  And that won't be easy against an Army team that is hungry and riding momentum.  That leaves us with the question being how hungry is this Duke team.
Duke 27 Army 21