Browse:
Home
/
Duke Football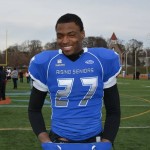 By Patrick Cacchio on June 16, 2014
While the USMNT was busy finishing off Ghana at the World Cup, Duke Football stayed hot on the recruiting trail. The class of 2015 has hit double digits with the Monday evening addition of DL Trevon McSwain, a 6'6″ 230 pound prospect out of Lanier High School. McSwain chose the Blue Devils over 20 other offers […]
Posted in Duke Football | Tagged Tre McSwain commits to Duke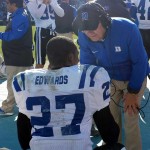 By Mark Watson on June 9, 2014
Before the advent of the World Wide Web, college football fans would flock to their local newsstands in early June to take a gander at the many college football pre season magazines. Back then, this was one of the only forms of information available to the casual fan and to this day, they still command […]
Posted in Duke Football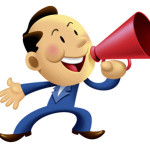 By Admin on May 15, 2014
This is just to let you all know that we are making a major move today. Our servers will be moving to a new web host, which we expect to bring you much improved performance and reliability.  We are also implementing new membership software, which should provide a smoother integration with Paypal for processing and […]
Posted in Duke Basketball, Duke Football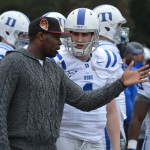 By Mark Watson on March 4, 2014
Former Duke Quarterback, Thaddeus Lewis is no stranger to the Duke Football sidelines in that he often returns to Durham to check out the program.  Lewis has complimented Duke Head Football Coach David Cutcliffe in the past for helping him round out his game and that has translated to an NFL career.  Lewis took in […]
Posted in Duke Football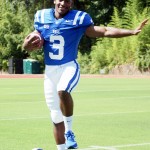 By Mark Watson on March 1, 2014
The Duke Football Spring Game was held earlier today in Wallace Wade Stadium and this coming seasons team is riding high after finishing 10-4 and nationally ranked this past year. One of the key returnees is All ACC wide receiver, Jamison Crowder who filled me on his feelings on how the spring training camp has gone to […]
Posted in Duke Football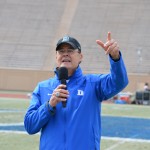 By Patrick Cacchio on March 1, 2014
DURHAM – Head Coach David Cutcliffe addressed the media after the annual Duke Spring Football Game on Saturday. The reigning ACC Coastal Division Champions were led by some strong QB play in their scrimmage. Coach Cutcliffe was pleased with his team's spring, and is looking forward to another successful season this fall.
Posted in Duke Football | Tagged Coach Cutcliffe Duke Spring Game 2014