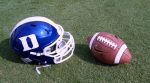 Duke stumbled out of the gate flat as a pancake and returned to their turnover plagued ways in a 34-20 loss to Virginia.  It's as if Duke returned to the way they played before the Notre Dame win.
It was a forgettable day for freshman quarterback Daniel Jones whose  interceptions killed drives.  He ended the game with five passes picked and fumbld in the end zone where the Cavaliers recovered the ball for their final score.
Duke rolled up 25 first downs to the Cavaliers 16, but they just could not find the end zone often enough.  It was simply that kind of day for Duke which falls to 0-2 in the ACC 2-3 overall.  The loss all but assures the Blue Devils of having to turn things around quickly or finish in the divisions cellar.
Much like the earlier game against Wake Forest, Duke had their chances to take a solid lead but failed to do so early on.  The score was 20-10 at the half, but Duke should have been in the game or no less than tied.
It didn't help that the Duke secondary was scorched for 336 yards and three touchdowns by Kurt Benkert.  The Cavaliers also were successful all too often on third down where they went 11 of 21.
After gaining momentum and confidence back against Notre Dame a week ago, Duke finds itself back in the doldrums.  The team should be in desperation mode for a win next weekend against Army.  But to win, some how, some way, they have to protect the football and find the end zone.
Lastly, the MVP of this game was a punter.  Virginia kicker Nicholas Conte kept the Blue Devils pinned back all day long.  That just goes to show you how important special teams can be.
The only bright spots for Duke were A.J. Reed going 2 for 2 in the field goal department as he continues to come around.  It is also worth noting, that Duke was in the game until the end despite seven turnovers.  I suppose the game was closer than the final score, but that is nothing to hang your hat on.
The Duke vs Army game kicks off at 3;30 next Saturday.