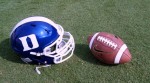 It was only appropriate that Senior Tight End Braxton Deaver recovered and on side kick to help Duke hang on to defeat Wake Forest.  It must have been a sweet play for the player whose recruiting battle came down to the Blue Devils and Deacons years ago.
The win  moved Duke to 7-5 on the season and clinched 4th place in the ACC' Coastal Division.  More importantly the win guaranteed another winning season under David Cutcliffe while helping halt a four game late season skid. That winning season means the Blue Devils will play in their fourth consecutive bowl game
While the bowl bids have yet to go out, speculation has already begun and we'll share our take.  Look for Duke to be selected to play in the Military, Independence or Pin Stripe Bowl.  What Duke will now seek to do is end their season with a bowl trophy in hand.
Duke won by ironing out their passing game where Thomas Sirk was 26 of 39 for 275 yards.  Two of his touchdown passes went to senior Max McCaffrey on plays of 18 and 28 yards,
The Blue Devils were also aided by two Ross Martin field goals and 151 rushing yards, mot of which came in the second half.  Also big for Duke on offense were seven catches each from Anthony Nash and T.J, Rahming for a combined  121 yards.
Duke did have to hang on as they had trouble stopping a rally from Wake Forest where they scored 14 points in the 4th quarter.  In the end Duke got what it needed most and that was simply a win.
The Blue Devils will now wait for their bowl bid to come in as their seniors can still attain the goal of hoisting a bowl trophy.  Meanwhile, Duke will gain extra practice time that will also help for next year.