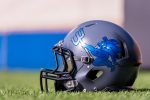 The injury plagued Duke football team takes on the nationally ranked Virginia Tech Hokies in Wallace Wade Stadium on Saturday. No less than six or seven starters will be out for the Blue Devils who seek their first ACC win.
After going to four consecutive bowl games, that streak will soon end if the losses continue.  Duke is the underdog in all their remaining games but there will be no quit with this team.  They most recently played Louisville to the wire on the road and a comeback at Georgia Tech fell just short.
Despite losing key players at every position imaginable, the Blue Devils have played competitive football.  In most of their ACC losses this season, they were one less mistake away from a win.
Meanwhile, the Hokies are fighting for the Coastal Division crown and that will make for a hungry bunch.  In fact, Duke can play a major role in determining the division winner taking on the Hokies this week and North Carolina this Thursday.
While Duke is playing for wins now, they are also building for the future.  It's important to remember that programs sometimes take a step back in the process of continued winning.
Every time the Blue Devils tak to the field, their true freshman quarterback, Daniel Jones gains experience, as do his teammates. Not to look too far ahead, but the Blue Devils will return a lot of key player next season.
The Blue Devils still have some key seniors playing, but many are on the injury list.  On the other side of the ball this weekend, the Hokies are healthy and on a roll.
First year coach,, Justin Fuente has his team believing and ranked among the nation's top teams.The Hokies come into Wade riding wins over Miami and Pitt as they battle North Carolina for the division crown and a chance to play in the title game.
Duke won a barn burner a year ago in overtime and this years Hokie offense is even more explosive.  They've been running a wide open passing attack with success.  The visitors feature a lights out kicker in Joey Slye as well, but much of his success has come when the offense stalls in the red zone.
There should be a good crowd for the game in that Duke has advertised tickets in the Blacksburg market.  In fact, it is likely to be a pro Tech crowd.  Despite that, Duke seems to play better in larger crowds despite being outnumbered.
With three of four captains watching from the sidelines, it may be too much to ask for a Duke win.  On the other hand, if the 6-2 Hokies look past Duke, they are more than capable of pulling off an upset for their first ACC win.
Duke will wear new commemorative Battleship Grey matte helmets to celebrate hosting the Rose Bowl against Oregon State 75 seasons ago during World War II.  The game will be televised on ESPNU and kicks off at 3:30 PM ET.