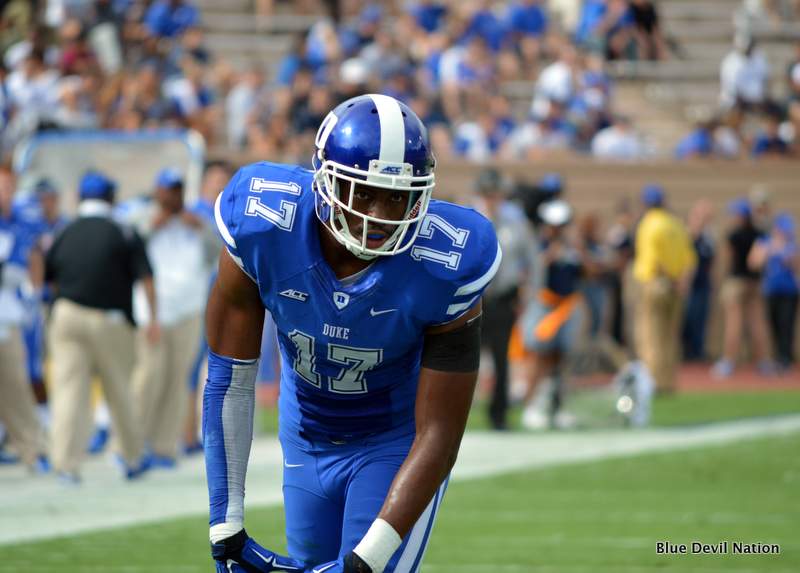 Preview: Duke vs. Virginia Tech
12:00 PM ET
Saturday, November 15
Durham, NC
TV: ESPNU
Radio: Blue Devil IMG Sports Network, Sirius Ch 92 and XM Ch 194
Duke in 2014: 8-1
Virginia Tech in 2014: 4-5
DUKE INJURIES
OUT – Alonzo Saxton II (CB)
OUT FOR SEASON – Kelby Brown (LB), Braxton Deaver (TE), Taariq Shabazz (DE)
VIRGINIA TECH INJURIES
DOUBTFUL – Brandon Facyson (CB), Trey Edmunds (RB), Chase Williams (LB)
OUT FOR SEASON – Luther Maddy (DT), Shai McKenzie (RB), Jonathan McLaughlin (OT)
Duke and Virginia Tech last faced each other on October 26, 2013 in a game Duke won 13-10 at Lane Stadium in Blacksburg. In their last game out, Duke beat Syracuse 27-10, while Virginia Tech lost to Boston College 33-31 on November 1. Virginia Tech is coming off a bye week.
HOW DUKE CAN WIN
On offense, look for Duke to pass to set-up the run. Achieving balance remains vital to success, but this week Duke must first achieve success in the passing game, then run the ball. Why? Virginia Tech has talented cornerbacks who can lock up wide receivers one-on-one. Kendall Fuller's 47 yard Pick Six against North Carolina and Donovan Riley's 63 yard Pick Six against Ohio State are examples. This strategy allows them to stack the box with eight men to stop the run and pressure the quarterback. Duke must force Virginia Tech to reduce the number of defenders in the box. With Jamison Crowder and Issac Blakeney lining up wide for the Blue Devils, it is imperative Duke wins the one-on-one wide receiver/cornerback match-ups. Blakeney and Crowder had great games against Syracuse and this weekend would be a great time to see encore performances.
On defense, Duke must force the Hokies to be one dimensional on offense by stopping the run. Virginia Tech has struggled to run the ball so the Blue Devils must ensure those struggles continue on Saturday afternoon in Wallace Wade Stadium. Once Virginia Tech is forced to rely on the pass, they are playing to Duke's defensive strength a ball hawking secondary.
The Blue Devil special teams have been special this season so against the Hokies the special teams must perform to win the field position battle and force Virginia Tech to face a long field all afternoon. It sounds simple and at times this season Duke has made it look simple, but a lot of hard work and effort go into executing those exciting returns and great coverage. Historically, the Hokies have excelled on special teams earning the moniker Beamer Ball. This Saturday afternoon Duke special teams need to flip the script and outperform Virginia Tech.
HOW DUKE CAN LOSE
If Duke fails to protect quarterback Anthony Boone, they will lose. Virginia Tech defensive ends have combined for 10.5 sacks this season with the defense combining for 31 sacks total, which is third best in the conference. As stated above, this is a game where the Blue Devils need to successfully pass the ball in order to set-up the run so Anthony Boone must have time to go through his progressions, locate open receivers and accurately deliver the ball. Duke's offensive line has been superb so far this season and it will need to be superb again against the Hokies who will certainly blitz, blitz and then blitz some more.
If Duke fails to value the ball, they will lose. Duke is ranked first in the ACC in Turnover Margin at +9, while Virginia Tech is number 13 at -4. Duke cannot afford empty possessions so they must not turnover the ball to the Hokies. Moreover, turning the ball over forces the Blue Devils defense back on the field. In what by all acounts should be a closely contested game, the team that is freshest in the pivotal 4th quarter will have an advantage. Turnovers lead to fatigue.
WHY DUKE WILL WIN
Duke and Virginia Tech are programs on opposite trajectories. Duke is on the rise while the once vaunted Virginia Tech Hokies are falling as evidenced by their position in the ACC Coastal Division basement. Duke will beat Virginia Tech because the Blue Devils will be the better coached team, the more disciplined team and the more talented team.
BOTTOM LINE
This game will be won by the team which can dictate their will upon the opponent. Can Duke force Virginia Tech out of their man-on-man pass coverage on the outside? Will Virginia Tech successfully stack eight men in the box for all four quarters? The answer to those two questions will dictate the game outcome.
Duke 23, Virginia Tech 19