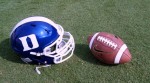 The Duke Blue Devils officially accepted a bid to the New Era Pinstripe Bowl which is held is prestigious Yankee Stadium in the Bronx, New York.  The Blue Devils will be going bowling for the fourth consecutive season under head coach David Cutcliffe.
The Blue Devils will take on Indiana from the Big Ten in an attractive matchup of what should be a high scoring affair.  The clash of red and blue will take place on December 26th  with kickoff set for 3:30 on  ABC.
The Hoosiers come into the game having won must win contests against Maryland and Purdue.  They lost games to Iowa, Michigan and Ohio State by a single score.
Duke finished the season 7-5 after defeating Wake Forest and they've set a goal to be the first Cut Era team to win a bowl game.
"To be chosen to take part in the New Era Pinstripe Bowl brings an incredible level of excitement to our program," Duke head coach David Cutcliffe said.  "Playing in our fourth consecutive bowl game means a great deal to our past, present and future Blue Devils.  This senior class is obviously a special one, and I could not be happier for a group of young men that has accomplished what no other class has done in the history of Duke Football with the four straight bowl game appearances.  We are thrilled to keep building our program while playing in front of so many Duke University alums and supporters in New York.
 "Next on our schedule are exams, and then we'll get back to the practice field to prepare for a very well-coached Indiana squad," Cutcliffe continued.  "We have tremendous respect for Coach Wilson and the entire Hoosier program.  At Duke, we take great pride in representing the Atlantic Coast Conference, and doing so against a program of Indiana's caliber will be a challenge which we will embrace."
 "And we certainly look forward to working alongside Randy Levine, Mark Holtzman, John Mosley and the entire New Era Pinstripe Bowl staff for this event.  We know their group will do everything in their power to make this experience for our student-athletes the best it can possibly be."
We encourage Duke fans to buy their tickets through GoDuke.com so that they may be among the fan base.  Duke has also pre purchased tickets for the game, so hurry over and get yours now.