DAVID CUTCLIFFE: Well, obviously back on the road against an extremely talented team, as I look at their roster. So many guys we're very aware of from the recruiting process, and guys from all over the country. The common thread is incredible ability. Brian Kelly is an incredible offensive mind. They've got an outstanding kicking game, an outstanding defense. They've played a tough, tough schedule. We have our hands full in South Bend.
I'll take questions.
Q. To kind of go off what you were saying about Brian Kelly, giving him credit for the offensive mind he has, just to go a little further with that on what you can say about him as a coach and how he's led Notre Dame.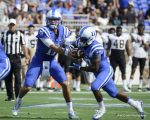 DAVID CUTCLIFFE: Well, he's a positive energy force, just a great program. Every aspect of what they do, they do extremely well. Recruiting, as I mentioned, all three phases, I think he's very creative. Offensively they use formations well. They use their people well. They remain physical all while using the entire field. I think he does as good a job as anybody in the business offensively.
Q. And then as far as your team offensively, just what you've been able to take away from these last few weeks where obviously you've been able to put some things together offensively that don't always turn into points, just what you're taking away at this point.
DAVID CUTCLIFFE: Well, we're consistently inconsistent. We have some weapons. We've got some people that at times are playing extremely well. There's two things we're hunting, consistency and taking better care of the ball. If we can accomplish those two things, we have a chance of having a really good offensive football team. We've got some ability.
Q. Did you expect the offense to be better than it is, or did you kind of figure, okay, with the quarterback change, it's going to take a while to get everybody in sync?
DAVID CUTCLIFFE: Well, there's a lot of change, and offensively we have a new offensive line coach, a new tight end coach, a new coordinator, that brings you to a new quarterback coach. That we knew, and then you lose your starting quarterback in camp, and so we're playing obviously a very young quarterback. But we're young in some other places.
So you knew that you needed to perform at an extremely high level to be successful, and at times we've done that. We're encouraged. We're far from discouraged. We're encouraged. But obviously we're not playing well enough to win games. We believe we can do that.
Now, the opponent we're playing this week is very difficult for a veteran offense to play against, a very multiple defensive team, a very experienced defensive coordinator. So he's going to try to cause a lot of problems for Daniel. We've got to manage him, manage the people around him, and put our players in position to hopefully be successful a larger percentage of the time than what we've been.
It's a great challenge this week and a chance for us to grow. If we go play well, we always have a chance.
Q. I wanted to ask you about DeVon Edwards, not as a kick returner as he's famous for, or even a defensive back, but the fact that as a 5'9", 180 guy as he's listed, he's fifth in the ACC in sacks and he's very close to ranking in the all-time top 10 in sacks in Duke history. Can you talk about the unusual circumstances of a player like that playing safety and how he's that effective as a pass rusher?
DAVID CUTCLIFFE: Well, I went and watched DeVon practice basketball when he was in high school, and the thing that impressed me most, he was a 5'9", 180-pound scoring machine, great shooter, but you know what he was, he was their leading rebounder. He had a way to get the ball. He had a fierceness about getting to a ball that went up on the basket. He has the same fierceness when he comes after a quarterback. Jim Knowles uses him in unique ways because of this tenacity, this fierce ability. I think he's one of the best football players in the country, and it doesn't get said near enough.
With all of the things that he does for his team, I don't know if there's a bigger MVP anywhere. You know how big a fan I am of DeVon's. He slices, he ducks, he fakes, he cuts. He's strong, pound for pound, unbelievably strong. So when he does get his hands on the quarterback, they're going down, although this one this week is really big. But he is a fierce competitor.
Q. It seems very odd to look at the ACC stats and see that Duke is leading the league in sacks. It's obviously been a weakness, and it's obviously something you've had to generate with blitzes and other things rather than straight-up pass rush, but can you talk about the pass rush and how you've created that this year?
DAVID CUTCLIFFE: Well, it's a combination of Jim Knowles and certainly Ben Albert. I think Coach Albert has made a big difference with our defensive front. I think actually that's going to continue to get better. We've got some young talent there. We're trying like crazy to recruit more young talent. Ben is a great teacher of pass rush. We work very hard at good against good in that regard, and I just have seen it coming. We even did some scrimmages in August where our quarterbacks were live as much as anything just to see what kind of pass rush we could generate.
Between scheme, between a willingness to take risk to some degree, and then the technique and energy that Ben puts into the defensive linemen rushing the passer, I think we've reaped some of the benefits.
Now, the biggest challenge will be this week. Nobody hardly gets near this young man unless you're just a beast because their offensive front at Notre Dame is outstanding, I mean outstanding. They all look like they could be NFL football players to me.
Q. Dave, there's a lot of tough places to play just within the ACC, and you've played some other tough places, too, but do you say anything about one of those kind of legendary atmospheres like Notre Dame, the Golden Dome and so on, et cetera, or do you just let the guys experience it when they walk in there?
DAVID CUTCLIFFE: I'm going to talk with them a little bit about it, just the uniqueness of coming down the tunnel with two teams in one tunnel and the history there. I mean, they know enough about it, but they need to hear from me a little bit more about what to expect.
Once the game is being played, obviously crowd noise is an issue when you go on the road in big stadiums, but once the game is being played, I think once you are over that novelty, you just play in football.
Hopefully we're mature enough to handle that. We're working on it. You know, maturity of a team is one of the important aspects of it, and that's something certainly we're having to work with with this particular team.