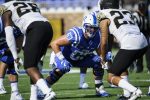 Flash back to the preseason and most felt Duke and Note Dame would come into the game with no less than 2-1 records.  In the case for the Irish, some felt they would likely be 3-0 as they were ranked in every top ten prognostication that could be found.  What we will have in reality in South Bend this Saturday where the game kicks off at 3;30 on NBC are two 1-2 teams reeling from rocky starts.
The Irish have lost to two good teams while Duke has lost to two average teams at best.  A critical conference loss at home to Wake Forest signaled that Duke would experience some serious growing pains for the first time in years.  Last weeks loss to Northwestern was another error plagued effort leaving the Blue Devils in desperate need of something positive.
The one thing Duke can do to better it's chances of getting back in the win column is to cut down on turnovers.  Most of those have come from freshman playing key roles.  That means, it may be hard to expect different results with ''Touchdown Jesus,'' staring over young men not even twenty years of age,
What Duke can hope for is to find some positives and somehow play loose.  Duke is in no way considered a good bet to win in this game as they were in previous outings.  Perhaps that will allow them to play with less pressure on their backs.
Duke can compete if their defense can force turnovers and the offense has to find the end zone.  The Irish has been vulnerable against the pass early on but against solid competition,   The real key though, will simply be not to beat yourself.  Duke has done that early on as one of the nation's leaders in turnovers.
With a shaky kicking game and a young man barely 19 years old in Daniel Jones at quarterback, asking for a win is a tall order.  What Duke can hope for is to iron out some of the kinks to develop much needed momentum.
The prediction here is Notre Dame 41 Duke 17