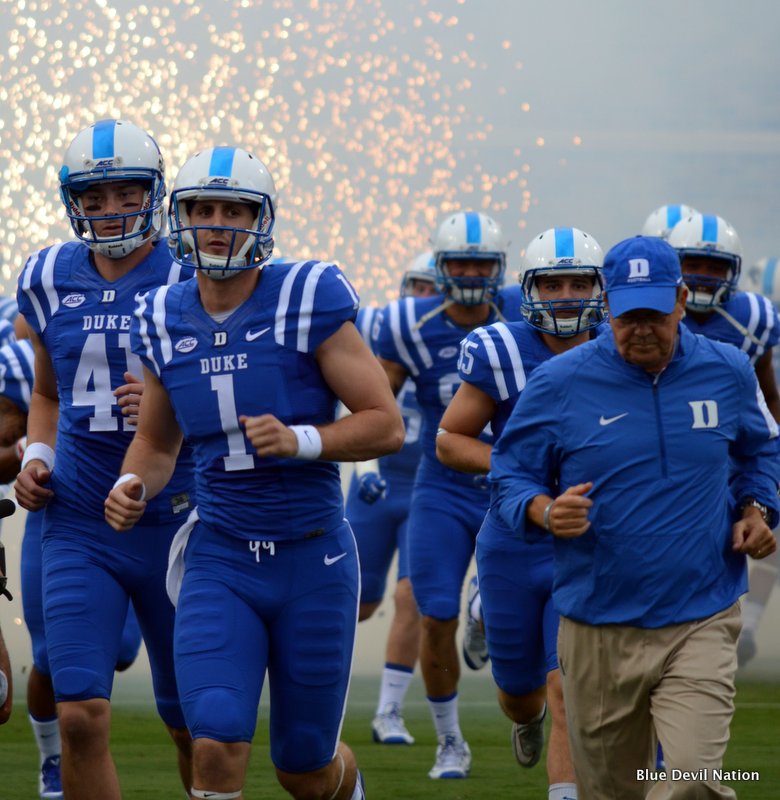 Duke improved to 2-0 on the young season by winning their home opener 55-0 against cross town opponent North Carolina Central University in the Bull City Gridiron Classic. The Blue Devils will be back in action next Saturday (September 19) at 12:30 pm EDT against the #23 Northwestern Wildcats.
This Sunday Afternoon Edition of Random Ramblings will start off with a quick look at some high school action before summarizing comments from Coach Cutcliffe's Sunday telephone conference with the media.
Friday Night Lights
Mark Gilbert returned a kick-off 87 yards for a touchdown and batted down the opponent's final pass attempt of the evening as Terry Sanford defeated Cape Fear 34-28 in a wild affair in Fayetteville. Gilbert has been recruited by Duke to play cornerback.
Scott Bracey tossed a touchdown pass and rushed for two more as Benedictine blanked Bishop Sullivan 48-0. Bracey is projected to play wide receiver at Duke.
Elijah Deveaux rushed for a three yard touchdown as Charlotte Christian defeated John T. Hoggard 27-10.
Dylan Singleton and Archer High School fell to Grayson 26-24 in Georgia High School Football action.
Looking Ahead to Northwestern
In his Sunday aftenoon telephone conference with the media, Coach Cutcliffe repeatedly referred to Northwestern as an extremely well coached and balanced football team. Duke has opened as a one point favorite over #23 Northwestern. Additional comments from Coach Cutcliffe include:
- Lots of weapons on offense.
- Quarterback plays at a high level.
- Strong defense which is physically tough. Limiting Stanford to six points is a significant accomplishment.
- Duke will immediately get to work preparing for the Wildcats.
General Comments on Duke
- Coach desires to see the team continue on the path of being a great 3rd down team.
- Explosive plays were key in the NCCU game. Duke had over 10, while NCCU had one.
- Defensive tackle Brandon Boyce played terrific. He will continue to play an increased number of snaps.
- Defensive end Marquies Price is really talented. Price started against NCCU.
- Coach really likes the competition between T.J. Rahming and Chris Taylor. Both receivers will continue to get better. Taylor earned the start against NCCU during practice.
That's all for this Sunday Afternoon Edition of Random Ramblings.