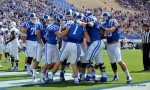 Duke Football is riding the momentum of four consecutive bowl game appearances under Coach David Cutcliffe.  This will be the season when the Blue Devils show off a new press box as well but complete stadium renovations are likely another year away.  Duke has continued program momentum, where they even had perhaps their best recruiting class in the Cutcliffe era to date.  During the off-season, Cutcliffe told the media that they were going to start demanding more from their staff and players.  If the Blue Devils are going to take another step or to once again remain bowl eligible this season, they will do so against a very challenging slate.  There are no more dual patsies on the schedule where Duke now will face two major conference foes for the first time in years.  Notre Dame replaces the likes of Troy and Northwestern remains and a season from now, Duke will begin a home and home with Baylor.  Personally, I feel if Duke can manage a 7-5 or better record against this years schedule, they should reserve the Coach of the Year trophy,  I break down the slate here with some thoughts -
Sure Wins - NCCU, Army
Nobody likes to count wins as a sure thing and the staff doesn't like to see such things in print, but if Duke loses to North Carolina Central in the opener or Army, then they are in for one long season. The Eagles are there as  warm up game which is good for the Durham Community and Army is simply the second easiest game on this years slate.  A side note is that the Cadets are on their way to playing  better football and return a lot of players from a season ago. In the past Duke could count two more games considered sure wins.
Most Important Game - Wake Forest
I know this will surprise some folks, but the most important game for Duke is their second game of the season against rival Wake Forest. In the Athlon pre season publication, the Deacons are picked to be one of the five most improved teams in the nation.  The reason the Deacons will be good is that they return 15 starters which is the second most in the ACC and a season ago, Duke squeaked out a 27-21 win.  The Deacs held Clemson to 33 points last year and lost to Florida State by 8 and Louisville by 1.  Trust me when I say, this is going to be quite the early season game and Duke desperately needs a victory here in their first ACC contest to have a legitimate chance of making it to another bowl.  As I reveal the rest of the schedule, you will see why.
Must Win Game - Virginia
The wheels came off for Duke Football a season ago after the blown call against Miami.  Duke went on a four game slide ending with a 42-34 loss to Virginia where the team came out flat as a pancake before playing better in the second half.  If Duke wants to get to the six win mark and go to a bowl, then they have to take out their revenge at home on the Cavaliers who will feature a new coach in Bronco Mildenhall who takes hold of the reigns after building the BYU program in Provo, Utah.  This means Duke will be facing a team with a new scheme which adds to the challenge.
The Four Toughest Games - UNC, at Notre Dame, at Louisville,
Those who attended or watched the UNC game a season ago were shell-shocked after the Tar Heels offense rang up 66 points.  The bad news is that there offense will be every bit as good and they'll perhaps have a better passing quarterback in Mitch Trubisky.  He will throw to a ridiculously talented group of wide outs and they will have a running game to boot.  The Heels can flat-out score against anyone, anywhere.
Duke will travel to South Bend this year to take on the Notre Dame Fighting Irish.  Okay, nuff said, but if you need more worry, they have two quarterbacks who can get it done and are in every pre season poll out there with the aforementioned UNC and the next team I will speak of.
That team would be the Louisville Cardinals.  Some say this program still remembers Duke getting out of a scheduled game a few years ago and will have their ears pinned back.  Some how, some way, they talked three NFL players to be into coming back on what will be a talented defense.  Trust me, this team with a solid quarterback in place now could derail Clemson or Florida State hopes.  Duke will have their work cut out for them on a Friday night kickoff in Papa Johns Stadium.  It is also worth noting that Louisville has a bye week before Duke visits and will already have played Clemson and Florida State.
Almost as Tough - at Northwestern  at Pitt, at Miami
The week after the Wake game and the week before the trip to South Bend, Duke must travel to Northwestern.  You may remember that the Wildcats went 10-3 a season ago and beat Duke 19-10 in Durham.  Well, they are still good and will look to throw the ball more and have 12 starters back.
So, Pitt gets the news that behemoth running back James Conner will return to the field.  To make matters worse for opponents, they already have a talented back in Dadree Ollison.  A conference best 16 starters are back for Pitt.
Miami will welcome new coach Mark Richt and that means a new system to prep for.  They have 9 starter on offense and 7 on defense back and the 3rd best recruiting class in the league.  This is the last game of the season and they not want this game to come down to a call like it did a season ago.
Measuring Stick Games - Virginia Tech, at Georgia Tech
Virginia Tech will go to a spread offense head man Justin Fuente and they also return Bud Foster to the defensive side of the ball.  Duke won  a shoot out a season ago and the Hokies will want some pay back with 14 starters back.  This game will tell fans a lot about the Blue Devils team.
Duke fans love beating Georgia Tech and Paul Johnson.  Thanks to Johnson turning down Duke, David Cutliffe was able to prove himself and do his thing.  This is a bitter match up and one the Blue Devils will almost certainly have to win to make it to a bowl.  The game will be in Atlanta and the coach Cutcliffe replaced in Ted Roof still runs the Jackets defense and will likely pay extra close attention to this match up.  Both teams have a bye week going in this key game.
Here are the top three best units Duke will face this season -
QB's - Notre Dame, Miami, Louisville and UNC-tied
RB's - Pitt, UNC, Notre Dame
WR/TE's - UNC, Louisville, Virginia Tech and Notre Dame-tied
OL's- UNC, Pitt, Notre Dame
DL's - Pitt, Notre Dame, Louisville and Northwestern-tied
LB's - Louisville, Northwestern, Miami
DB's - Louisville, UNC, Virginia Tech
Duke will have to answer the bell early and often in a season where their has been more off season change than any other during the Cutcliffe era.  Staff changes, coupled with some untimely injuries may well make this a but of a rebuilding season.  We'll know more about Duke after their match up with Wake Forest and whether this team can continue it's all time best bowl appearances streak.