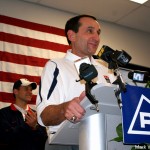 What a weekend it was for Duke fans.  The football team goes to 3-0 on the young season with a stunning performance from a true freshman running back, Shaun Wilson.  Add to that, more Gold thanks in large part to Duke Basketball Coach Mike Krzyzewski and the royal blue has never looked better.
Mission Accomplished
Most folks forget the moribund state USA Basketball was in before Mike Krzyzewski took over.  The program needed leadership and he sacrificed his time for country more than anything else, in that the man is a true patriot.  Team USA rolled to a Gold Medal and in a most impressive way, doing so with what many coined a "B," team.  While I am not too fond of that phrase, what is obviously impressive is that it didn't take a team of out very best to be molded into a unit that played together.  Coach K has a long and obvious history of helping men grow and despite the age of some of his players, how many on the roster didn't get better in some way?   It'll be a long time before Coach K takes to the court again for Team USA, but he will be plenty busy with his family back in Durham while teaching  his Duke Blue Devils how to come together as a team in similar fashion.  In today's media, there is more than ample criticism no matter what some folks do but most of the time hater articles are designed for hits with many facts going to the wayside out of convenience.  You will see some of the said type of articles manifest, but you thankfully there are more appreciative ones.  Krzyzewski should be celebrated for what he has done for his country and USA Hoops.  He is one of the main reasons USA Basketball is once again the dominant force it should have always been.  Some want to take away NBA players who want to represent their country from playing, others see the benefits.  My guess is no matter the change or format allowed to rosters, with Coach Krzyzewski in charge that the results would be the same.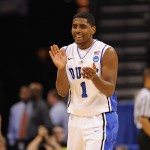 And then there was Kyrie ...
Kyrie Irving came away with MVP honors for the FIBA tournament and deservedly so.  While talking heads strangely never mentioned him when talking candidates as USA was thumping Serbia, it was clear that he was Team USA's most consistent guard.  In reality, this should have been a team reward for no one player stood out above the rest in what was a true balanced team concept.  Irving likely benefitted form his final performance where he busted the game open with his quickness on the court and it's an another award, one of many to come, he will cherish.
Haters gonna hate ...
Adrian Wajnarowski is an NBA writer for Yahoo Sports.  For some reason is took aim at Coach Mike Krzyzewski in his morning column which is all over the place with concern to a point.  It seems like he tries to pit John Calipari against Krzyzewski as his distaste for the Duke coach is more than a little obvious.  If you want to read his diatribe, you can search for it.  Anyhow, a good or valid point is lost in the article due to said hate with concern to the USA program possibly going with younger NBA players.  Whatever he was trying to say, other than Krzyzewski used USA Basketball as a recruiting tool was lost.  A normally grounded media type, lost his composure by not spewing facts but opinion in a way that may be designed simply for hits.  Honestly, I don't know if Krzyzewski may have accidentally stepped on his toe when leaving the media room or if he just hangs with the haters.  Anyhow, he seemingly seeks the company of those who would agree with him more than he does a fair and balanced offering.  Oddly, or maybe not so much, he has a history of  different stances if one does a simple search, but he conveniently avoids trying to explain why he's changed his mind.  That said, Krzyzewski obviously must have stepped on his toe on the way out of the media room one night;)
Still buzzing over Shaun Wilson's performance
If you have been living under a rock, you may have missed that a true freshman running back, Shaun Wilson, broke the all time single game rushing record.  When the game was 20-3 and the tenth punt of the day was booted, the match up with Kansas was in a word, boring.  Then came Shaun Wilson, who dazzled on lookers with his speed and smooth running abilities on his way to 245 rushing yards.  Wow.  Anyhow, Duke fans are still buzzing over that performance and so is Athlon Sports who coined the performance the best of the week among freshman.  By the time most of you will have read this, I fully expect more honors to have come his way.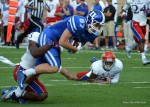 Not to go unnoticed ...
After moving to the inside as a slot receiver this season, Max McCaffrey caught two touchdown passes from Anthony Boone.  It was the first time he had multiple touchdown catches in a game for Duke and his game was a bit overshadowed from the aforementioned Wilson.
Not to go unnoticed II ...
The Duke defense has quite the game plan making Kansas quarterback Montell Cozart look just awful on his way to 89 yards passing.  The Blue Devils played their best defense of the season where Kansas barely threatened in this contest.  A couple of interceptions and steady play from Jeremy Cash and David Helton helped pave the way to holding the Jayhawks to a paltry three points.
Next up Tulane
Duke Football takes on the Green Wave of Tulane this coming weekend with a 12:30 kickoff.  The Blue Devils have opened as a 17.5 favorite.  This will be the last game that Duke will be a significantly favored to win in the near future.