Solid Opening Day Performance
You couldn't ask for much more from the Duke Football team and their  52-13 opening day win over Elon.  The first thing they did was take care of business while other teams around the country struggled with lesser opponents.  Across the board, the Blue Devils looked solid in every phase of the game save two which we will speak to as you read on.  Duke had a solid opening day crowd and it was clear to many when students started chanting "Football School," that things have indeed changed.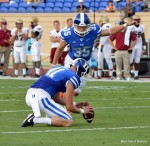 Cut Points To Needed Improvements
As I stated above, the Duke football team graded out nicely against Elon, but post game and during yesterdays chat with David Cutcliffe, he stated concern over special teams. If you are a stat hound, you may ask what he is talking about.  After all, Will Monday punted twice for and impressive 51.5 yard average and kicker Ross Martin drove home a 49 yard field goal.  But the coverage on kickoffs and such bothered Cutcliffe where he said they were not physical nor did they run their lanes properly on coverage.  According to the head man, this will be addressed in practice this week and changes could be made.  The other area I felt could have been better was the fact that Duke got little pressure on the quarterback.  While Duke came away with two sacks, there seemed to be ample time, but that is something the film will help to address as well.
Troy Trojans Are Next
I can almost hear many whining that this game will only be televised by ESPN 3 as many of us seem to still be streaming challenged due to spotty connections world-wide.  Anyhow, this game is dangerous.  Why you ask in that Troy got trounced by UAB?  Well, for that very reason.  Troy has a tradition of playing good football and they were flat-out knocked back this past weekend in a road game that turned many heads.  Troy held the series edge going in and still do despite the loss.The Trojans were not supposed to lose like that and it was their worst defeat ever on many fronts.  A season ago, Troy gave Duke fits on the defensive end and Cut made sure to mention that they'd have their ear pinned playing on their field named after their long time coach and would be playing for pride.  Duke, slated and early 18 point favorite, will playing in the epitome of a trap game, but this will also be a test to see if they can handle expectations and play the opponent while not get caught looking ahead or patting themselves on the back after a solid win over Elon.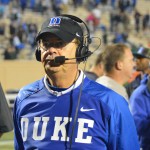 Foundation More Solid Than Some Think
I was really surprised that the ACC Sports Journal said in an article in their pre season magazine authored by David Glenn, that Duke was listed as having the 14th best foundation in the ACC moving forward.  When I look around the program I see stadium improvements on the verge of happening, recruiting getting better and better, retention or maintaining a solid coaching staff at all times and wins.  Perhaps Glenn thinks this is all an aberration but it looks to me as if Duke is dedicated to football in a way they never have been before and that fans are enjoying the turnabout.  Prospects are contacting Duke now and that didn't happen in the past and there is little reason to not think that Cutlciffe will not remain a vital part of the ascent even after his eventual retirement which is a long ways away.  In fairness the Sports Journal did pick Duke to win the Coastal Division, but 14th in the conference moving forward for long-term football success?  Really?  I like David Glenn and think he's quite grounded and the best of the local radio personalities but in my humble opinion he's way off the mark with his assertion with concern to Duke Football and it's future.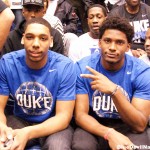 Duke Hoops Is Around  The Corner
There is a lot of excitement as always as September moves in for Duke fans start thinking basketball is not far away.  By all accounts this years team will be oh-so exciting and a mix of some key veterans and youth.  I can tell you I am as excited as I have ever been to see what this crop of freshman bring to the table.  Jahlil Okafor has totally reshaped his body and gotten stronger and Tyus Jones is just a guy that knew how to win on the AAU trail.  And then there is the surprisingly freaky athletic Grayson Allen and a hard nosed, play all phases of the game well, Justise Winslow.  Duke has had so many great classes past, but I can say having covered AAU Basketball for many years that this is hands down the most mature bunch or class I have seen to date.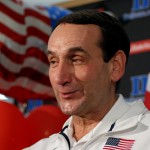 USA Basketball
So far, so good for Coach Mike Krzyzewski and Team USA.  With football in full swing, it's hard to keep up with this as maybe we should around here but we are sure watching every game.  It's great that Jeff Capel was able to go with the team while Nate James and Jon Scheyer hold down the fort in Durham.  And then there is a Duke flavor in the games with Kyrie Irving starting and Mason Plumlee coming off the bench.  Duke fans are so fortunate to have a living legend in Mike Krzyzewski at the helm and he sure seems to be focussed on the task at hand and advancing.  It will be fun to follow Team USA as they close things out in the month of September and to start talking more hoops around Blue Devil Nation.